All original writing, illustration, and artwork featured on this website copyright (c) Adam McDaniel, 2012, and can not be used without written permission.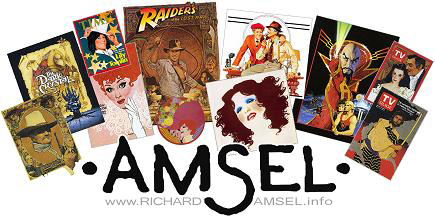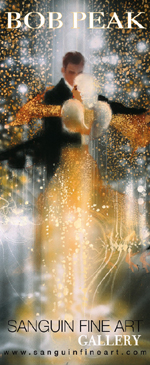 | | |
| --- | --- |
| | |

---
November 10, 2012: LOS ANGELES magazine's profile of poster artists, circa 1983...
I've had a number of wonderful, heartfelt conversations with Richard Amsel's sister, Marsha, and recently she informed me of a LOS ANGELES magazine article from 1983, profiling movie poster artists. After scrutinizing eBay for a few weeks, I finally got my hands on a copy, and it's an extraordinary time capsule or sorts, reminding me of my childhood in the early 1980's -- where VCRs and "car phones" were luxury items costing several hundred dollars, polo silk shirts cost $39.95...and a posh condo in Los Angeles was still more than I could afford.)
It's good enough that Amsel himself is profiled in the article, but what's really special is that it contains a rare photograph of the artist alongside his work. Notice, too, the size of the original pieces; while most poster artists customarily produce work at the same scale (if not larger) of the final printed images, Amsel's work was usually a bit smaller -- but so detailed that the images would not lose anything when blown up to poster size. (The original RAIDERS poster is such an example.)
And -- God! -- look how YOUNG Amsel looks. It's hard to think that, by this time, he was already one of the leading poster artists in the country, nearly fifteen years into his professional art career. It's also hard to think that he would die less than three years later, at an age a year younger than I am now.
Alas, of all the artsists profiled, only two are still with us -- the great Drew Struzan, of course, and Bob Tananbaum, whose extensive work has evolved into portraiture, western, and sports themes. The others passed away all too soon, tragically long before their time; Peak in 1992 from a head injury, and Alvin of a heart attack in 2008. (The latter on the same day this very website was created.)
My hat's off to all these guys -- with sincere thanks for the inspiration they've given me.
---
November 7, 2012: Adam...and politics.
I'm usually so preoccupied with work commitments that I rarely get around to updating this site, and when I do, I usually limit my political posts.
My Facebook page is another matter entirely. Sometimes my liberal politcal rants have alienated even friends and family members. (In fact, one of my best friends, a gay Republican, and I have sparred so much over the past year, we've unfriended, friended, unfriended, blocked, and friended our respective profiles, so much so that I've lost track.) But what else can I do? I'm not going to change my beliefs.
Here are some FB "cover" images I'd like to share here. (The Chuck Norris one, in particular, has gotten a few laughs.) Let the hate mail ensue...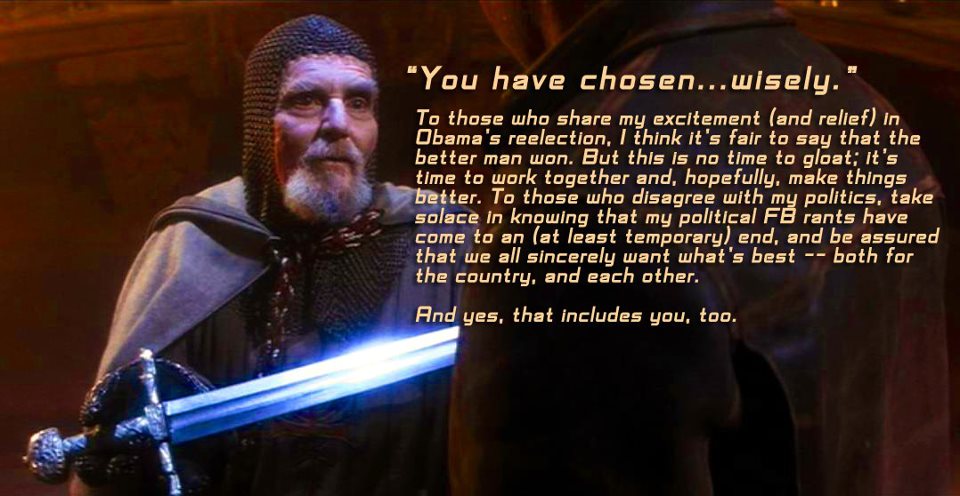 ---
September 7, 2012: This picture has been re-Raided!
Well, RAIDERS OF THE LOST ARK is back in theaters, and in IMAX, to boot. I'm seeing it tomorrow, and am greatly looking forward to it. (One of the big pleasures of living in the L.A. area is that many of my favorite films -- Raiders, 2001, North by Northwest, Harold and Maude, to name a few -- are routinely screened in revivial theaters each year, so I no longer bother even watching them on TV.)
Lucasfilm artist Mark Raats has created a lively poster for this special release, evoking a bit of the old Drew Struzan's style: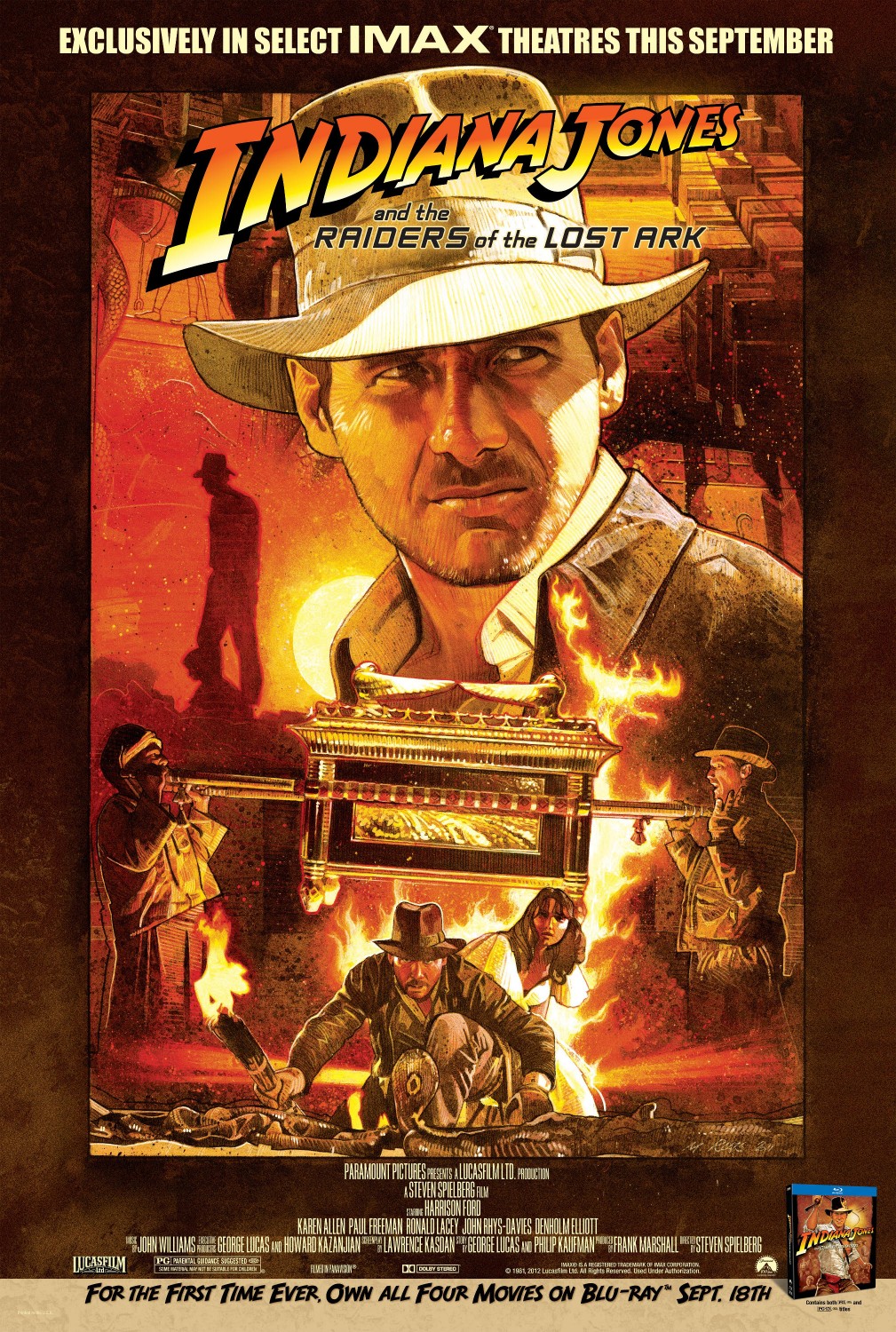 What's especially interesting about this poster, however, is how Raats originally conceived the design, which was quite different from the final image. Forget that the title was rebranded to the clumbsily wordy "Indiana Jones and the Raiders of the Lost Ark" -- that was Lucasfilm's doing, and the marketing-minded change never made logical sense to me. (After all, Indiana Jones himself is but one of the many characters "raiding" the ark, and the title was in no need of fixing, anyway...) To back up Raats' claims of innocence, here is his original, completed artwork, and digital poster mock-up, before the powers that be ... well, um, exercised their powers:
If you look closely at Raats' comps (below center and right), you'll notice something else that's very interesting: the artist pays tribute to Richard Amsel's very first Raiders poster, with a portrait of Indy standing in front of the original Amsel background: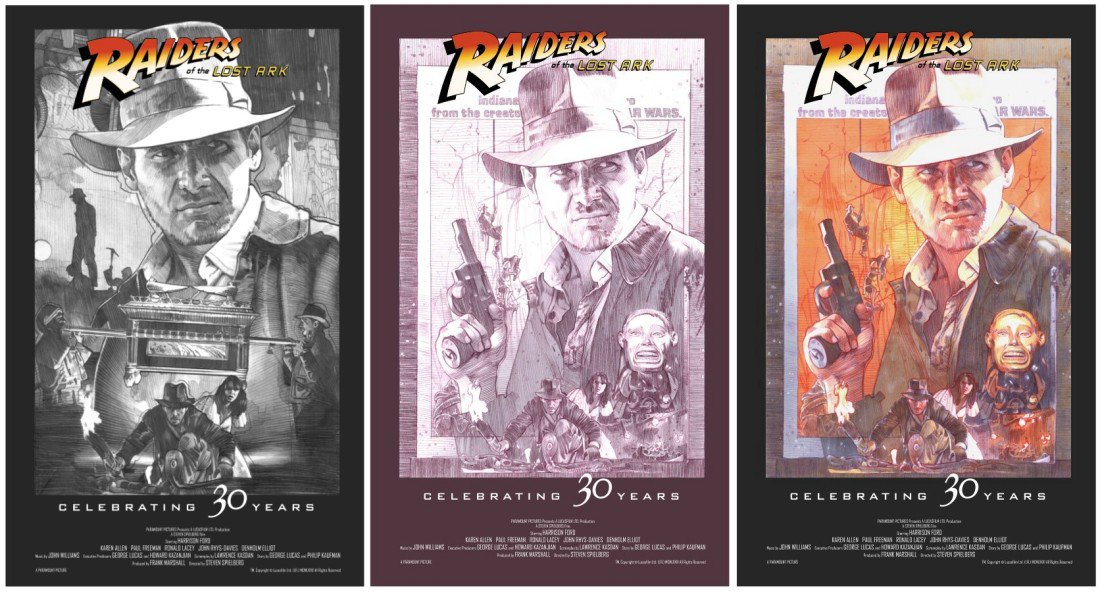 For reference, here's Amsel's original poster from 1981: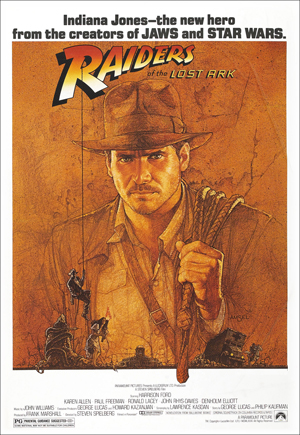 I'm also glad to see that at least part of Amsel's rerelease poster is featured on the upcoming Blu-Ray set. It's known as Indy's "heroic" pose, and perfectly captures the character. (Only Richard Amsel could get away with depicting a gritty, worldly hero sporting a smirking grin, without making it look too cheesy or silly.) I'm not particularly fond of some of the obvious digital "tweaks" made to Amsel's drawing -- I suspect they were trying to make it look more painterly -- but I'm glad that pose remains as the definitive Indiana Jones portrait.
I'm curious to know the artist who created the background character montage. (See below.) While I'm not blown away by it -- I'm a harsh critic -- I think it succeeds in complimenting, rather than distracting from the central figure.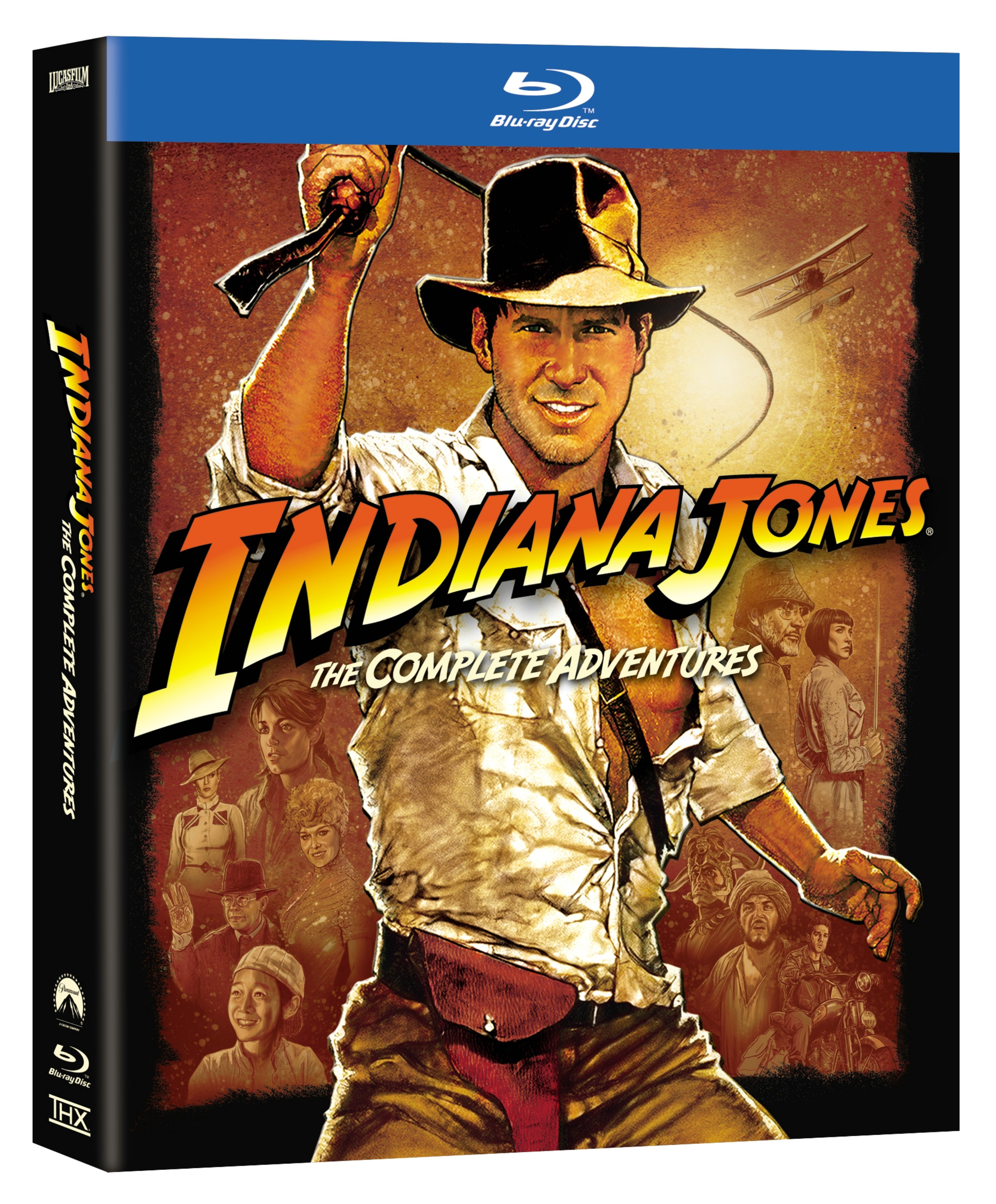 UPDATE: Mark himself reached out to me on Facebook with the following response:
Adam, firstly allow me to thank you for the supremely thoughtful review and secondly, let me thank you for protecting my 'innocence'. All to often we encounter glib comments or flippant posts that fail to serve much purpose but happily, this is not one of them.

Before I comment on the illustration itself, let me say to those individuals blaming me (I kid you not) that I was NOT responsible for changing the name - its been the marketing title since 2000 but it will always be 'Raiders of the lost Ark' for me (see my original concepts).

Mindful of the fact that I'm writing this on RICHARD AMSEL's appreciation page I would like to say that embarking on this project was not easy given Richard (and Drew's) long association with the franchise. I was painfully aware that this is regarded by some as hallowed ground so, I tread as carefully and respectfully as I could while at the same time, trying to make something that was unique to my taste and artistic style. BTW, my artwork was originally created to celebrate the 30th anniversary of Raiders of the Lost Ark but as sometimes happens, it was ultimately rediscovered and used for the IMAX and Blu-Ray release.

As you know, there IS a studio tendency to let the Photoshop pilot's loose on original art which I don't understand or support and in this case, my color palette was drastically changed to a more vibrant orange. Other changes were also made but my intention was always to have something that was less visually punishing - indeed, something that looked more subtle and aged. I've always deeply admired Amsel's gorgeous original and what I tried to achieve with my painting was a more muted palette of sand and gold - one that I hoped would pay homage to Amsel's elegant original.

You're right about my initial comps because I seriously considered using more of Richard's original poster in my new piece simply because it is THE Raiders poster and I struggled to work out how I was going to make a new artwork without including a significant homage to him. In the end however the result was too self conscious (weak) in my opinion and so I went in another direction hoping to discover a new solution that would embrace all the elements that we have all come to love and respect over the years.

Although I know WHY it happened, the thing that has always bothered me about Amsel's original, was that the Ark is missing from the illustration. Although it does appear in the second poster I wanted it to be more prominent considering that its the most profoundly glorious prize. I also wanted to return Indiana Jones to the character who's slightly mean, cavalier, mercenary and dangerous and this is why I chose to place him straight down the middle of the composition. For the rest, I chose to use elements that were - for me - things I remembered vividly from when I first saw the movie as a young man serving in the military.

As far as the Blu-Ray box goes, the lovely internal artwork was done by my friend and Lucasfilm colleague Jason Palmer. Like you, I'm delighted to see Amsel's original Indy standing boldly on the cover (I have the same reservations regarding the treatment though) and while I can't be certain, its possible Jason was responsible for the montage as well.

Thank you once again for your post sir. I am truly honered to have been given the opportunity to add some modest value to the Indiana Jones franchise.
Mark, thanks so much for your thoughtful, fascinating comments!


---
August 25, 2012: Birthdays, family, friends, and home.
I visited my family in Bucks County, PA earlier this month, and things at work have been so busy since I've been back that I haven't had any time to catch up -- or even get a full night's sleep. Tonight was my first opportunity, in fact, to be able to sleep in, and what do you know, I'm now wrestling with a lousy bout of insomnia. (It's 3:28 am as I write this.)
Returning to a scenic, rural part of eastern Pennsylvania sounds like a relaxing, restful idea, but every trip I've made is usually filled with family commitments, meetings with friends, and other happenings that fill up my schedule very, very quickly. I always think I'll have too much time on my hands, but before I know it, I'm packing again and getting ready for my return flight to California...
Another thing that happens with almost every trip: I get lost. I mean, very lost.
Anyone who knows me well can tell you that my sense of direction while driving is nonexistant. And when one country road rolls into another, mile after mile, I lose track of where I am and where I'm headed. On this particular trip, I spent a good 90 minutes driving only to realize I had gone in one big circle.
(NOTE: I wish to thank the kind folks at Virgin mobile for making my vacation all the more challenging. Not only was my cell phone's connectivity barely working -- service is out of range throughout much of the Delaware Valley -- but so was that fancy GPS app I'd purchased to avoid getting lost in the first place.)
Still, I did manage to take some pretty pictures:
I was very happy to see that the Bucks County Playhouse (above left) was open again after a long hiatus. The theater, where I once worked during college summer break, had been struggling for many years, plagued by declining ticket sales, internal strife, the recent poor economy, and three major floods to the area. Fortunately, through the generousity of a consortium of local businesses, the theater has been refurbished, reopened...and given its first new paint job in what must have been decades.
This trip also marked my first time home with family for my birthday since 1999 -- thirteen years! -- and, while my mother is now gone, I at least got to spend it with my ever-growing, ever-smiling niece and nephew. Needless to say, I was sad to leave them.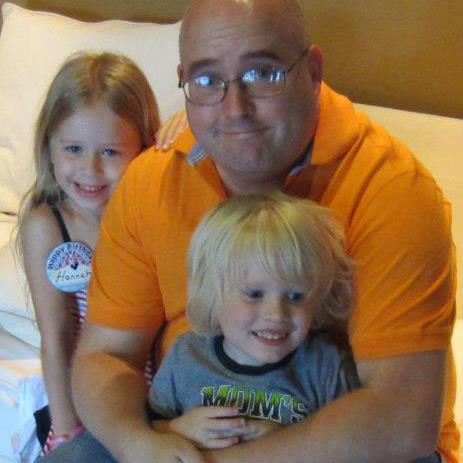 Still, being back in California allows me the comfort of my old routine, and I'm hoping to create new artwork soon. I'm also looking forward to reuniting with friends this weekend for post-birthday festivites. Now, if only those sleeping pills I took could finally kick in, I might actually get some decent rest to prepare for it... :)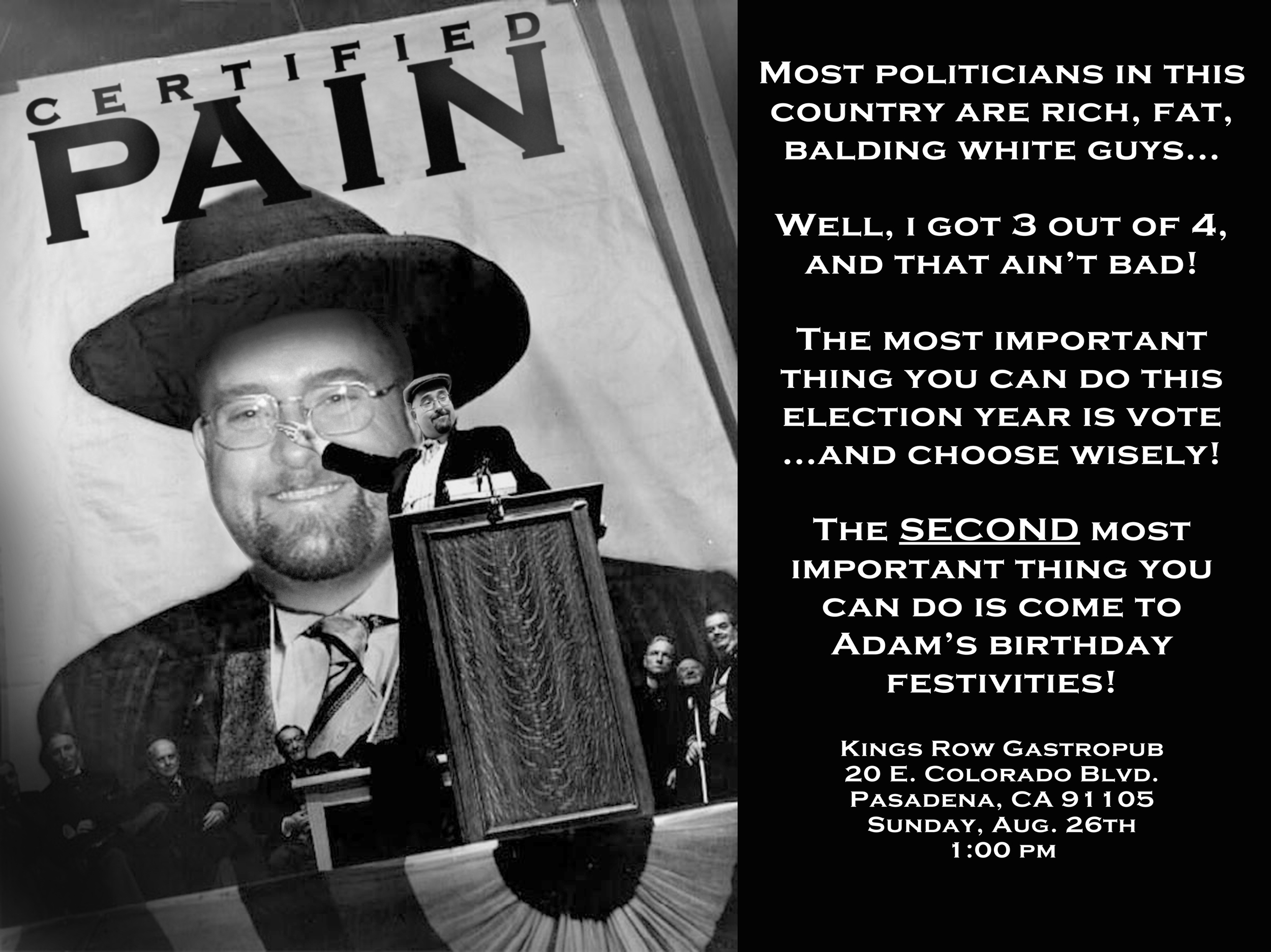 ---
July 29, 2012: Tolkien Gateway
The folks behind the online wiki "Tolkien Gateway" kindly asked if they could feature my painting on their Fellowship page within the site. I was more than happy to oblige.
Over the years I've received a number of offers from people to buy the painting, but they always fell through at the 11th hour. Pity. Right now the work is displayed within a friend's office at Warner Bros., but, should a genuine offer finally come through, I can grab it back at a moment's notice. :)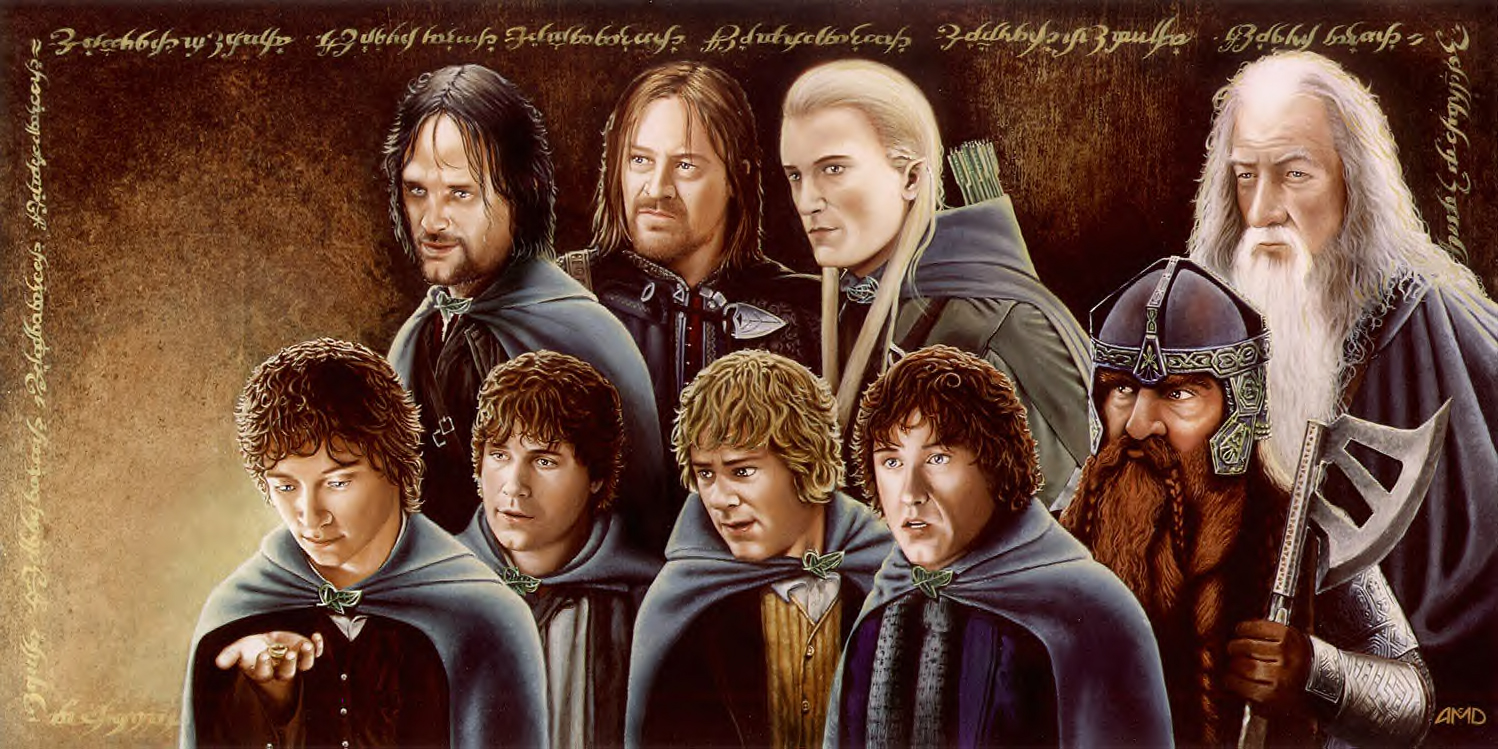 ---
July 29, 2012: Howard Terpning art exhibit & book signing
Once again I must open another post with the babbling prelude, "I haven't updated this site in ages because of such-and-such, with life-such-and-such getting in the way, etc... etc..."
Well, fact is, I've been a bit lazy. There are so many things I've been meaning to mention, it all somehow gets the better of me, and I procrastinate as a result. Sorry, guys.
And so ... onto the first of many hopeful "catch up" entries I'll be making over the next few weeks.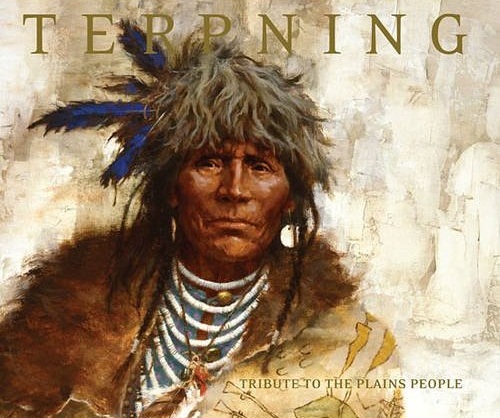 Tribute to the Plains People
hardcover now available at Amazon
In January I posted an entry on the movie poster art of HOWARD TERPNING, who, after the Vietnam War, abandoned a hugely successful commercial illustration career in favor of a new life in Arizona, working as a fine artist -- painting scenes of the American Indians and the American West.
It wasn't soon after that I learned the Gene Autry Museum would be hosting a collection of Terpning's Western paintings -- an exhibit called "Tribute to the Plains People" -- and, best of all, the artist himself would be making a rare public appearance, signing his book of the same name.
The show was fantastic, filled with large paintings created over the last four decades. On a technical level, I was repeatedly struck by Terpning's use of color, composition, and lighting. But even more breathtaking was his sense of storytelling -- for many of the paintings feature action with significant meaning, from images of high adventure to more somber depictions of death and destruction.
While the romantic view of "The American West" has become an integral part of American folklore and culture -- from dimestore books and novels, to radio and movie serials, and an entirely unique, enduring genre of motion pictures and television series -- it's sobering to think that the seemingly immortal period, in truth, only lasted by a few short decades, and marked the death knell of an entire culture and civilization.
Terpning's work, while certainly beautiful and often romantic, doesn't shy away from these facts, as many pieces are imbued with a profound sense of sadness. Many of the Indian characters within his paintings seem fully aware of their cultures' numbered days, and the inevidable changes to come -- both for their people and the land they live in.
Now 84, Terpning is a burly, handsome fellow who easily looks a good twenty years younger, and remains busy as ever.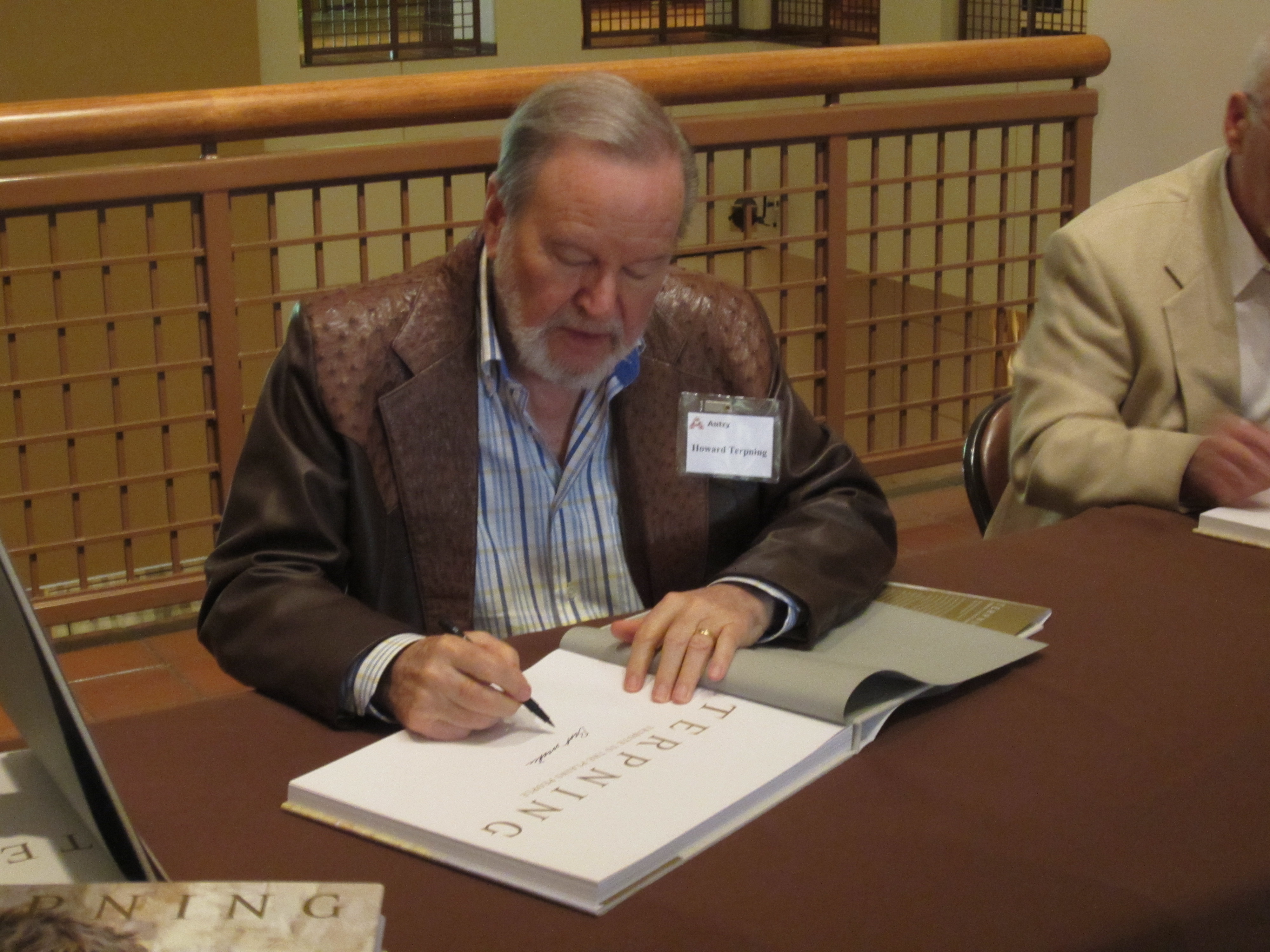 Another one of the exhibit's delights was a documentary film about the artist, intercutting scenes profiling Terpning's life and career with a behind the scenes look at his latest creation. I love seeing a master's artistic process -- learning how a painting first develops from an idea, to the technical process used to bring it to life. I'm sure the DVD will be made available sometime in the near future; it's intruiging to watch, and very well produced.
UPDATE: The documentary is called Howard Terpning: Portrait of a Storyteller, and is available for purchase on DVD. A trailer for the film can be seen on YouTube:
---
July 28, 2012: San Diego follow up...
It was great returning to the Indyfans panel at Comic-Con, and a heck of a lot of fun. After skipping the convention since 2008, it was nice to return; being in the company of middle-aged geeks especially made me feel quite at home.
I'm sometimes asked about participating in the Artists' Alley, but I think I need to get some more quality work under my belt first -- things that I can be really proud of, or at least enthusiastic in sharing with others.
Update: There's a nice little featurette on the panel in episode 148 of the IndyCast online podcast.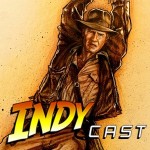 ---
July 11, 2012: Comic-Con San Diego!
I'll be part of the Indyfans panel at Comic-Con San Diego this Saturday, July 14th, thanks to a special invite from my friend Brandon Kleyla. I haven't been to the convention since 2008 -- usually I need to book the trip months in advance, and finding accomodations can be a bit of an expensive hassle -- but with Brandon's invitation, and a generous friend who's letting me crash in his hotel room, I simply couldn't turn down the offer.
I *might* be helping out with a Warner Bros. panel, time and energy permitting, but won't be participating in the artists' panel this year.

---
July 4, 2012: Interview with Gary Goldman on NIMH's 30th anniversary.
In celebration of THE SECRET OF NIMH's 30th anniversary, the website TRADITIONAL ANIMATION has featured an extensive interview with Gary Goldman about the making of the film. This includes some extraordinary behind the scenes photos that I've never seen before, and a lot of insightful information behind the specifics of the film's remarkable animation.
This past Spring, Bluth and Goldman also donated two storage rooms filled with art from their films to the Savannah School of Art & Design -- including pencil tests, concept art, backgrounds, sketches, painted cels, and even deleted scenes. Looks like I'll need to trek to Savannah someday!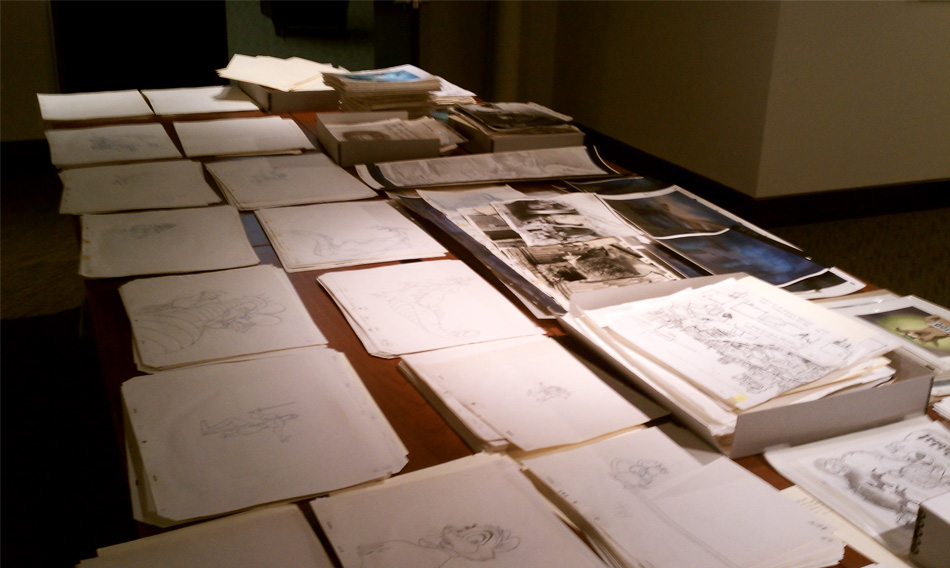 Photo credits: Les Carpenter & Lavalle Lee, Traditional Animation
My own interview with Goldman, conducted over several years, continues to be one of the most visited pages on my site, and I'm glad to see that so much interest remains in the film after three decades. I certainly feel it's warranted.
---
June 29, 2012: HOLLYWOOD ZOMBIES!
I just finished a movie poster for my friend Matt Thompson, who shot a zombie horror-comedy in the Philadelphia area some months ago. It's a cute, charming, and yes, gory little tale mixing the undead with the trials of independent, no-budget filmmaking.
The spirit of no-budget filmmaking even extended to the poster. Not many still photos were available, so I pulled a lot of low-rez screengrabs on my computer from a streaming video, and decided to throw them all together in a cut-and-paste mashup -- not unlike the original Night of the Living Dead poster, or a lot of Grindhouse-style posters from the late sixties and seventies.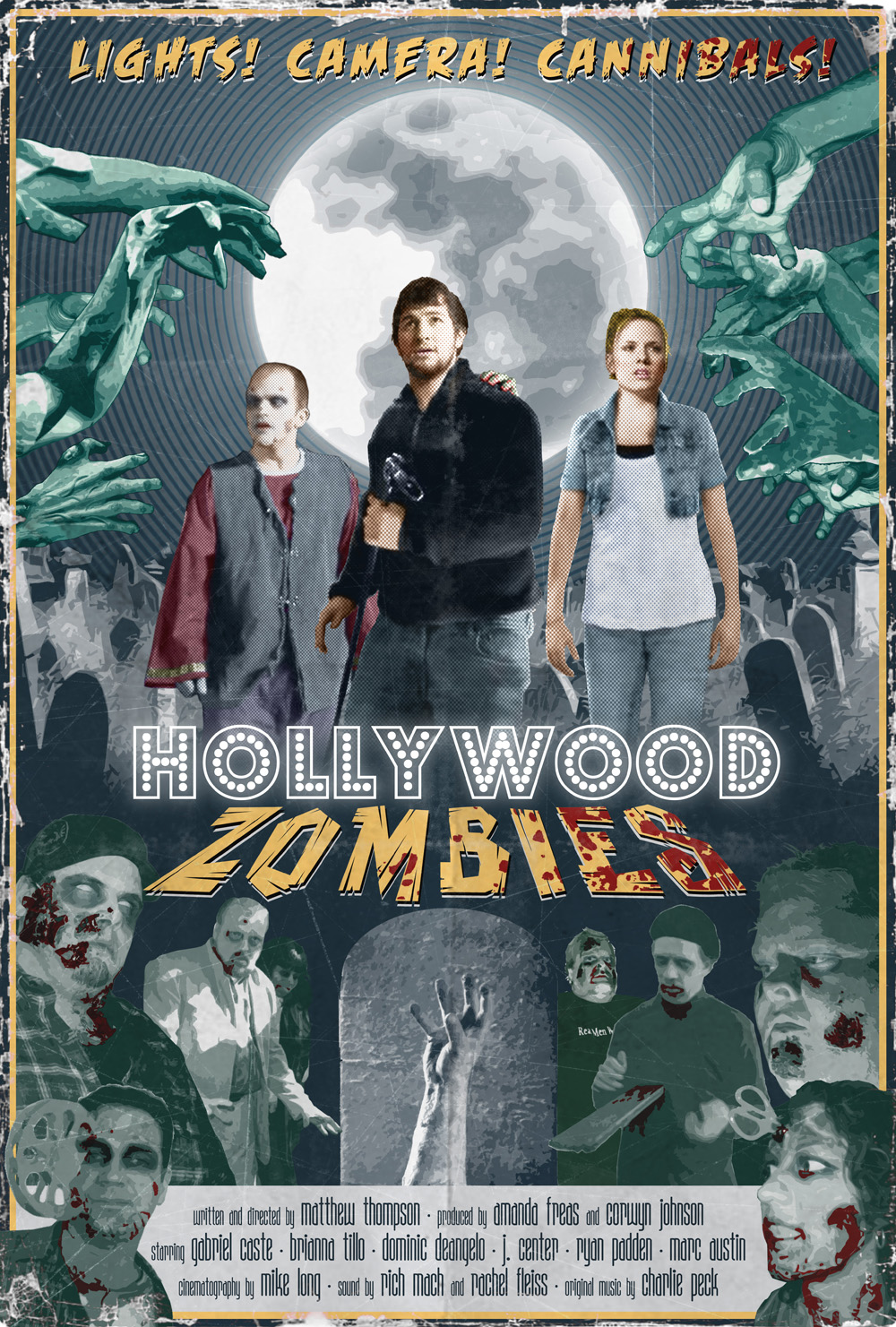 ---
June 15, 2012: Website updates.
For what feels like the billionth time, I've updated my website a bit. (Go through some of the back pages of the archives and you'll see how much this site has changed over the years.) Thus far I've only done this main page and the art gallery, and over the next few weeks I'll be changing everything across the board.
There are a lot of news items and stories I've been meaning to comment on, but a recent art deadline, my day job, and my desire to rework this site had taken priority. Now that this page, at least, is finally in a format that I've comfortable with, I'm hoping to post more in the weeks to come.
---
June 14, 2012: New Indiana Jones artwork to be featured exclusively at ComiConn.
It's been about four years since my previous Indiana Jones illustration, but I finally got around to making something I'd been putting off for ages: A "family portrait" of sorts, inspired by Drew Struzan's LAST CRUSADE teaser poster.
While I am no fan of KINGDOM OF THE CRYSTAL SKULL, I'm hopeful for a fifth film in the series, as I suspect the filmmakers would have a desire to return to form and ring Indy out with a bona fide bang -- and not involving nuclear explosions and flying refridgerators.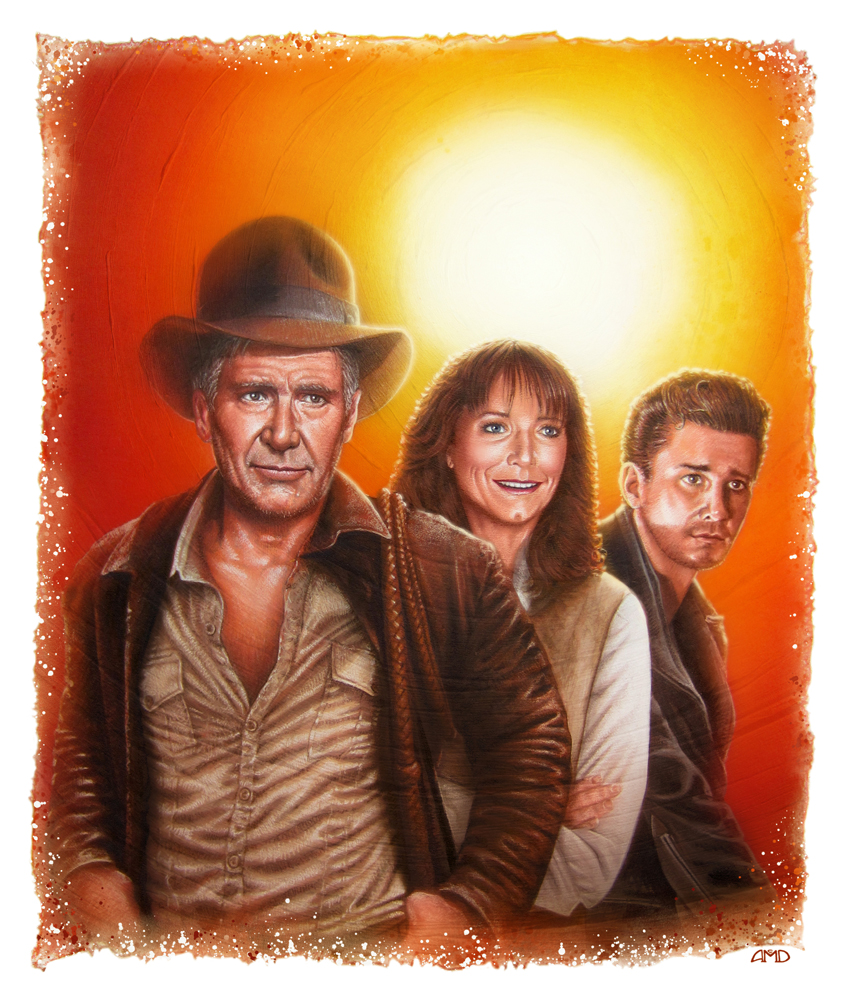 I did an "INDIANA JONE5" mockup -- substituting the end "S" with a numeric "5" -- as my way of putting a little spin on a would-be teaser poster. (Click here)
I'll also be donating a few prints of this piece as an exclusive to ComiConn, where proceeds will be going to charity. (Click here)
Update: Special thanks to Ed Dolista and Mitch Hallock for their kind mentions in episode 145 of the IndyCast online podcast.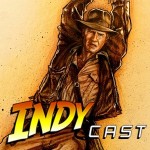 ---
June 12, 2012: Poster for concept musical TURMOIL!
A couple months back I created a poster for a musical currently in development, named "Turmoil!" -- a campy, humorous murder mystery set against the backdrop of daytime soap operas.
The writers wanted to incorporate an image of a TV screen, but were undecided if it should be a modern or older model. After they debated for weeks, I eventually proposed a poster with TVs from all different eras, standing in a police line up -- as if they were the characters and murder suspects.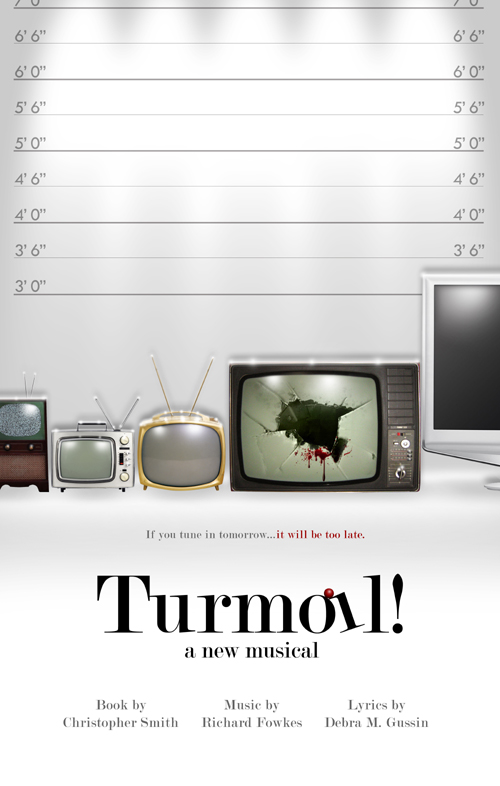 ---
May 9, 2012: Maurice Sendak, 1928-2012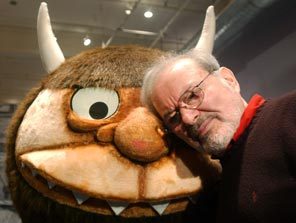 When I graduated from Vassar College (waaaay back on May 19, 1996), our class' commencement ceremony was held outdoors, in what seemed like a sweltering 100 degree+ weather under an unforgiving sun. Faculty members gave speech after speech -- all formal, stately, unimaginative pseudo-lectures with a lot of talk but little ideas. During this, my mom briefly fainted from the heat, and I almost joined her from the boredom.
Ah, but then Maurice Sendak took the podium...and for a few precious minutes, all was right with our world. His wasn't some formal, pretty speech; it was a delightful, touching, honest and pulls-no-punches sharing -- filled with energy, wit, and life, life, life. "So be our brave new world!" he exclaimed. "Denounce the money-changers and defy the hype, the sleaze, the deadly cynicism that chokes the hope out of all our lives. I invite you to take the plunge. And when the hard work is done, have safe sex and let the wild rumpus begin!"
He belongs to the ages now, but I hope the rumpus shall not end.
---
May 4, 2012: Now featured on TurningArt!
I'm happy to say that TurningArt.com has selected my work for inclusion on their site. It's a rather novel idea where subscribers can rent art prints for a monthly fee, as well as collect credit towards the purchase of both prints and original paintings. My page on their site can be found here.
---
May 3, 2012: 'Tis true...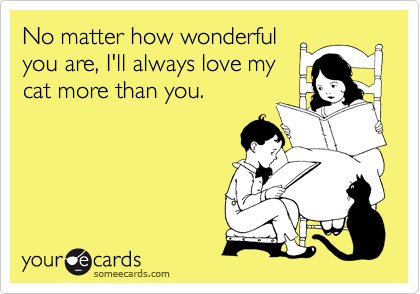 ---
April 24, 2012: Damn you, TheTShop.com! Damn you!!!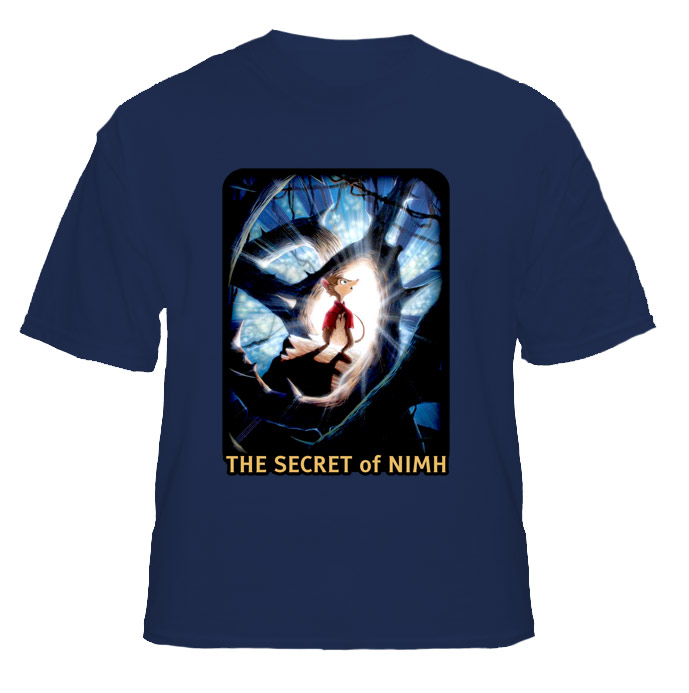 Once again, the unsavory individuals at THE T-SHOP are trying to sell a T-shirt design based on my artwork without my permission. They had previously sold shirts on eBay (under the name teesmeplease416) which I had cancelled...but it seems they're just got getting the message. I've sent them yet another cease and desist order, but judging from some of the other designs they feature on their site, they've made an enterprise out of stealing other people's work.
Not that the T-shirt looks worthy of buying... You think they'd at least use a good image of the film's logo instead of a crappy, bland generic yellow font.
---
April 10, 2012: Auction to benefit baby Leah.
Indiana Jones fans often write to me about my artwork, and I hope that interest will crossover to an auction that's currently up on eBay.
I've donated a print of my "Circus Style" RAIDERS poster (a tribute of sorts to the classic Drew Struzan / Charles White III STAR WARS poster), along with a ceramic coffee mug carrying the "ROPE" image, to benefit Leah Esquenazi -- a little girl striken with a crippling series of illnesses that has left doctors baffled. She needs round the clock medical care and supervision, and the mounting medical bills have finacially devasted her parents.
To find out more about Leah, please go to the following links:
www.facebook.com/artforleah
http://princessleahdiaries.blogspot.com/
---
March 29, 2012: BYRD/SKOLNICK - A Tale of Two Posters show
My friend David Edward Byrd will be part of a two-Man retrospective, along with Arnold Skolnick, opening on April 1st, 2012 at The Museum at Bethel Woods, which is on the site of the legendary Woodstock Festival that occurred in August of 1969.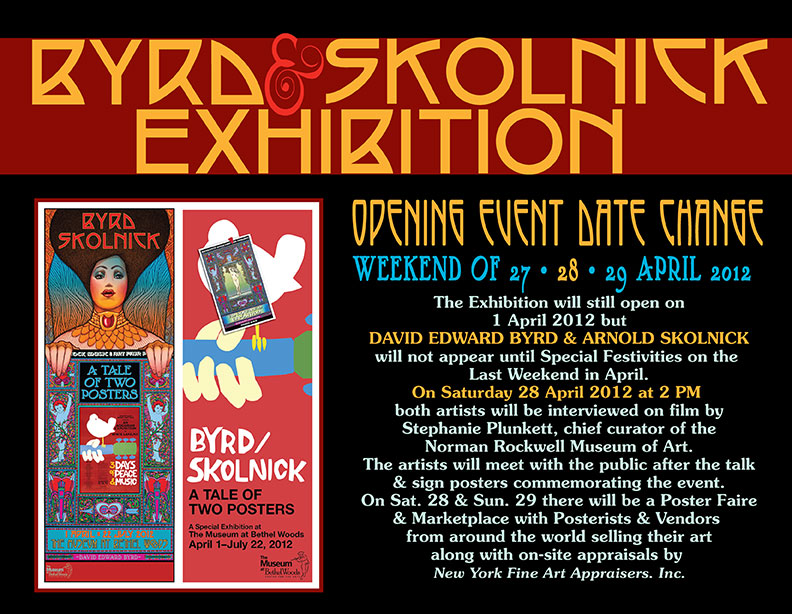 David created the first of the posters, when the festival was originally planned to take place in Wallkill, New York. When the location was switched to Woodstock, David was unavailable to update the design, so Arnold Skolnick stepped in with an alternate poster -- and the rest is history.
Both artists will be at the show April 27th - 29th, and will be interviewed on Saturday, April 28th at 2pm, followed by a "meet and greet" with the public. David will also be selling & signing posters at a booth during the Poster Fair.
Here's a great video that actually mentions the posters, starting at the 2:43 mark...
---
March 24, 2012: Art, storytelling...and DINOSAURS!
Show me a child who doesn't love dinosaurs, and you're likely to show me a very lonely, melancholy child.
While my own childhood may have had bouts of loneliness/unhappiness, I not only adored dinosaurs, but was obsessed with them. I owned a copy of virtually every illustrated dinosaur book available in the country, it seemed, and I could memorize (and correctly pronounce) every species' name and characteristics. This was right around the time of great new discoveries being made about the Age of Reptiles. Years before Jurassic Park hit movie theaters, Robert Bakker's groundbreaking The Dinosaur Heresies and William Stout's The New Dinosaurs offered fascinating, revisionist insight -- creatures once presumed to be slow, dumb, and lumbering, were in fact fast, mostly warm blooded, complex, and very, very smart.
Alas, as I grew older my interest in dinosaurs (and perhaps much of my imagination) waned, taking back seat to other things in life – school, love affairs, work, stress, money… What I'd give to have my inner child back!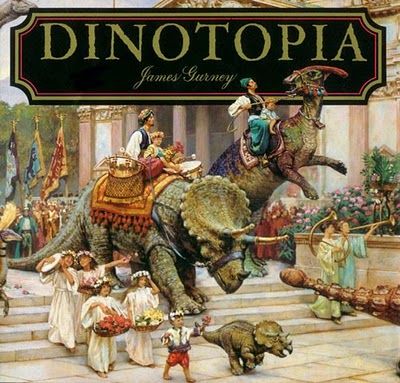 It wasn't until about twelve years ago that I finally read James Gurney's Dinotopia book series, and my interest in dinosaurs was rekindled. Feeling exhausted one rainy day, I called in sick from work and spent the afternoon snuggled up with my cat, reading Gurney's lavishly illustrated, charming story – part Jules Verne, part Edgar Rice Burroughs, and a little bit of Jurassic Park thrown in for good measure. (Forget the dull, derivative miniseries it spawned; while elephantine in scale (especially for television), it wasn't faithful to Gurney's original story, misguidedly transplanting it from the 19th century to modern times…and filling it with cheesy pop references, dull dialog, and many, many plot clichés.)
I don't think my saying Gurney is a genius is uncalled for; his artistic talent alone in on par with the best of the Golden Age of Illustration. But his expertise goes well beyond the realm of art. He's part anthropologist, paleontologist, archaeologist, architect and engineer – extensively researching locations, designs, costumes, and cultures, and mixes them altogether in his books with a great deal of imagination and wit.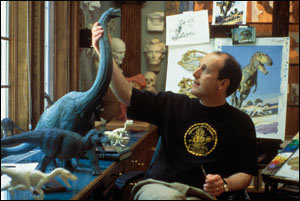 I met Gurney back in November of 2007, when he gave a lecture about his work at the LA Public Library. He struck me as very soft-spoken but eloquent, possessing a keen intellect…not to mention a really, really good memory. (When I introduced myself during a special reception, his first words to me were, "Oh! You have a blog or website with your artwork on it, right?", to which I was so shocked and amazed to hear -- this guy has seen MY stuff! -- that I felt myself on the verge of happy tears.)
For you Dinotopia fans, Gurney has just released a special 20th anniversary edition of his book, filled with new illustrations – as well as insightful peeks into his creative process. Artists (and art fans) may also find invaluable knowledge in his art instruction books Color and Light and Imaginative Realism, which elaborate on his painting techniques and creative approaches.
I'm also a huge fan of his daily weblog, "Gurney Journey", which is filled with entries on not just art, but writing and storytelling -- so there's something to appeal to the daydreamer in each of us…even those who can't draw a straight line.
---
March 20, 2012: Another thing I've been up to...
I FINALLY purchased a new computer late last month to replace the antique one I've been screaming at for nearly 8 years. It served me well, but like a once trusty car that inevitably falls apart after too many miles, it was just running far, far too slow, and could not support a lot of the new software I've been itching to play with.
As I recuperate from Near Death (a gross exaggeration, at least I hope -- yes, I'm milking that for everything it's worth), I've been preoccupied with setting up the computer, installing software, organizing digital stuff...and, most challenging of all, configuring my new web design software without completely destroying my current web site.
I've been struggling with it for several hours, and think I finally got it und
---
March 19, 2012: Fare thee well, little Lily...
I'm saddened to say that my family's siamese cat, Lily, passed away today at the age of 14. My sister is especially heartbroken.
Here is a YouTube video I posted some years ago that became quite popular among cat lovers. It was shot around Christmas of 1998, back when Lily was only a few months old. Her ears were disproportionately large, and it was another year before she finally grew into them. That raspy, whiny voice, though, never changed.
---
March 18, 2012: Where Adam plays a big, fat purple panda.
Back in 2000, I did some vocal work for a Russian-produced fantasy film, VASILISA. All the onscreen actors were Russian, speaking English dialog, but their accents were so strong that everything had to be rerecorded with American actors. My contribution: A big, fat, purple panda bear. (Insert obvious joke here.)
---
March 17, 2012: "So what have you been up to lately?"
I had a bit of a serious health scare last month, and boy, it sure makes me appreciate the miracles of modern medicine, as well as having a decent insurance plan.
On Feb. 8th, I woke up with a terrible soreness in my arm; I simply thought I had slept on it funny. Two days later, however, it turned bright red and began to swell. The pain was excruciating, and I felt a strong fever coming on.
By early Saturday, Feb. 11th, I knew it was serious, and went to an urgentcare facility. When the doctor there found that my temperature was nearly 104, I was rushed to the emergency room at St. Joseph's hospital in Burbank. A friend came with me, and, trying to keep in good humor, I asked him to take my picture while the nurses gave me a large dose of morphine. Ah yes...for one small, tiny moment, that morphine provided much-needed bliss...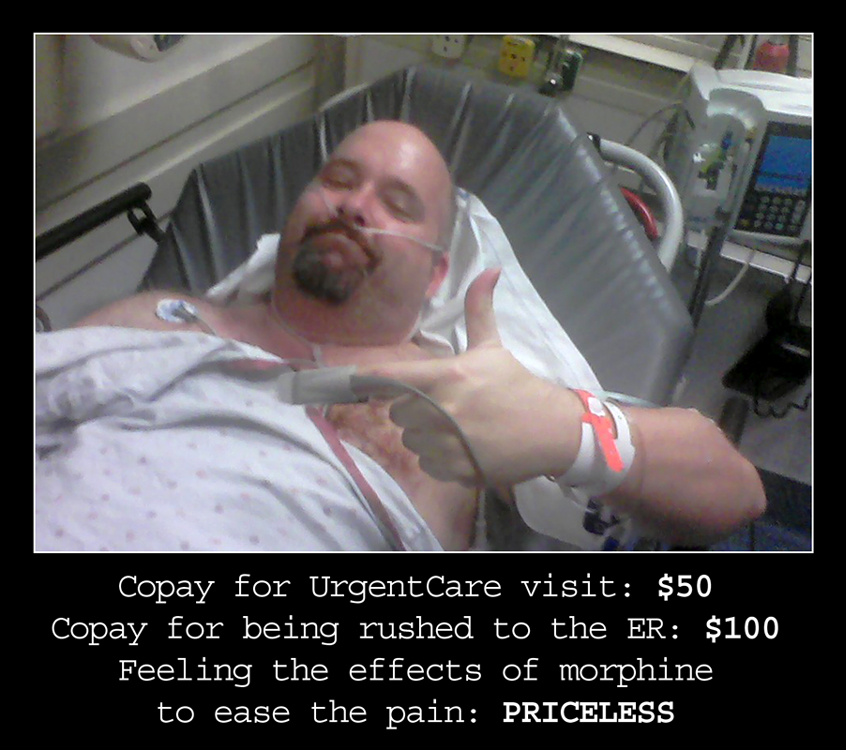 I was later checked into a room, and learned that I had developed severe cellulitis in my arm -- an infection and inflammation of tissue under the skin, similar to staph. (I'm still not exactly sure where or how I got it, though I suspect it was from my gym -- a place so badly maintained that it's virtual petrie dish of germs and bacteria.) Long story short, I was hooked up to an IV drip and given heavy doses of antibiotics round the clock for five days, as my immune system was dangerously low.
I'm happy to say that I'm now almost fully recovered, though my arm still has some soreness and the skin is still healing. I'm also happy to say I lost ten pounds.
Thank God for my friends -- who visited me every day, looked after my cats, brought me fresh clothes, and even did the leftover dirty dishes in my kitchen (!) while I was sprawled out, feverish on a hospital bed.
Chris, Matt, and Brian: I can never thank you enough, guys. And never again will I overlook the entertainment value to be found in reruns of Little House on the Prairie.
---
Jan. 29, 2012: College admissions, VASSAR style...
Ah, my old, beloved Vassar College...
For those who haven't heard, this story has recently made the news, where 76 applicants for early admission to the college were, due to some ridiculous error (human or otherwise), mistakenly told they'd been accepted.
The error itself is grievous enough, but it's how the college's administration has "handled" the issue that really infuriates me. As an alum with very mixed emotions about my experience there, this seems all too typical of the administration's wisdom, insight, and compassion. (And if that wasn't bad enough, check out this other recent news item.)
I will say that the teachers I had during my four years there were all extraordinary. I can't recall being unhappy or unsatisfieid with any one of them, regardless of the class or subject matter. Some, in fact, were nothing less than remarkable, even life-changing. They and they alone made the tuition I paid a worthwhile investment.
I just wish I could say the same for the administration, which, from personal experience, I can honestly say is one of the most corrupt, irresponsible, and amoral organizations I've ever encountered. And this is coming from someone who has spent 15 years working in the entertainment industry.
So, now that I've probably forever forfeited my chances of appearing within any college brochures again, here's a T-shirt I designed to pay tribute to my alma mater:
UPDATE: It seems CafePress has been featuring this shirt in all their recent browser ads: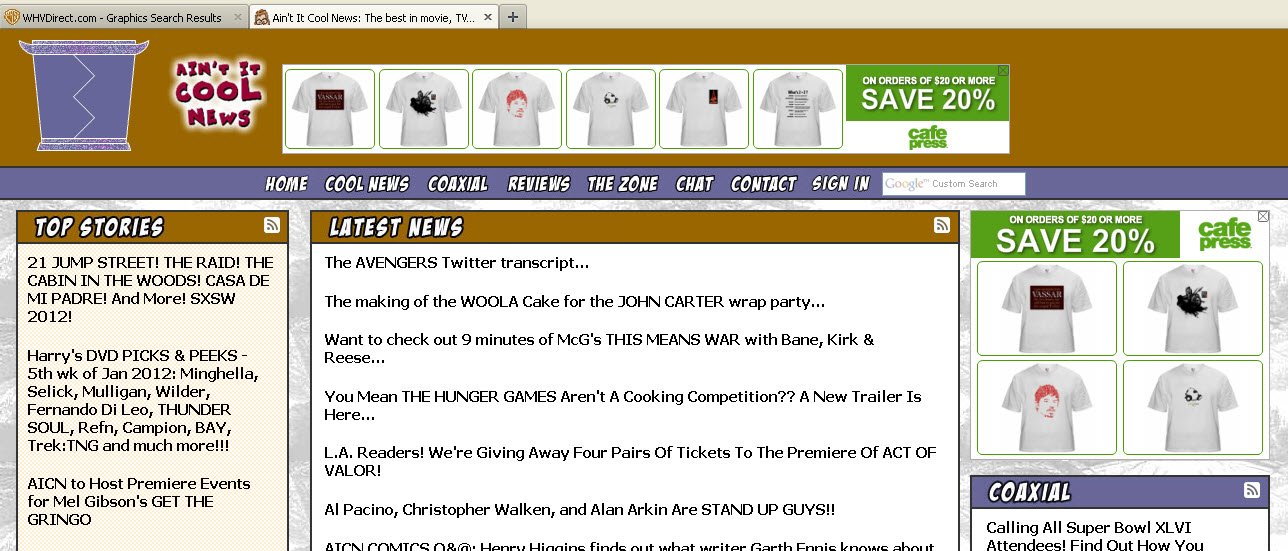 ---
Jan. 29, 2012: The LA Art Show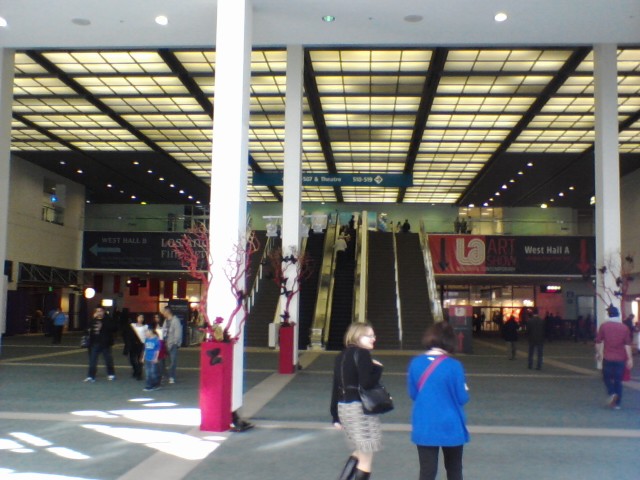 Last Saturday I visited the Los Angeles Art Show for the first time in years. It used to be held at a different venue (inside various airplane hangars), but this year it was at the LA Convention Center. I must say the center seemed a highly more appropriate setting -- though I may be a bit biased, as the new location is considerably closer to my home.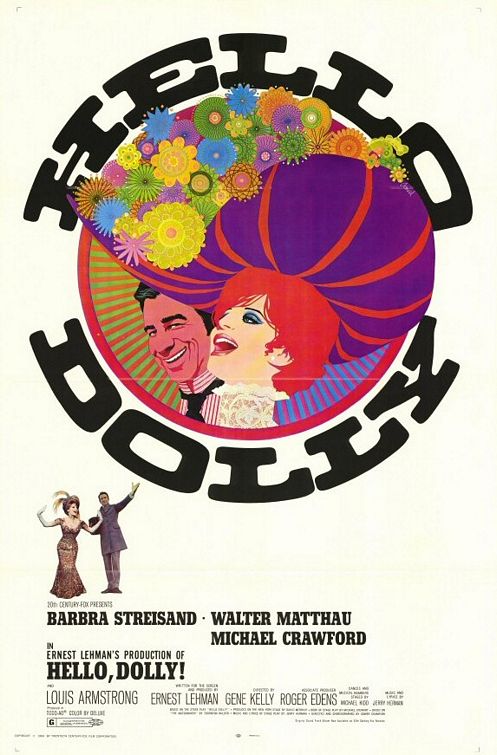 My favorite part of the show was, of course, The International Vintage Poster Fair, where art galleries from around the world showcased geniune, original lithographic posters -- Art Nouveau, Art Deco, and Mid-century Modern dating from the 1890's Belle Époque to the stylized 1930s, and on through the Atomic Age. My only regret about going was not having enough money to buy anything...
One of the exhibitors, Gregg Yaneff of the Yaneff Gallery, even had Richard Amsel's HELLO DOLLY poster up for sale. My eyes lit up when I saw it, as Yaneff was flipping through the posters, describing each one to a captive audience. When I mentioned my Amsel site to him, and my familiarity with the artist's work, he kindly indulged me as I explained -- to him and the crowd around us -- the fun backstory behind Amsel's poster. (Amsel did it while he was still just an art student in Philadelphia, winning a nationwide contest by 20th Century Fox.)
For my efforts, Yaneff kindly offered the poster to me at a very, very good price -- but with my rent and car payments right around the corner, I had to regrettably turn him down. I feel it's only fair for me to give him a little shout out here in appreciation.
Here's a great little video Yaneff made, "History of the Poster Belle Epoque". It, and the gallery's site, are definitely worth checking out:
---
Jan. 28, 2012: Visiting the Magic Castle!
Even after more than 15 years of living in and around Los Angeles, there are still plenty of things I've yet to discover, and new things to try. I'd never been to the Magic Castle in Hollywood, so when a friend invited me there for lunch yesterday afternoon, I jumped at the chance. While the castle's exterior is stunning to behold, the real marvels are indoors -- where photography is strictly forbidden. Ornate woodwork, elaborate paintings and light fixtures, not to mention an endless collection of magical props, gimmicks, and historical memorabilia fill every room, and there's even a haunted parlor where a ghost will play any song you request on an antique piano.
My friend Dallva also treated me to a little surprise, by having me mentioned in the castle's lunch menu newsletter. It made for a wonderful souvenir, capping to a wonderful afternoon.
---
Jan. 24, 2012: The poster art of Howard Terpning
You'd think that an artist behind some of the most famous film posters of all time would have become a household name like Norman Rockwell, but Howard Terpning isn't someone often recognized, even within film circles. And strangely enough, that may be exactly what Terpning himself wants.
In my opinion, the roster of prestige, blockbuster films Terpning did posters for exceeds those of any other artist. And if you think I'm exaggerating, look at some of these as proof:
Forget that Gone With the Wind, The Sound of Music, and Doctor Zhivago (top row) are among the highest grossing films of all time. (GWTW still ranks #1 by an extremely wide margin, with inflation taken into account -- take that, Avator, Titanic and Star Wars.) The posters themselves are ubiquitous, not to mention artistically stunning...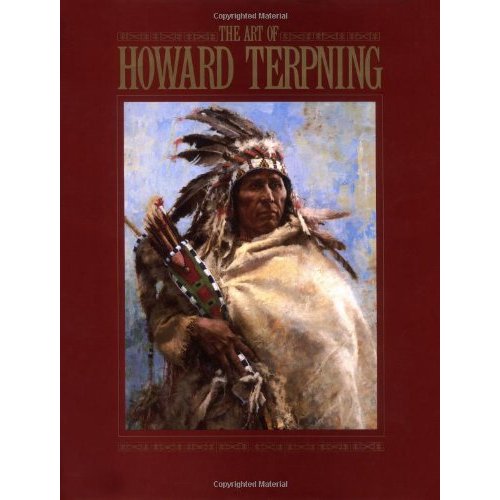 Yet Terpning, whose work seemed the very cornerstone of 1960s movie poster art, abandoned his commercial career in favor of other creative pursuits. After spending time in Vietnam as a civilian combat artist, he returned to the States -- reportedly profoundly changed from the experience -- and moved to Arizona, embarking on painting scenes and landscapes of the American West.
Terpning -- who is happily still with us -- has often stated that his commercial work was often creatively unfulfilling, and his subsequent career as a fine artist has won him much acclaim. But while books of his Native American and Western art have been available for some time, I've yet to see any collections of his film posters published. And that's perhaps the way he wants it.
Thankfully, there are some excellent resources online dedicated to Terpning's film work:
http://in70mm.com/news/2006/howard_terpning/index.htm
http://www.thesandpebbles.com/terpning/terpning.htm
http://www.askart.com/AskART/artist.aspx?artist=2427&redir
---
Jan. 16, 2012: In honor of the late Martin Luther King, Jr.
I found this picture on Facebook, posted by Star Trek's George Takei. While it's already "gone viral", I felt it was worth sharing here, on today of all days. Sometimes the best, boldest statement can be made from the simplest of images.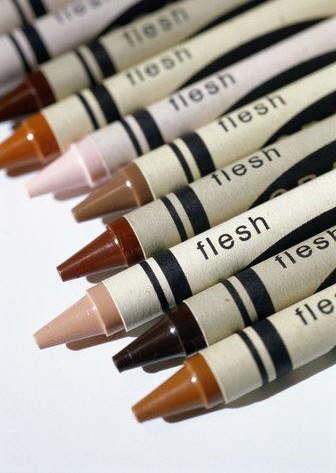 ---
Jan. 2, 2012: Harry Potter art show video
It's about a half year after the fact, but I've finally put together a quick video from footage taken at the Harry Potter art show last summer. I needed to purchase audio/video format conversion software, and had been putting it off for months.
---
Jan. 1, 2012: Happy New Year!
---