---
Sorry for the lack of updates as of late. I've been involved with some illustration projects that have swallowed my free time, and am currently in the process of giving this site a full makeover.

---
February 10, 2014: MUSIC TO MY EYES: Byrd Poster exhibit.

My friend, artist David Edward Byrd, currently has an exhibit of his poster artwork at the Robert and Frances Fullerton Museum of Art at California State University in San Bernadino. The show, Music to my Eyes, David Edward Byrd: Posters and Music Related Designs, 1968-Now, runs through March 15, 2014.
David will also be giving a special lecture on the history of the poster this Thursday, Feb. 13th, at 5pm.
---
December 3, 2013: TVGuide.com's Amsel tribute.
TV Guide pays tribute to Amsel's covers in its December 2nd online issue, and I want to thank editorial assistant Elizabeth Wagmeister for providing me with a PDF. She had reached out to me some weeks ago in researching the article, and I was only too happy to oblige.
---
October 25, 2013: Dangerous Summer paperback.
Special thanks to Scot Ryersson for pointing this one out to me: Amsel's cover for the 1969 paperback release of Dangerous Summer, by Carolyn G. Hart. Keep in mind the artist was only 21 when he did this!
---
October 8, 2013: Additions to the gallery.
I've been meaning to give this site a major makeover, and was deliberately postponing making new updates until the entire overhaul was ready. As that's taking longer than I originally thought, I've decided it's time to finally post some updates that have been long overdue.
Last May I visited Judith Davis Goldman at her home in New York. She was one of Richard's closest friends, and helped care for him in his final days. She and I had been corresponding for over a year about Richard's life and work, so by the time we finally came face to face, it felt more like a reunion of old friends than an introduction.
Judy was so gracious, and the two of us exchanged quite a few colorful stories. Much of what she told me will be detailed in my Amsel tribute page in the near future. In the meantime, let me share a few new images for you:


ABOVE: Goldman also has the printed poster
on display, neighboring the original artwork.
Amsel signed it for her with the above message.

AT RIGHT: The original, unused Amsel artwork
for the film ALL NIGHT LONG. Seeing it marked
the first time I ever saw it in color. This is the best
image I was able to capture with my camera,
without having to remove the delicate artwork
from its frame.
---
May 5, 2013: Edge magazine's mention of Amsel's Silver Star award.
I recently came across the Summer 2009 edition of The University of the Arts magazine, edge, which includes a brief mention of Amsel's pothumous Silver Star Award for distinguished alumni.
---
May 4, 2013: Thank you, Mark Raats!
I want to give very special thanks to Lucasfilm artist Mark Raats, who not only took the time to sign the RAIDERS IMAX mini-posters I sent him, but also included, much to my surprise, a special custom-made full sized 27x40 poster, featuring the unmodified version of his original artwork. (I wrote a bit about it in my Sept. 7th, 2012 post.)
My photos (above) don't really do Raats' poster justice. I've therefore included these images below to better illustrate the artist's original color scheme (left), versus the orange hue adjustments featured on the final version (right). I particularly favor Raats' use of more subtle, dusty earth tones; they better reflect the look and feel of the film itself.
I also marvel at Raat's use of line in developing shading, texture, and color -- particularly with faces.
I'm delighted to add his work to my collection, and that Mark personalized it, along with a touching, heartfelt letter, means the world to me.


---
March 2, 2013: Scott Fitzgerald biography
Very special thanks to Ed Edo Dennis, who provided this image of Amsel's cover to the Ballantine paperback edition of Scott Fitzgerald.
---
January 25, 2013: A Walk in the Rain...
Here's another one of Amsel's magazine illustrations I found, thanks to eBay. This was featured in the September, 1972 issue of Ladies Home Journal:
---
January 12, 2013: Illustrating Modern Life: The Golden Age of American Illustration from the Kelly Collection
I just came back from the opening night reception of a fantastic art exhibit at the Frederick R. Weisman Museum of Art at Pepperdine University, in Malibu, CA. For those of you in the area, this is an extremely rare opportunity to see original works from J.C. and F.X. Leyedecker, Norman Rockwell, Maxfield Parrish, N.C. Wyeth, and Howard Pyle. The exhibit runs from January 12 through March 31.
From the museum's press release:
Illustrating Modern Life: The Golden Age of American Illustration from the Kelly Collection features over 60 works from one of the most fascinating periods in American art. The Golden Age of American Illustration arose between 1880 and 1930, when revolutions in printing technology and mass mailing resulted in a meteoric rise of new magazines. Publishers and advertisers turned to illustrators to create eye-catching, hand-rendered paintings that would appeal to a growing public of modern consumers.
The original oil paintings, watercolors, and ink drawings in this exhibition, rarely seen on the West Coast, include some of the finest examples produced by the best artists of the genre.
The art created by renowned talents such as Howard Pyle, N. C. Wyeth, J. C. Leyendecker, Maxfield Parrish, and Norman Rockwell has entered the pantheon of 20th century American culture and still captivates audiences today.
Pyle, regarded as the father of American illustration, invented the quintessential pirate character that still inspires movies over a century later. His student N. C. Wyeth (father of painter Andrew Wyeth) gained national fame for his paintings done for the Scribner's Illustrated Classics series of novels. The iconic imagery he created for books such as Treasure Island and Kidnapped helped establish the era's vogue for adventure stories.
Leyendecker invented new urbane and stylish figures that captured the knowing sophistication of the modern era. He transformed both illustration and retailing by creating his Arrow Collar Man, a fictitious "celebrity" whose extraordinary popularity established the country's first national advertising campaign.
Rockwell, who began his career by emulating Leyendecker, captured the heart of the nation for decades with his keen sensitivity to the nuances of human behavior, which he used to create poignant depictions of life in small-town America.
"I am thrilled to bring a collection of such outstanding art to Southern California," said Michael Zakian, director of the Frederick R. Weisman Museum of Art and curator of the exhibition. "Like many Americans I remember seeing these artists in magazines such as The Saturday Evening Post and in old books. To see the originals firsthand is a real treat. Most people will be surprised to discover that many of the works were rendered in a rich, painterly manner. Even though much of that effect was lost in the printing process, these illustrators saw themselves as fine artists. They took pride in their craft and wanted their work to meet the standards of the best painters from the past. It is particularly fascinating to see a group of paintings by Dean Cornwell. People in L.A. are familiar with his work through the monumental murals of California history that he did in the historic downtown Los Angeles Public Library in 1932."
The Kelly Collection of American Illustration is regarded as one of the nation's largest and finest private holdings of this material. It was formed over the last 30 years by Richard Kelly, an individual respected in the field for his attention to quality and his commitment to documenting this period of art. He has earned the highest respect from colleagues in the field and was selected by Art & Antiques magazine as one of the top 100 collectors in America.
Illustrating Modern Life: The Golden Age of American Illustration from the Kelly Collection is accompanied by a hard-cover, 128-page exhibition catalog featuring an essay on the art by Zakian, as well as an interview with Kelly by David Apatoff, author of Robert Fawcett: The Illustrator's Illustrator; Albert Dorne, Master Illustrator; the forthcoming The Life and Art of Bernie Fuchs; and the popular blog Illustration Art. ...
Works are on view at the Weisman Museum in the Gregg G. Juarez Gallery, West Gallery, and Ron Wilson-Designer Gallery.
Located on Pepperdine's main campus at 24255 Pacific Coast Highway in Malibu, CA, the museum is open Tuesday through Sunday, 11 a.m. to 5 p.m., and is closed on Mondays and major holidays. There is no admission charge.
For more information, call (310) 506-4851, or visit: http://arts.pepperdine.edu/museum


---
January 11, 2013: Tribute to David Grove, Feb. 27, 1940 - Oct. 25, 2012.
I'm terribly saddened to learn of the passing of illustrator David Grove last October, which I only heard about a few days ago.
Grove was a giant in the illustration world, whose work was well known throughout the 1970's and 1980's. His striking movie posters, book covers, and advertisements evoked comparisons to Bernie Fuchs, frequently employing a rubbing technique in his painting process, whereby dark colors would be rubbed away to reveal lighter colors underneath -- a painstaking, challenging process whose end result looks deceptively simple.
I actually had been working on a book cover these last few weeks inspired by Grove's special style, and printouts of his work are currently peppered all over my drafting table. I had intended to write to him when the work was done to show my appreciation...but alas, now it is too late. While I never met him personally, I feel quite heartbroken.
Movie posters were only a small part of Grove's body of work, but they left a huge impression on me throughout my childhood. Grove's illustration for SOMETHING WICKED THIS WAY COMES, in particular, is darkly, eerily beautiful, and captures the atmosphere of Ray Bradbury's book even better than the film itself did: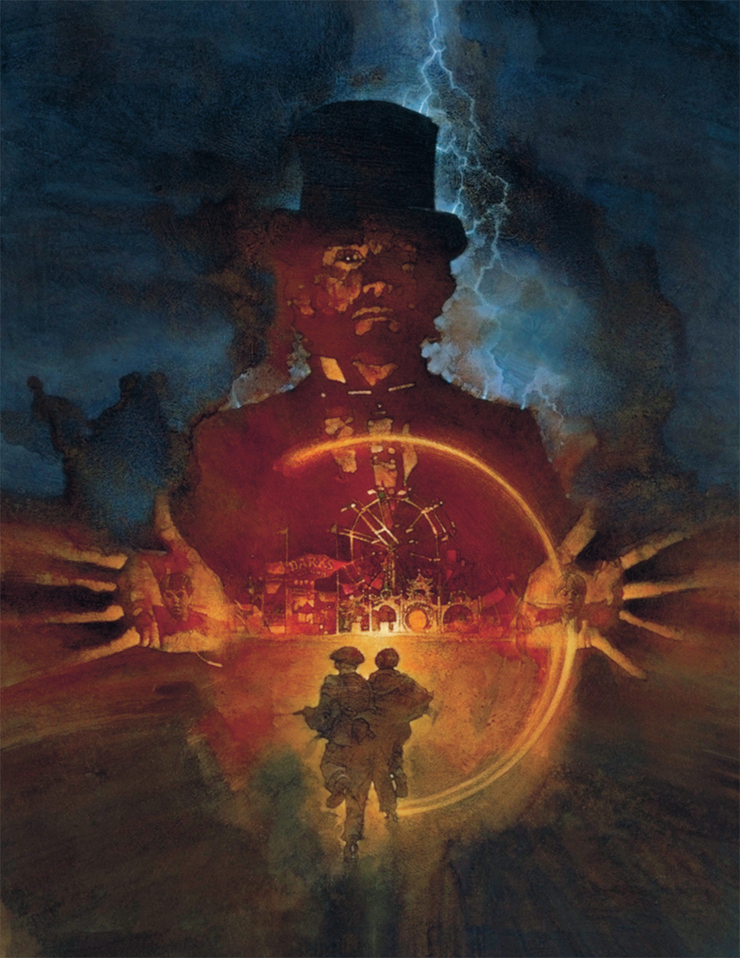 It's bittersweet that Grove's passing should so closely follow several major milestones in his career: he was recently inducted into the Society of Illustrators Hall of Fame, had a one man retrospective at the Museum of American Illustration in New York, and had just published the book "David Grove - An Illustrated Life". The latter book I had bought last summer, and it's far more than just a collection of pictures; Grove provides us with a memoir about his life and travels that read every bit as colorful as his art -- by turns funny and poignant, to downright startling. He also provides rare insight into his painting process, something artists and illustrators will savor.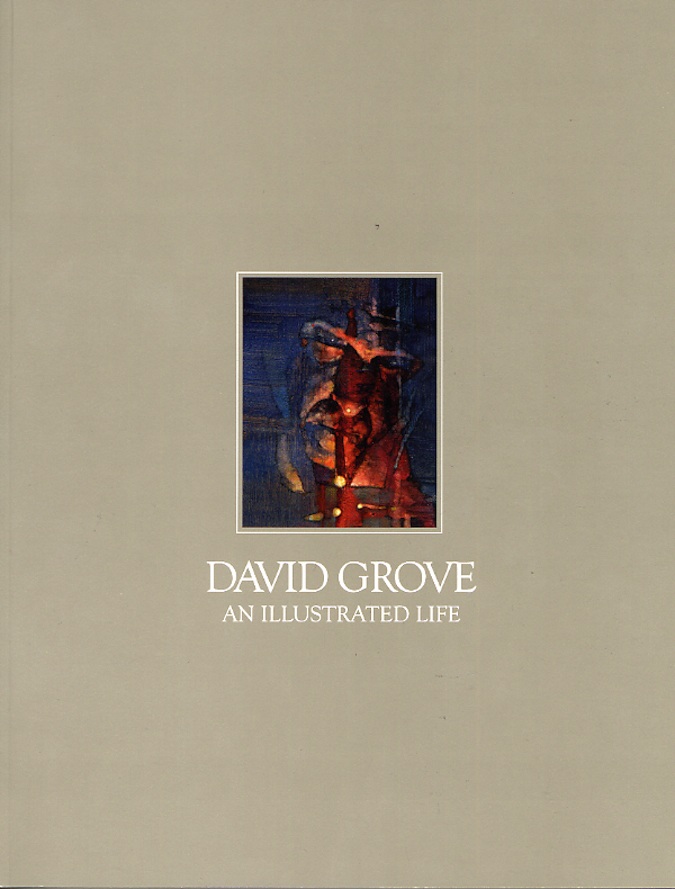 To read more:

San Francisco Chronicle obit
"Life Needs Art" blog tribute
Muddy Colors blog tribute


---
December 30, 2012: New images - Body and Soul, What's Up Doc?, and Eleanora Duse.
Here's a nice little update to wrap up 2012 -- three new images of Amsel artwork! The first is the final paperback book cover Amsel did for ELEANORA DUSE; it remains my personal favorite out of all Amsel's book illustration work. The second image is a color detail of Ryan O'Neal and Barbara Streisand for the film WHAT'S UP DOC?; this was found online, and I did a bit of digital editing to remove some text from the artwork.
The final image is a special one, as I haven't seen it before -- Amsel's album cover for Columbia Records' 3-disc vinyl release, BODY AND SOUL: FIVE DECADES OF JAZZ ERA SONG.Heartfelt thanks to Amsel fan and graphic designer Jeff Crawford for providing this image!
---
November 17, 2012: New images - Nijinsky (paperback and Blu Ray), Good Housekeeping, and Indy...
Richard's sister, Marsha, recently provided me with a photo of a centerfold illustration he had created for a GOOD HOUSEKEEPING article. (Marsha herself modeled as the girl in the mirror!) While the original pages are in poor condition, I've digitally cleaned up the photo a bit. I'm not sure what the date of this issue is (or the artwork), so if anyone knows, please pass it on!
Here's another rarity from the 1970's: while Amsel did the movie poster for the 1980 film NIJINSKY, I wasn't aware that he had also illustrated a 1971 Pocket Books paperback edition of the book that inspired the film. Very, very special thanks to Richard Pastor for this long-lost image: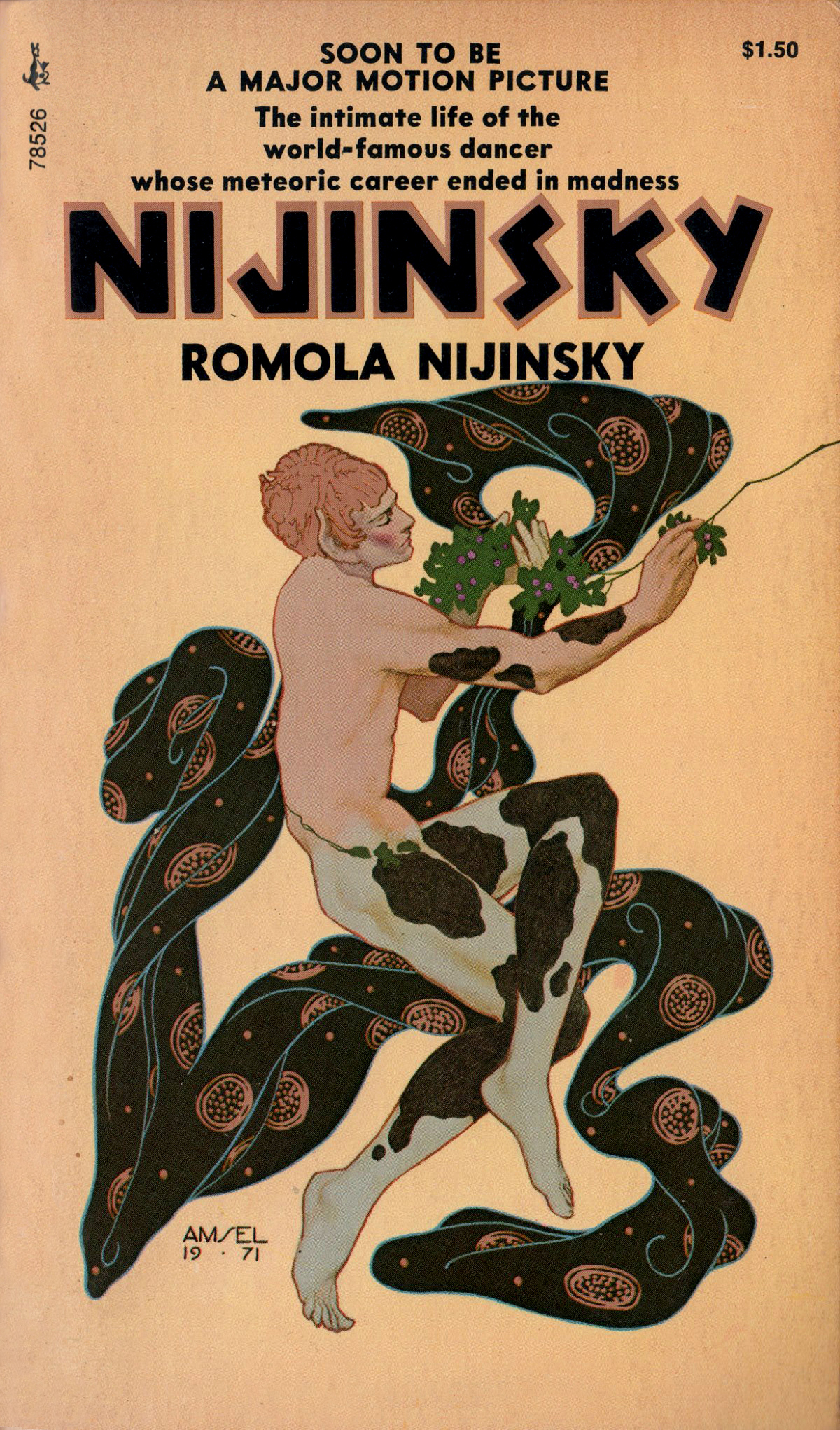 Finally, I'm happy to see Amsel's work continues to be used in recent rereleases of his films. His original poster art for the film NIJINSKY was featured on the new Blu-Ray edition, and a modified version of his legendary Indiana Jones portrait was prominently placed on movie posters for AMC's nationwide marathon of the adventure series. For NIJINSKY, again we have an example of how much the colors of an illustration can vary; they look much warmer (with more emphasis on purples than blues) than the earlier scan I made from the old Christie's catalog.
---
November 10, 2012: LOS ANGELES magazine's profile of poster artists, circa 1983...
I've had a number of wonderful, heartfelt conversations with Richard Amsel's sister, Marsha, and recently she informed me of a LOS ANGELES magazine article from 1983, profiling movie poster artists. After scrutinizing eBay for a few weeks, I finally got my hands on a copy, and it's an extraordinary time capsule or sorts, reminding me of my childhood in the early 1980's -- where VCRs and "car phones" were luxury items costing several hundred dollars, polo silk shirts cost $39.95...and a posh condo in Los Angeles was still more than I could afford.)
It's good enough that Amsel himself is profiled in the article, but what's really special is that it contains a rare photograph of the artist alongside his work. Notice, too, the size of the original pieces; while most poster artists customarily produce work at the same scale (if not larger) of the final printed images, Amsel's work was usually a bit smaller -- but so detailed that the images would not lose anything when blown up to poster size. (The original RAIDERS poster is such an example.)
And -- God! -- look how YOUNG Amsel looks. It's hard to think that, by this time, he was already one of the leading poster artists in the country, nearly fifteen years into his professional art career. It's also hard to think that he would die less than three years later, at an age a year younger than I am now.
Alas, of all the artsists profiled, only two are still with us -- the great Drew Struzan, of course, and Bob Tananbaum, whose extensive work has evolved into portraiture, western, and sports themes. The others passed away all too soon, tragically long before their time; Peak in 1992 from a head injury, and Alvin of a heart attack in 2008. (The latter on the same day this very website was created.)
My hat's off to all these guys -- with sincere thanks for the inspiration they've given me.
---
Sept. 7, 2012: This picture has been re-Raided!
Well, RAIDERS OF THE LOST ARK is back in theaters, and in IMAX, to boot. I'm seeing it tomorrow, and am greatly looking forward to it. (One of the big pleasures of living in the L.A. area is that many of my favorite films -- Raiders, 2001, North by Northwest, Harold and Maude, to name a few -- are routinely screened in revivial theaters each year, so I no longer bother even watching them on TV.)
Lucasfilm artist Mark Raats has created a lively poster for this special release, evoking a bit of the old Drew Struzan's style: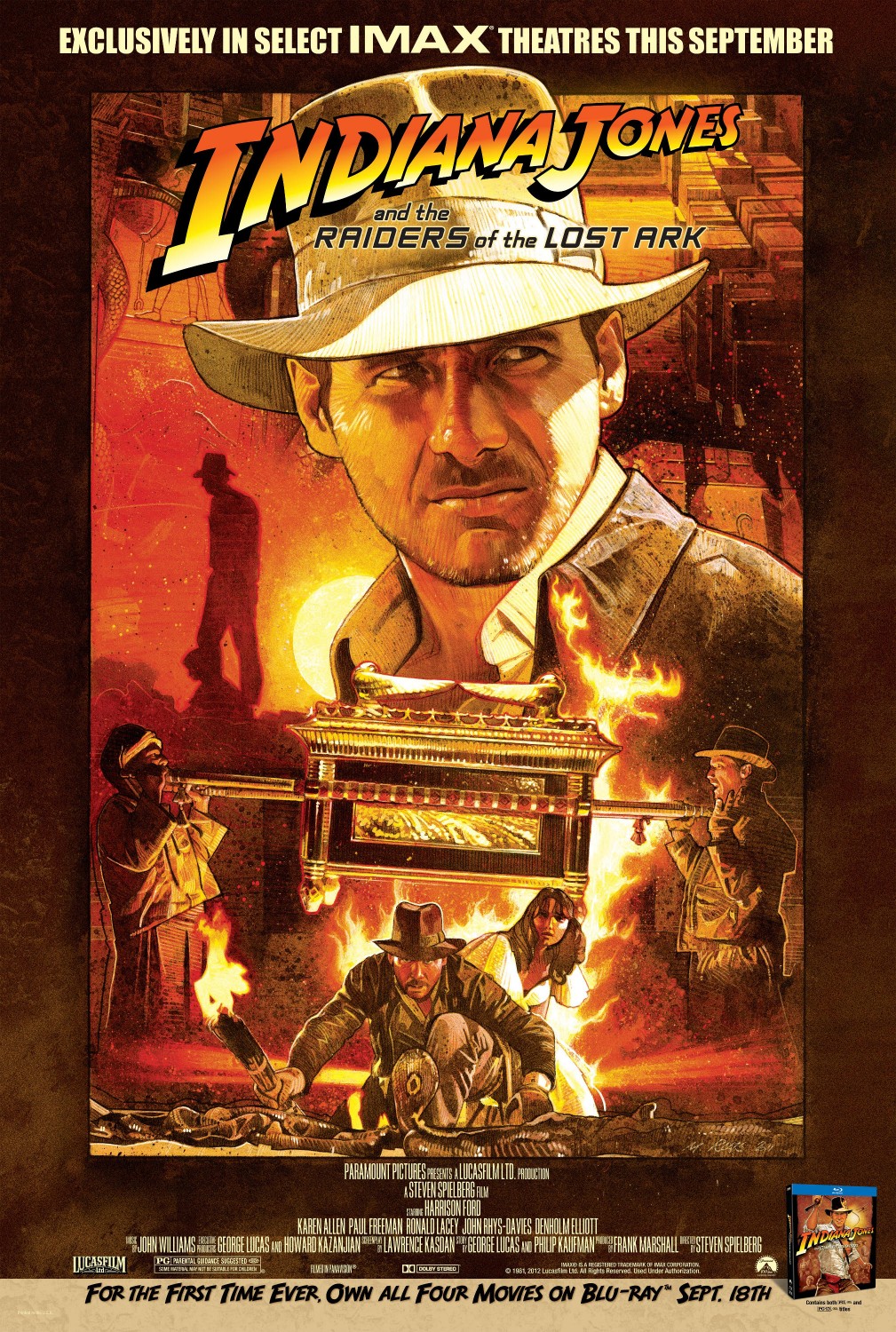 What's especially interesting about this poster, however, is how Raats originally conceived the design, which was quite different from the final image. Forget that the title was rebranded to the clumbsily wordy "Indiana Jones and the Raiders of the Lost Ark" -- that was Lucasfilm's doing, and the marketing-minded change never made logical sense to me. (After all, Indiana Jones himself is but one of the many characters "raiding" the ark, and the title was in no need of fixing, anyway...) To back up Raats' claims of innocence, here is his original, completed artwork, and digital poster mock-up, before the powers that be ... well, um, exercised their powers:
If you look closely at Raats' comps (below center and right), you'll notice something else that's very interesting: the artist pays tribute to Richard Amsel's very first Raiders poster, with a portrait of Indy standing in front of the original Amsel background: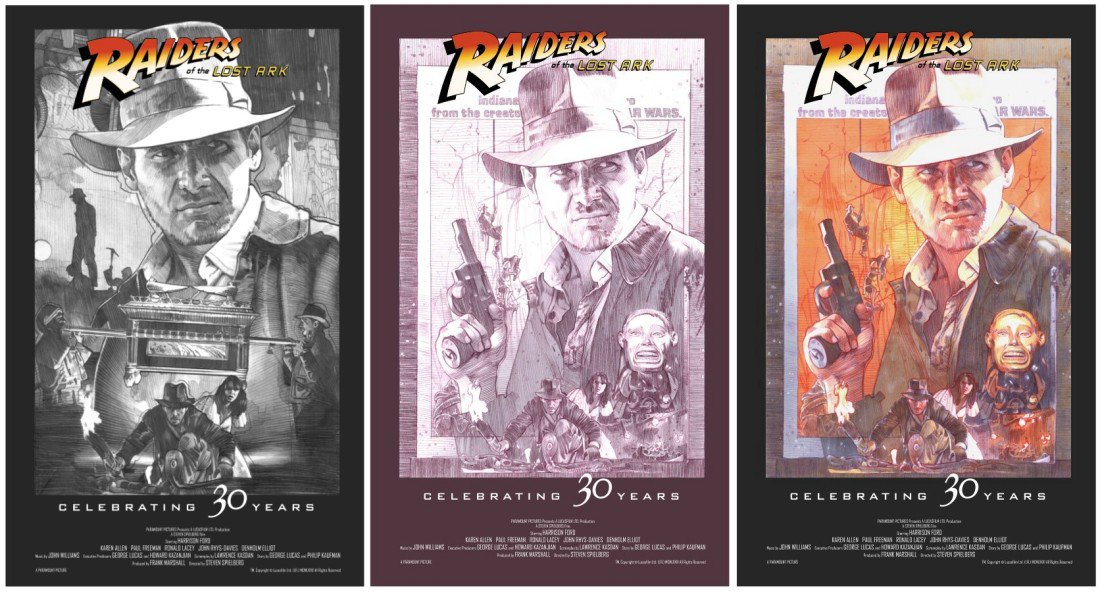 For reference, here's Amsel's original poster from 1981: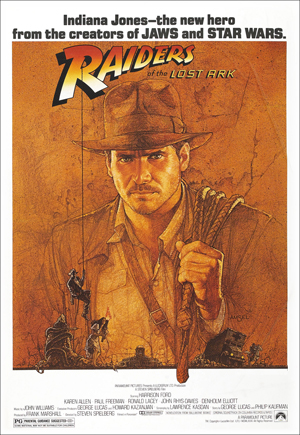 I'm also glad to see that at least part of Amsel's rerelease poster is featured on the upcoming Blu-Ray set. It's known as Indy's "heroic" pose, and perfectly captures the character. (Only Richard Amsel could get away with depicting a gritty, worldly hero sporting a smirking grin, without making it look too cheesy or silly.) I'm not particularly fond of some of the obvious digital "tweaks" made to Amsel's drawing -- I suspect they were trying to make it look more painterly -- but I'm glad that pose remains as the definitive Indiana Jones portrait.
I'm curious to know the artist who created the background character montage. (See below.) While I'm not blown away by it -- I'm a harsh critic -- I think it succeeds in complimenting, rather than distracting from the central figure.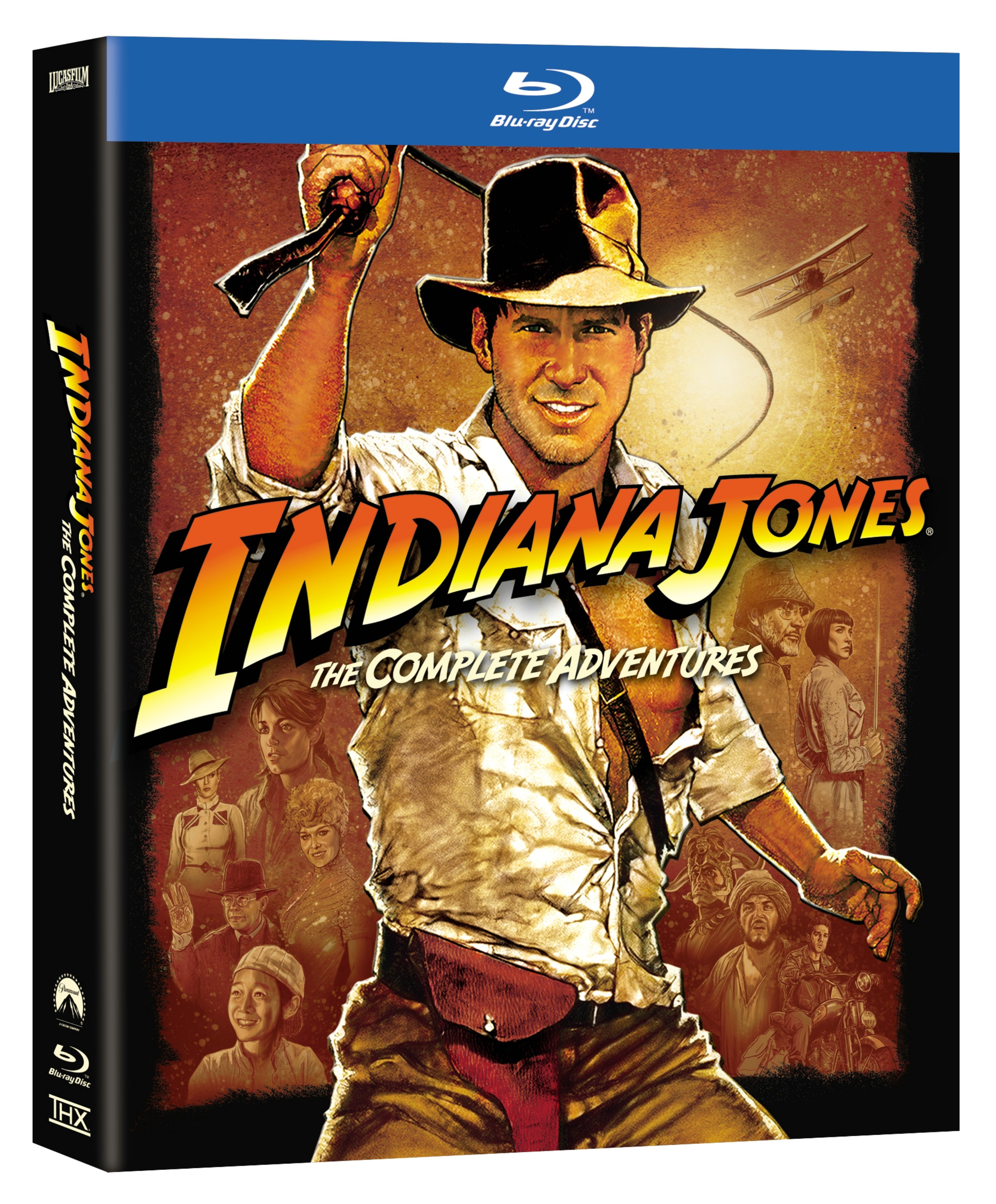 UPDATE: Mark himself reached out to me on Facebook with the following response:
Adam, firstly allow me to thank you for the supremely thoughtful review and secondly, let me thank you for protecting my 'innocence'. All to often we encounter glib comments or flippant posts that fail to serve much purpose but happily, this is not one of them.

Before I comment on the illustration itself, let me say to those individuals blaming me (I kid you not) that I was NOT responsible for changing the name - its been the marketing title since 2000 but it will always be 'Raiders of the lost Ark' for me (see my original concepts).

Mindful of the fact that I'm writing this on RICHARD AMSEL's appreciation page I would like to say that embarking on this project was not easy given Richard (and Drew's) long association with the franchise. I was painfully aware that this is regarded by some as hallowed ground so, I tread as carefully and respectfully as I could while at the same time, trying to make something that was unique to my taste and artistic style. BTW, my artwork was originally created to celebrate the 30th anniversary of Raiders of the Lost Ark but as sometimes happens, it was ultimately rediscovered and used for the IMAX and Blu-Ray release.

As you know, there IS a studio tendency to let the Photoshop pilot's loose on original art which I don't understand or support and in this case, my color palette was drastically changed to a more vibrant orange. Other changes were also made but my intention was always to have something that was less visually punishing - indeed, something that looked more subtle and aged. I've always deeply admired Amsel's gorgeous original and what I tried to achieve with my painting was a more muted palette of sand and gold - one that I hoped would pay homage to Amsel's elegant original.

You're right about my initial comps because I seriously considered using more of Richard's original poster in my new piece simply because it is THE Raiders poster and I struggled to work out how I was going to make a new artwork without including a significant homage to him. In the end however the result was too self conscious (weak) in my opinion and so I went in another direction hoping to discover a new solution that would embrace all the elements that we have all come to love and respect over the years.

Although I know WHY it happened, the thing that has always bothered me about Amsel's original, was that the Ark is missing from the illustration. Although it does appear in the second poster I wanted it to be more prominent considering that its the most profoundly glorious prize. I also wanted to return Indiana Jones to the character who's slightly mean, cavalier, mercenary and dangerous and this is why I chose to place him straight down the middle of the composition. For the rest, I chose to use elements that were - for me - things I remembered vividly from when I first saw the movie as a young man serving in the military.

As far as the Blu-Ray box goes, the lovely internal artwork was done by my friend and Lucasfilm colleague Jason Palmer. Like you, I'm delighted to see Amsel's original Indy standing boldly on the cover (I have the same reservations regarding the treatment though) and while I can't be certain, its possible Jason was responsible for the montage as well.

Thank you once again for your post sir. I am truly honered to have been given the opportunity to add some modest value to the Indiana Jones franchise.
Mark, thanks so much for your thoughtful, fascinating comments!
---
July 29, 2012: Howard Terpning art exhibit & book signing.
Once again I must open another post with the babbling prelude, "I haven't updated this site in ages because of such-and-such, with life-such-and-such getting in the way, etc... etc..."
Well, fact is, I've been a bit lazy. There are so many things I've been meaning to mention, it all somehow gets the better of me, and I procrastinate as a result. Sorry, guys.
And so ... onto the first of many hopeful "catch up" entries I'll be making over the next few weeks.
In January I posted an entry on the movie poster art of HOWARD TERPNING, who, after the Vietnam War, abandoned a hugely successful commercial illustration career in favor of a new life in Arizona, working as a fine artist -- painting scenes of the American Indians and the American West.
It wasn't soon after that I learned the Gene Autry Museum would be hosting a collection of Terpning's Western paintings -- an exhibit called "Tribute to the Plains People" -- and, best of all, the artist himself would be making a rare public appearance, signing his book of the same name.
The show was fantastic, filled with large paintings created over the last four decades. On a technical level, I was repeatedly struck by Terpning's use of color, composition, and lighting. But even more breathtaking was his sense of storytelling -- for many of the paintings feature action with significant meaning, from images of high adventure to more somber depictions of death and destruction.
While the romantic view of "The American West" has become an integral part of American folklore and culture -- from dimestore books and novels, to radio and movie serials, and an entirely unique, enduring genre of motion pictures and television series -- it's sobering to think that the seemingly immortal period was, in truth, only represented by a few short decades, and marked the death knell of an entire culture and civilization.
Terpning's work, while certainly beautiful and often romantic, doesn't shy away from these facts, as many pieces are imbued with a profound sense of sadness. Many of the Indian characters within his paintings seem fully aware of their cultures' numbered days, and the inevidable changes to come -- both for their people and the land they live in.
Now 84, Terpning is a burly, handsome fellow who easily looks a good twenty years younger, and remains busy as ever.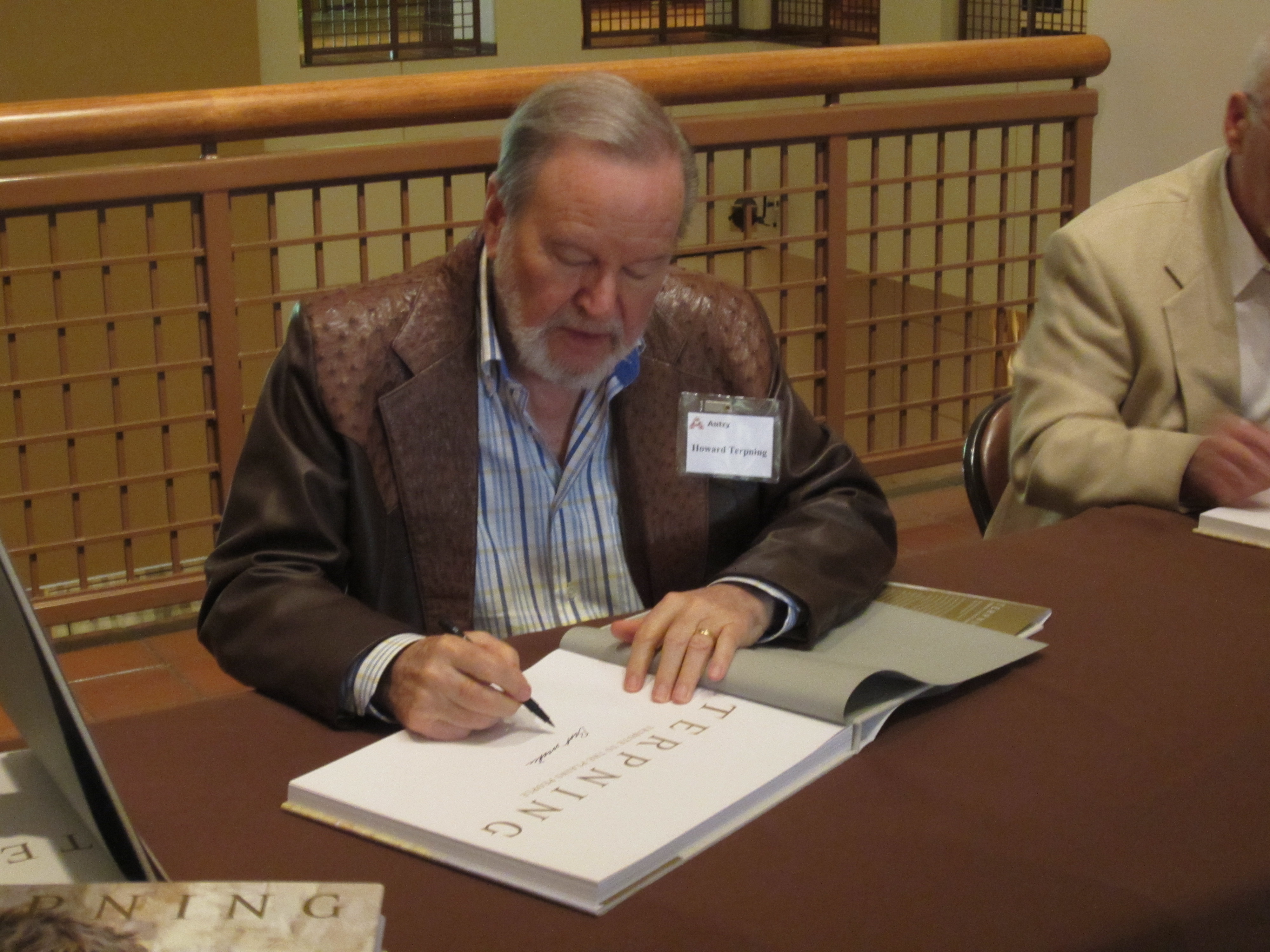 Another one of the exhibit's delights was a documentary film about the artist, intercutting scenes profiling Terpning's life and career with a behind the scenes look at his latest creation. I love seeing a master's artistic process -- learning how a painting first develops from an idea, to the technical process used to bring it to life. I'm sure the DVD will be made available sometime in the near future; it's a great thing to watch, and very well done.
UPDATE: The documentary is called Howard Terpning: Portrait of a Storyteller, and is available for purchase on DVD. A trailer for the film can be seen on YouTube:
---
July 7, 2012: Amsel's DYNASTY artwork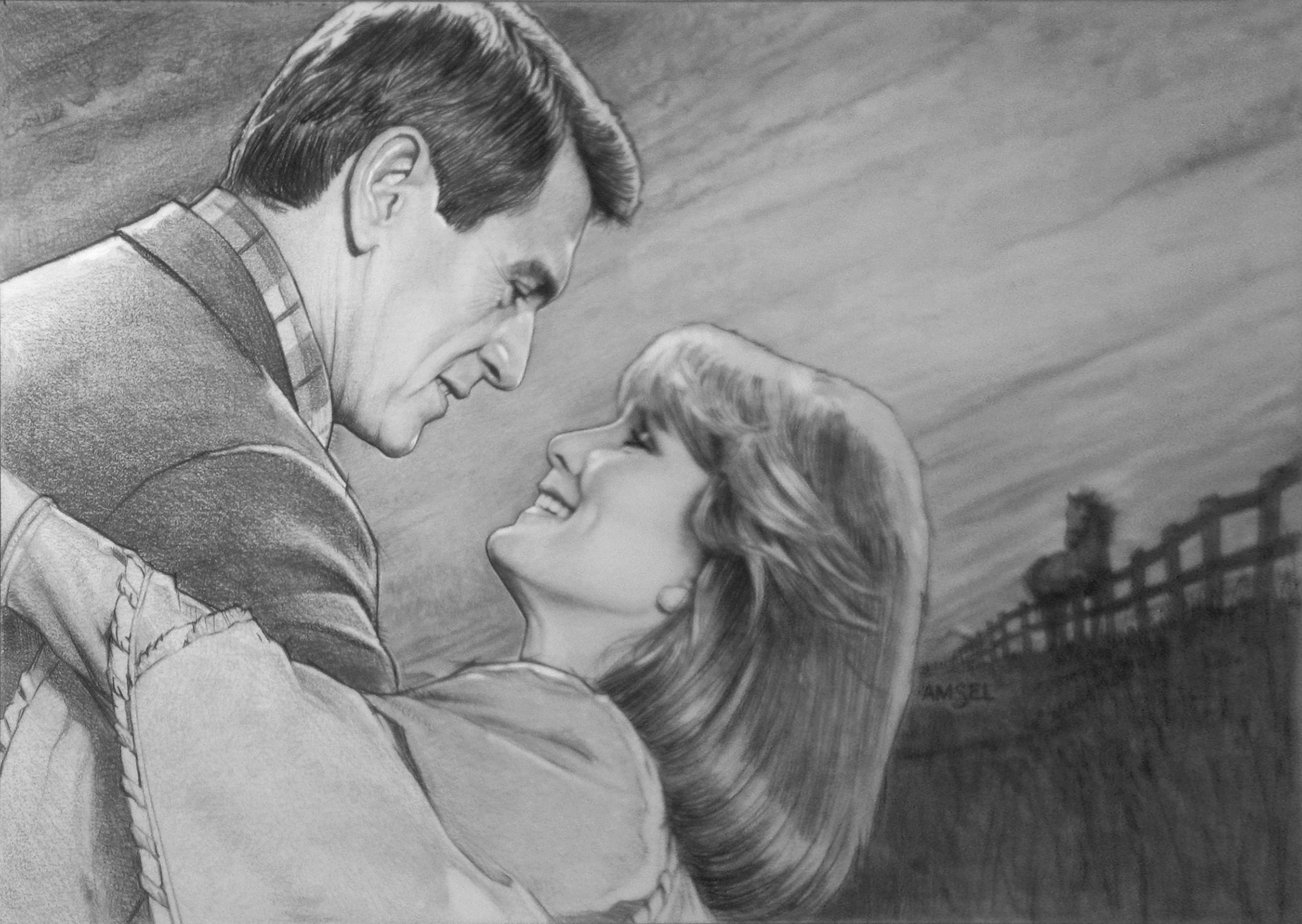 While it's pretty easy to find images on the web of Amsel's published covers for TV Guide, it's a bit challenging to find any illustrations featured for pages inside the magazine. This is one of them -- a portrait of Dynasty's Rock Hudson and Linda Evans.
I'd like to give very special thanks to Judith Goldman, who provided me with a snapshot of Amsel's original drawing. She was a close friend of the artist's, and even modeled for some of his pieces
I'm trying to track down more of such images, and hope to create a new page specifically for them. In the meantime, I've placed this on the MISC. WORKS page.
---
May 9, 2012: Maurice Sendak, 1928-2012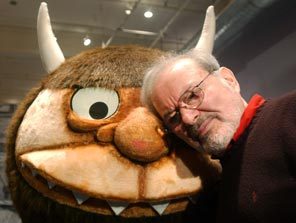 When I graduated from Vassar College (waaaay back on May 19, 1996), our class' commencement ceremony was held outdoors, in what seemed like a sweltering 100 degree+ weather under an unforgiving sun. Faculty members gave speech after speech -- all formal, stately, unimaginative pseudo-lectures with a lot of talk but little ideas. During this, my mom briefly fainted from the heat, and I almost joined her from the boredom.
Ah, but then Maurice Sendak took the podium...and for a few precious minutes, all was right with our world. His wasn't some formal, pretty speech; it was a delightful, touching, honest and pulls-no-punches sharing -- filled with energy, wit, and life, life, life. "So be our brave new world!" he exclaimed. "Denounce the money-changers and defy the hype, the sleaze, the deadly cynicism that chokes the hope out of all our lives. I invite you to take the plunge. And when the hard work is done, have safe sex and let the wild rumpus begin!"
He belongs to the ages now, but I hope the rumpus shall not end.


---
April 18, 2012: More new & improved images!
Many heartfelt thanks to Thomas Haller Bachanan for allowing me to share these new scans of Amsel illustrations -- including a previously unseen concept sketch of Barbara Streisand in Yentl.
---
April 10, 2012: Art auction to benefit Baby Leah
Indiana Jones fans often write to me about my artwork, and I hope that interest will crossover to an auction that's currently up on eBay.
I've donated a print of my "Circus Style" RAIDERS poster (a tribute of sorts to the classic Drew Struzan / Charles White III STAR WARS poster), along with a ceramic coffee mug carrying the "ROPE" image, to benefit Leah Esquenazi -- a little girl striken with a crippling series of illnesses that has left doctors baffled. She needs round the clock medical care and supervision, and the mounting medical bills have finacially devasted her parents.
To find out more about Leah, please go to the following links:
www.facebook.com/artforleah
http://princessleahdiaries.blogspot.com/

---
March 29, 2012: BYRD/SKOLNICK - A Tale of Two Posters show
My friend David Edward Byrd will be part of a two-Man retrospective, along with Arnold Skolnick, opening on April 1st, 2012 at The Museum at Bethel Woods, which is on the site of the legendary Woodstock Festival that occurred in August of 1969.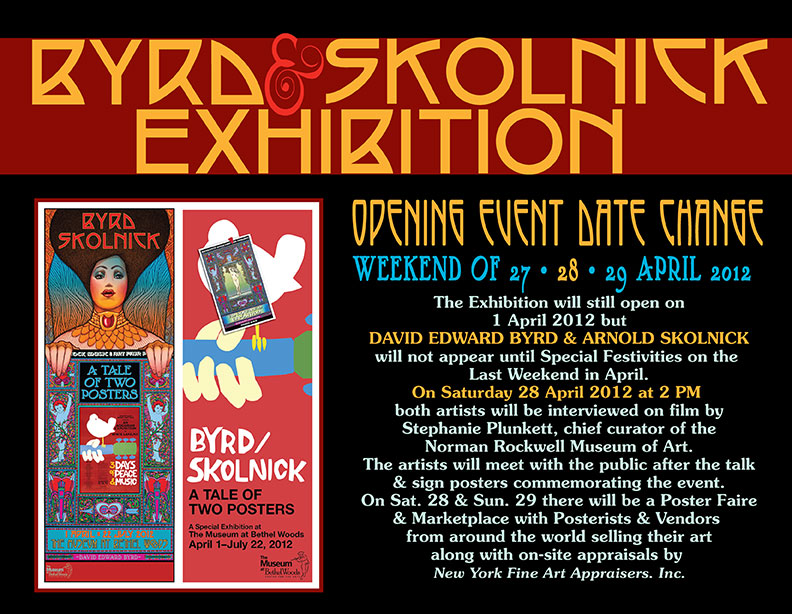 David created the first of the posters, when the festival was originally planned to take place in Wallkill, New York. When the location was switched to Woodstock, David was unavailable to update the design, so Arnold Skolnick stepped in with an alternate poster -- and the rest is history.
Both artists will be at the show April 27th - 29th, and will be interviewed on Saturday, April 28th at 2pm, followed by a "meet and greet" with the public. David will also be selling & signing posters at a booth during the Poster Fair.
Here's a great video that actually mentions the posters, starting at the 2:43 mark...
---
March 24, 2012: Art, storytelling...and DINOSAURS!
Show me a child who doesn't love dinosaurs, and you're likely to show me a very lonely, melancholy child.
While my own childhood may have had bouts of loneliness/unhappiness, I not only adored dinosaurs, but was obsessed with them. I owned a copy of virtually every illustrated dinosaur book available in the country, it seemed, and I could memorize (and correctly pronounce) every species' name and characteristics. This was right around the time of great new discoveries being made about the Age of Reptiles. Years before Jurassic Park hit movie theaters, Robert Bakker's groundbreaking The Dinosaur Heresies and William Stout's The New Dinosaurs offered fascinating, revisionist insight -- creatures once presumed to be slow, dumb, and lumbering, were in fact fast, mostly warm blooded, complex, and very, very smart.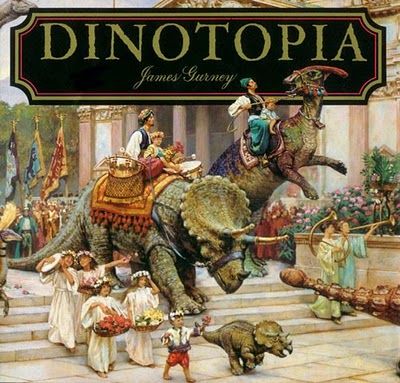 Alas, as I grew older my interest in dinosaurs (and perhaps much of my imagination) waned, taking back seat to other things in life – school, love affairs, work, stress, money… What I'd give to have my inner child back!
It wasn't until about twelve years ago that I finally read James Gurney's Dinotopia book series, and my interest in dinosaurs was rekindled. Feeling exhausted one rainy day, I called in sick from work and spent the afternoon snuggled up with my cat, reading Gurney's lavishly illustrated, charming story – part Jules Verne, part Edgar Rice Burroughs, and a little bit of Jurassic Park thrown in for good measure. Forget the dull, derivative miniseries it spawned; while elephantine in scale (especially for television), it wasn't faithful to Gurney's original story, misguidedly transplanting it from the 19th century to modern times…and filling it with cheesy pop references, dull dialog, and many, many plot clichés.
I don't think my saying Gurney is a genius is uncalled for; his artistic talent alone in on par with the best of the Golden Age of Illustration. But his expertise goes well beyond the realm of art. He's part anthropologist, paleontologist, archaeologist, architect and engineer – extensively researching locations, designs, costumes, and cultures, and mixes them altogether in his books with a great deal of imagination and wit.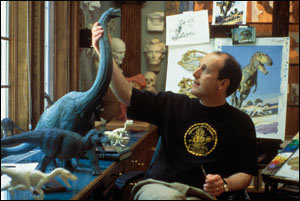 I met Gurney back in November of 2007, when he gave a lecture about his work at the LA Public Library. He struck me as very soft-spoken but eloquent, possessing a keen intellect…not to mention a really, really good memory. (When I introduced myself during a special reception, his first words to me were, "Oh! You have a blog or website with your artwork on it, right?", to which I was so shocked and amazed to hear -- this guy has seen MY stuff! -- that I felt myself on the verge of happy tears.)
For you Dinotopia fans, Gurney has just released a special 20th anniversary edition of his book, filled with new illustrations – as well as insightful peeks into his creative process. Artists (and art fans) may also find invaluable knowledge in his art instruction books Color and Light and Imaginative Realism, which elaborate on his painting techniques and creative approaches.
I'm also a huge fan of his daily weblog, "Gurney Journey", which is filled with entries on not just art, but writing and storytelling -- so there's something to appeal to the daydreamer in each of us…even those who can't draw a straight line.


---
March 23, 2012: More new and improved images!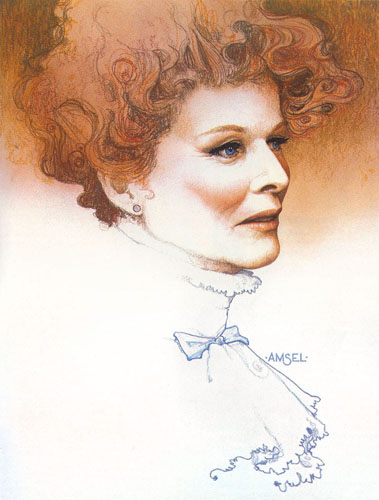 David Layton has again provided me with another new and improved image, this time of one of my favorite Amsel pieces -- the Katherine Hepburn portrait for TV Guide. My previous pic on this site was muddier and not as detailed, but this better reproduces the work's true, warm, delicate colors. Having seen the original illustration with my own eyes, I'm now reminded of how remarkable and sensitive Amsel's artistic touch was.
One of the challenges I've had with this site is trying to find sharp, high quality images that best represent Amsel's work. Many of the images here were either scans I made myself, or culled from images online...but when I don't have the original art available for comparison, there's a wide margin of error in how the colors are represented.
Take, for example, the below two images of THE DIVINE MISS M album cover illustration. One is a high rez pic I scanned from a catalog; the other a smaller pic of the album itself found online. Both the artist and (especially) his subject would likely scream upon finding that a red-headed diva's locks have suddenly turned a pale, sickly dark brown! So, for completion's sake, I opted to feature both images here. This is yet another reason why I always welcome your contributions to this site.
---
March 20, 2012: New & improved image of the John C. Attle poster
Special thanks to David Layton, a new member of the Richard Amsel Facebook group, for sharing this image of the John C. Attle poster. It's the clearest, brightest pic of it I've seen thus far! :)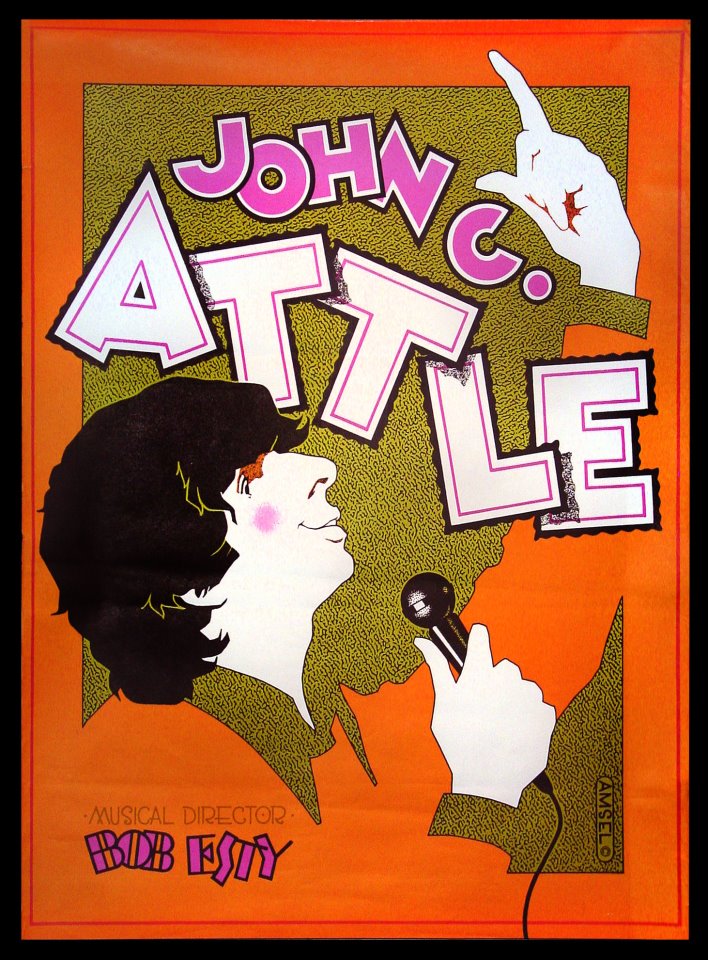 __
---
February 28, 2012: Mary Tyler Moore in TV Guide
The Jan. 23-Feb. 5 issue of TV GUIDE includes an interview with Mary Tyler Moore, and looks back at a number of covers that featured her. Amsel's portrait of the actress is among her very favorites. "What I like about this is that I look absolutely gorgeous," Moore says. "Not that I'm a prima donna; it's just that this was a nice change of pace."
Special thanks to my good friend Chris Smith for letting me borrow this issue.
---
February 8, 2012: Amsel's GQ covers
I finally managed to find an image of Amsel's cover illustration for GQ's December, 1972 issue -- a stunning work of beauty, painted in homage to the work of Gustav Klimt. I've featured it here next to Amsel's other cover for March of '74; two wildly different styles, yet both very recognizable "Amsels". Enjoy.
---
January 29, 2012: The LA Art Show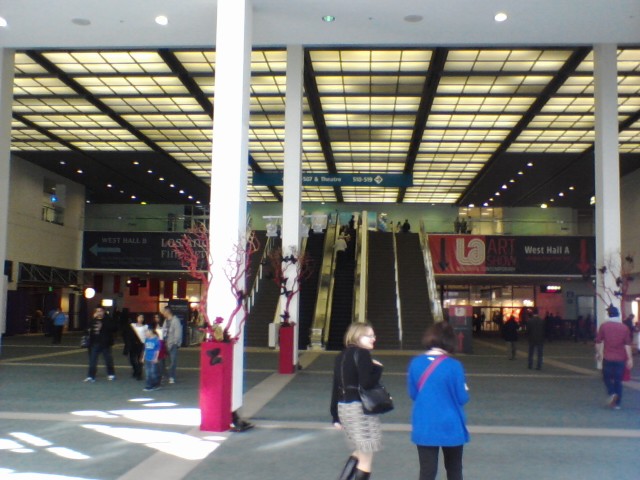 Last Saturday I visited the Los Angeles Art Show for the first time in years. It used to be held at a different venue (inside various airplane hangars), but this year it was at the LA Convention Center. I must say the center seemed a highly more appropriate setting -- though I may be a bit biased, as the new location is considerably closer to my home.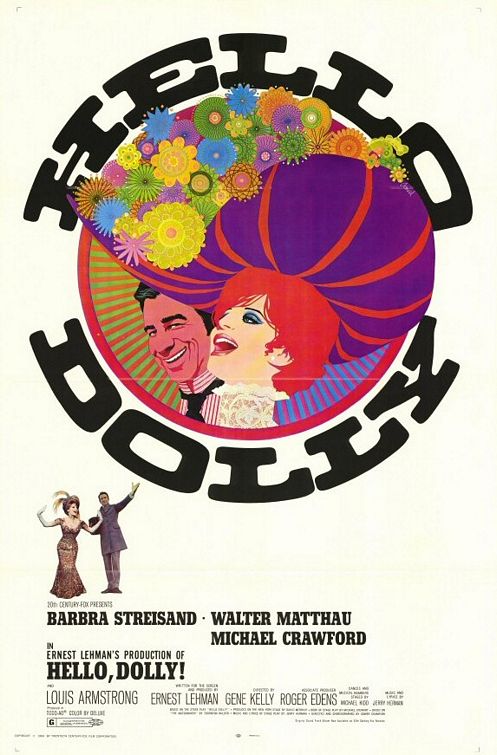 My favorite part of the show was, of course, The International Vintage Poster air, where art galleries from around the world showcased geniune, original lithographic posters -- Art Nouveau, Art Deco, and Mid-century Modern dating from the 1890's Belle Époque to the stylized 1930s, and on through the Atomic Age. My only regret about going was not having enough money to buy anything...
One of the exhibitors, Gregg Yaneff of the Yaneff Gallery, even had Richard Amsel's HELLO DOLLY poster up for sale. My eyes lit up when I saw it, as Yaneff was flipping through the posters, describing each one to a captive audience. When I mentioned this site to him, and my familiarity with the artist's work, he kindly indulged me as I explained -- to him and the crowd around us -- the fun backstory behind Amsel's poster. (Amsel did it while he was still just an art student in Philadelphia, winning a nationwide contest by 20th Century Fox.)
For my efforts, Yaneff kindly offered the poster to me at a very, very good price -- but with my rent and car payments right around the corner, I had to regrettably turn him down. I feel it's only fair for me to give him a little shout out here in appreciation.
Here's a great little video Yaneff made, "History of the Poster Belle Epoque". It, and the gallery's site, are definitely worth checking out:
---
January 24, 2012: The poster art of Howard Terpning
You'd think that an artist behind some of the most famous film posters of all time would have become a household name like Norman Rockwell, but Howard Terpning isn't someone often recognized, even within film circles. And strangely enough, that may be exactly what Terpning himself wants.
In my opinion, the roster of prestige, blockbuster films Terpning did posters for exceeds those of any other artist. And if you think I'm exaggerating, look at some of these as proof:
Forget that Gone With the Wind, The Sound of Music, and Doctor Zhivago (top row) are among the highest grossing films of all time. (GWTW still ranks #1 by an extremely wide margin, with inflation taken into account -- take that, Avator, Titanic and Star Wars.) The posters themselves are ubiquitous, not to mention artistically stunning...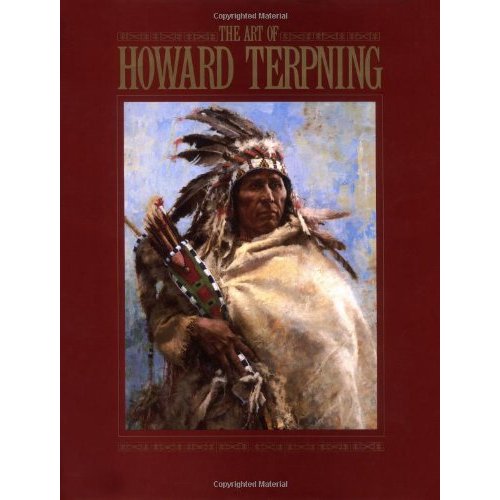 Yet Terpning, whose work seemed the very cornerstone of 1960s movie poster art, abandoned his commercial career in favor of other creative pursuits. After spending time in Vietnam as a civilian combat artist, he returned to the States -- reportedly profoundly changed from the experience -- and moved to Arizona, embarking on painting scenes and landscapes of the American West.
Terpning -- who is happily still with us -- has often stated that his commercial work was often creatively unfulfilling, and his subsequent career as a fine artist has won him much acclaim. But while books of his Native American and Western art have been available for some time, I've yet to see any collections of his film posters published. And that's perhaps the way he wants it.
Thankfully, there are some excellent resources online dedicated to Terpning's film work:
http://in70mm.com/news/2006/howard_terpning/index.htm
http://www.thesandpebbles.com/terpning/terpning.htm
http://www.askart.com/AskART/artist.aspx?artist=2427&redir

---

January 9, 2012: Adrian Curry's "Movie Poster of the Week"; Different approaches to marketing THE LONG GOODBYE.
There's a great weekly blog by Adrian Curry on "Notebook", an extremely addictive and insightful online magazine about film culture. Curry's posts are dedicated to the art of film posters, and they're a must read.
I first discovered his blog through his writeup on the work of Harold Seroy, a New York artist who created large, ultra-rare "two sheet" posters since the 1930s. Looking through his work is like discovering an ancient treasure, and my hat's off to Mr. Curry for sharing it with the rest of us. Here are some samples of the late Seroy's work:
Turns out Curry also featured Richard Amsel's work on his blog -- smart man, he is! -- in an extensive post about the marketing of Robert Altman's THE LONG GOODBYE:
When the film premiered in 1973 at a weekend retrospective of Chandler movies in Tarrytown, New York, it was not well received. Altman was present for a Q&A and sensed a hostile response to the film. It opened to lackluster reviews and disappointing grosses in L.A. (where it played Grauman's Chinese), Chicago, Philadelphia and Miami and was promptly pulled from distribution before its New York opening. The rumors were that it was going to be re-edited, if not shelved, but instead United Artists analyzed the reception the film had received and decided that the fault lay with the misleading ad campaign for the film that made it look like a straightforward detective story. So the studio spent $40,000 on a new campaign designed by Mad magazine artist Jack Davis...whose cartoon illustrations had already enlivened It's a Mad, Mad, Mad, Mad World and Woody Allen's Bananas. Davis's poster, seen below, reimagines the film as a wacky free-for-all with Altman as ringmaster. Elliott Gould still has a cat on his shoulder, but no revolver in his belt, and you only have to look at the difference between Van Pallandt's dogs in each poster—one sleek and aristocratic, the other mangy and feral—to see how these posters are worlds apart. Altman's speech bubble ("Hi! I'm high-powered director Robert Altman") pre-empts criticism that this is not your father's Philip Marlowe (something the Tarrytown audience hadn't been prepared for) by declaiming "This film is full of fun—murder, maiming, drunkenness, infidelity, topless yoga freaks, four-letter words—everything!" ....

The film was finally released in New York six months after the original opening and got a new lease of life, ending up on the New York Times' Ten Best list. In Mitchell Zuckoff's recent oral biography of Altman, David Picker, the head of United Artists at the time, who had championed both Gould and Altman for the film (though Peter Bogdanovich was actually his first choice to direct) says "I found [Altman's] conduct in relation to us at United Artists and toward me personally incomprehensible. He took credit for something that we did. We're talking about the entire way the picture was released. I liked that picture a lot and I didn't like the way our marketing people initially distributed it. I pulled it out of release and did a whole new marketing campaign, and Altman took credit for it. He didn't have the grace to give us credit for it, and I told him to go fuck himself." Meanwhile the studio, or at least its international marketing department, must have decided that audiences overseas would accept the film as a more straightforward private-eye thriller, hence the international release poster below, artist unknown.
Above, left to right: Amsel's two poster designs, MAD Magazine artist Jack Davis' more comic approach to the poster,
and an international poster (artist unknown) that highlights the more traditional thriller/suspense elements to the film.
Curry's blog is truly a labor of love, and definitely worth checking out.
---

December 29, 2011: SFO Museum features Amsel artwork in current television exhibit
After celebrating Christmas with family in Pennsylvania, I had a connecting US Airways flight through San Francisco International Airport during my return home. It turned out to be one of the worst experiences I've ever had at an airport. When I could not find my gate information on the travel kiosk, I spent 10 minutes tracking down a single US Air employee -- who directed me to another terminal, where I had to, all over again, go through the process of standing in a long line to check in (and pay for) my one bag, and standing in another long line to go through security. It was all so disorganized, chaotic, and I barely made my flight in the nick of time.
The only saving grace I found within the airport was in terminal 3, where I was able to glance through two exhibits on display -- Television: TV in the Antenna Age, and a retrospective of TV Guide.
I managed to snap some quick photos, though I was literally running and panting, and didn't have any time to spare. Poster-sized displays of a number of iconic TV Guide covers were lined up alongside a conveyor walkway, including Amsel's Lucille Ball illustration.
For more on the exhibit, go to the official SFO website. It runs through February 2012. (And if you fly with US Airways as I did, maybe you'll "run through it", too.)

---
November 22, 2011: New page on miscredited work
I've now created this page dedicated to those posters often incorrectly attributed to Richard Amsel, as I feel it's an important topic worthy of further commentary.
---

November 20, 2011: The otherworldly work of Ul de Rico
One of my favorite childhood movies was THE NEVERENDING STORY, an elaborate 1984 fantasy directed by Wolfgang Petersen, and based on Michael Ende's beloved children's book (or at least the first half of it, as purists will admit). I recently watched the film again at a screening in Los Angeles, and was particularly struck by how unique its fantastic world looked. Cynics may carp about some of the film's dated special effects and animatronic work, but for its time it was quite astonishing, and there's never been another film quite like it. (Even the film's sequels grossly pale in comparison.) And in spite of their technical limitations, I personally feel there's far more magic to be found within those practical effects crafted with love and care in service to the story, than in anything glossy, digitized GCI can offer. (After all, who would seem more believeable to you: Kermit the Frog or Jar Jar Binks?)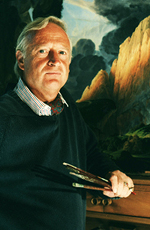 Like H.R. Giger was to Alien, Italian concept artist Ul de Rico (aka Ulderico Gropplero di Troppenburg) was an instrumental creative factor in bringing the film's unique, one of a kind vision to life. When I first saw the movie at 11 years old, the lush, colorful landscapes seemed oddly familiar, but I couldn't quite understand why; I'd certainly never seen another movie that looked that way before.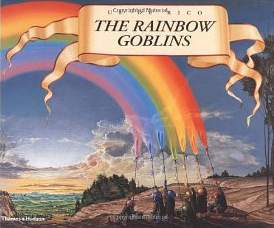 It was some years later that I discovered the reason. De Rico was also the artist and illustrator of The Rainbow Goblins, a book my mother had given to me when I was very, very young. This gift was not chosen by coincidence, for even then, Mom always encouraged my artistic endeavors, and somehow knew that I'd take an instant liking to the book's vivid illustrations -- even if I wasn't quite old enough to read the words. When the book was reprinted in the late 1990's, I was quick to buy another copy. (Here's to you, Mom.)
Ul de Rico's website features not only his professional work, but pieces from his early years and training at the Munich Academy of Fine Arts. You can also see some of his early concept sketches for The NeverEnding Story, including landscapes and character designs. (I've included a few samples here, along with screen captures from the final film.)
---
November 10, 2011: Regarding Polanski's THE TENANT
Chalk this one up to another case of oft mistaken authorship.
I received an email from someone asking to confirm whether or not Amsel created the poster for Roman Polanski's THE TENANT...and I vaguely recall pondering that very same question long ago, upon seeing the artwork for the first time.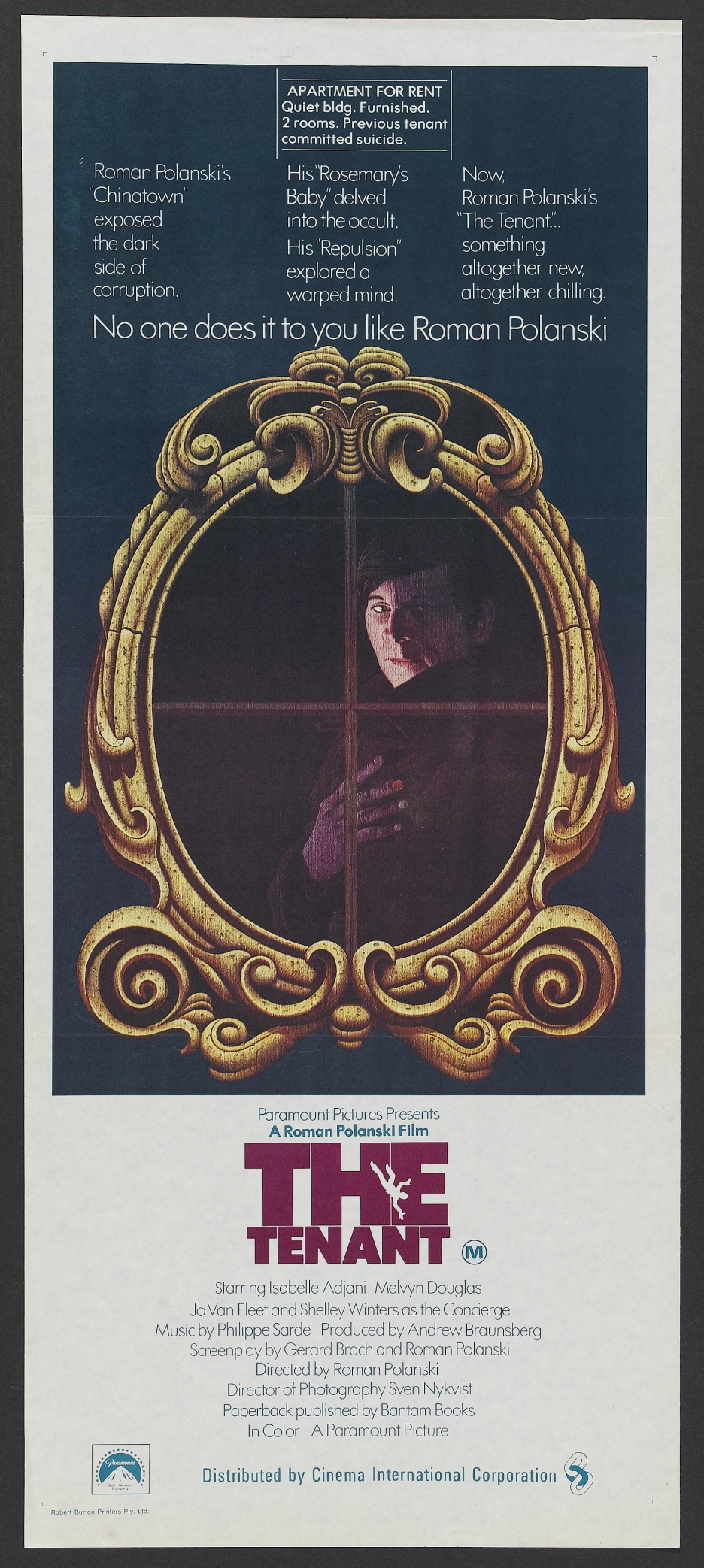 Dorian Hannaway has confirmed that this is NOT Richard Amsel's work, though it certainly evokes the artist's style during that period. That Amsel did a poster for Polanski's CHINATOWN might lead one to surmise his creating another illustration for the director...but alas.

---
November 2, 2011: Hollywood is DEAD!
I meant to post this Halloween morning, but have either been too busy at work, or too exhausted from partying. ("Partying" at my age is hardly hardcore, but still wears me out nonetheless!) So I'm sorry if this post is a bit late in the game...
For some years now, artist/illustrator Matt Busch has been creating some very popular movie poster parodies, reimagining classic film posters with a zombie twist. They're all darkly humorous and macabre, of course -- even the reworked titles are funny -- but I'm particularly struck by the technical level at which Busch recreates each poster. They're not digital touchups of existing work (as my spoof posters usually are), but hand drawn and painted, emulating the painting styles of diverse artists and their respective techniques.
"I grew up on great movies," Busch states, "but the movie posters themselves are almost more vivid in my memory as iconic images. So the opportunity to really study the original master artists like Drew Struzan, John Alvin, Bob Peak, Richard Amsel and others has been awesome."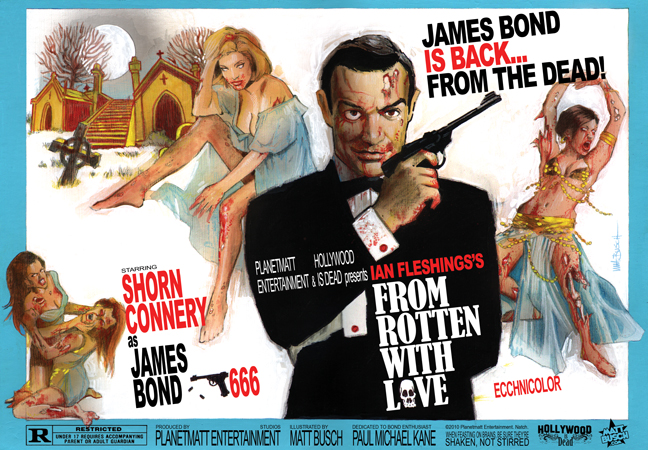 Be sure to check out Busch's HOLLYWOOD IS DEAD website, which offers oodles of fun even after the Halloween season.
---
October 4, 2011: Fruit of the Loom ad from 1971
Ah, the discoveries through eBay. I managed to find this Fruit of the Loom ad Amsel did back in 1971, pulled from the pages of Playboy. You can easily see a bit of the J.C. Leyendecker influence here.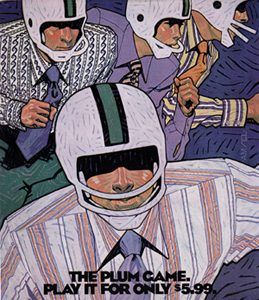 ---
September 17, 2011: THE BIG SLEEP
I managed to find an image of the "movie tie-in" paperback edition of THE BIG SLEEP, which differs from the final poster a bit, omitting the lion doorknocker -- obviously removed to make room for the title -- and changing the appearance of Candy Clark's face and hair. The two images (center and right) look like the same piece of art, only which one was the original, and which one was the modified?
Left: Amsel's preliminary design. Center: The final poster. Right: The paperback book cover.
---
September 11, 2011:
My thoughts and prayers go to all those we lost on 9/11, their friends and family, as well as those who are still trying to find some healing ten years beyond that tragic day.
I was back on the east coast at the time, visiting my family in Pennsylvania, and watched everything unfold, as millions did, live on the television. My mom, sister and I all huddled together, and dad (thankfully) returned from his New Jersey office and stayed at home in the days that followed. While I was scared at the thought of having to fly back to Los Angeles, I realized how lucky I was to be safe, to have my family safe, and -- luckiest of all -- to have my friends living and working in New York safe. (In an extraordinary turn of events, one of my childhood friends worked in the World Trade Center. When I finally was able to get through to my home phone's voicemail, I found a message from him out of the blue, which he had left just the day before, stating that he was actually on a business trip in California for the week!)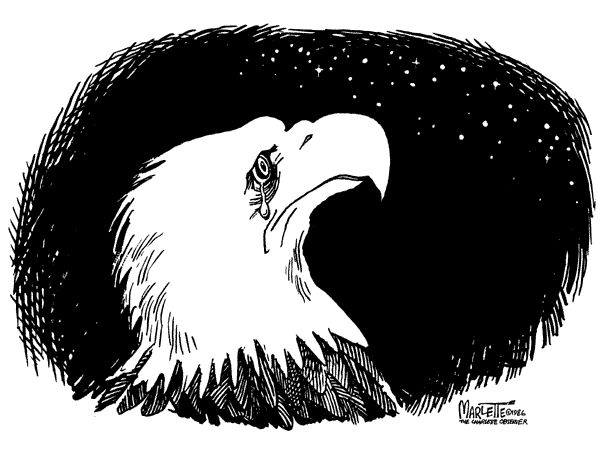 In 2001 my website was in its infancy, and I remember posting this cartoon image (right) in response to the tragedy. It was done by legendary cartoonist Doug Marlette in covering the 1986 space shuttle Challenger disaster. The simplicity the image somehow managed to perfectly express so many feelings -- of mourning and loss, of patriotism, and of a profound collective understanding of the human condition.
A picture can be worth more than a thousand words; it can evoke a thousand feelings.
In researching this cartoon for today's post, I was saddened to learn that Marlette had died in a traffic accident four years ago. It seems to be such a trivial, unfitting end to so illustrious a career; not only had Marlette won the Pulitzer Prize for his cartoons, but was an award winning author and playwright.
Like the best of editorial writers, Marlette didn't shy away from controversial subjects, and in examining them, he not only wanted people to react, but to make them think. Take, for example, this story excerpted from The Cagle Post:
Doug found himself blasted by the Council on American Islamic Relations (CAIR) in an e-mail Jihad when he drew a cartoon with the caption, "What Would Muhammad Drive?" The drawing showed a man wearing Arab headdress and driving a Ryder truck (a reference to Oklahoma City bomber, Timothy McVeigh). It became one of Doug's most famous cartoons and inspired thousands of angry, threatening e-mails.

Doug wrote, "I was used to negative reactions from religious interest groups, but not the kind of sustained violent intensity of the Islamic threats. The nihilism and culture of death of a religion that sanctions suicide bombers, and issues fatwas on people who draw funny pictures, is certainly of a different order and fanatical magnitude than the protests of our home-grown religious true believers."

Marlette continued, "As a child of the segregated South, I am quite familiar with the damage done to the "good religious people" of my region when the Ku Klux Klan acted in our name. The CAIR organization that led the assault (on me), describes itself as a civil rights advocacy group. Among those whose "civil rights" they advocated were the convicted bombers of the World Trade Center in 1993. They cannot be taken seriously. For many of those who protested my cartoon, recent émigrés, many highly educated, it was obvious that there was not that healthy tradition of free inquiry, humor and irreverence in their background that we have in the west. There was no Jefferson, Madison, Adams in their intellectual tradition. Those who have attacked my work, whether on the right, the left, Republican or Democrat, conservative or liberal, Protestant, Catholic, Jewish or Muslim, all seem to experience comic or satirical irreverence as hostility and hate. When all it is, really, is irreverence. Ink on paper is only a thought, an idea. Such people fear ideas. Those who mistake themselves for the God they claim to worship tend to mistake irreverence for blasphemy."
Another indelible "cartoon" image was, of course, Art Spiegelman and Françoise Mouly's "black on black" cover for the Sept. 24th, 2001 issue of The New Yorker: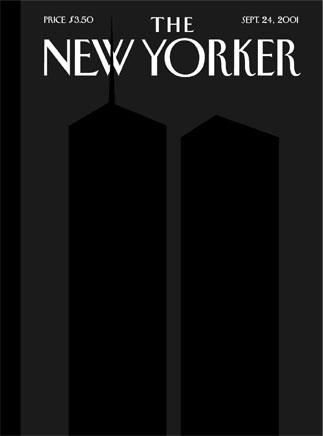 I could go on and on about the power of this image, but will instead defer to this article, where Mouly reflected on creating the cover:
"Ten years ago, my husband, the cartoonist Art Spiegelman, our daughter, and I stood four blocks away from the second tower as we watched it collapse in excruciatingly slow motion. Later, back in my office, I felt that images were suddenly powerless to help us understand what had happened. The only appropriate solution seemed to be to publish no cover image at all—an all-black cover. Then Art suggested adding the outlines of the two towers, black on black. So from no cover came a perfect image, which conveyed something about the unbearable loss of life, the sudden absence in our skyline, the abrupt tear in the fabric of reality."
Spiegelman, whose legendary MAUS remains the only comic book to have ever won a Pulitzer Prize, also wrote the extraordinarily powerful In the Shadow of No Towers -- both his personal recollection of what happened that day, and fury over how the Bush administration exploited the tragedy.
It may seem a bit inappropriate of me to have segued from the events of 9/11 to the topic of cartoons, but I feel that such subject matter -- in stark contrast to those ready to dismiss pen & ink images as something flippant or inconsequential -- can nevertheless carry substantial emotional and intellectual weight, and remains an important medium in addressing both personal and world events.
---
August 3, 2011: Bob Peak show revisited / Matthew Joseph Peak.
My follow up to the Bob Peak exhibit at the Motion Picture Academy is long overdue, but better late than never. I visited the exhibit twice, and still can't get over how stunning Peak's work looks in person. Whereas seeing many other artists' original illustrations up close tends to reveal their little faults and imperfections, Peak's paintings and drawings often look better than their final reproductions.
Above, from left: 1.) Me, full figured a la Marlon Brando, standing in front of Peak's illustrations for Superman. 2.) My friend Michael Gibney, standing in front of Peak's Apocalypse Now painting. 3.) One of Peak's secondary poster designs for Apocalypse Now. 4.) Peak's portrait of Timothy Dalton, for an unused License to Kill poster concept. The latter painting was not featured in the exhibit, but it's one of my favorites of all Peak's work; I always felt it was a terrible shame that it was rejected in favor of a blander, far less interesting film campaign.
Recently I've had several wonderful conversations with Peak's son, Matthew Joseph, about his father's life, career, and body of work. Matthew is a celebrated artist in his own right, whose work I've also long admired. His posters for the original Nightmare on Elm Street and Rush are classics, showing some of his father's stylish influence, while bearing a unique signature all its own.
Above, from left: 1.) Matthew Peak's poster for A Nightmare on Elm Street, which, as with the film, has become iconic in the annals of horror. 2.) Matthew's illustration for Rush is among my personal favorite posters of the last quarter century, showing stylistic flourishes reminiscent of his late father, but also his own personal touch. 3.) Matthew's album cover illustration for the CD soundtrack to Psycho. Film score lovers will almost certainly recognize the artist's work, especially for numerous Varese Sarabande and Star Trek albums.
I first met Matthew at the opening reception of his father's exhibit at the Nucleus Gallery, and admitted, rather embarassingly, that when I was younger, I had often mistakenly attributed his work to his father. I didn't mean this as a slight in any way, but rather as a towering compliment, having held their collective works in such a high regard. (Though it took me a few long, rambling, awkward sentences to finally get that point across.) Matthew described what it was like growing up, learning about art under his dad's tutelage. How extraordinary it must have been to have had the elder Peak as a teacher!
Matthew recently created www.BobPeak.net, an official resource into his late father's work. And for you art collectors out there, check out THE SANGUIN FINE ART GALLERY, where high-quality prints and originals of both Peaks' works are available for purchase!
Shortly before the Peak exhibit at the Motion Picture Academy came to a close, I managed to splurge on an eBay auction of one of Bob Peak's original sketches (image below). To the seller, the sketch had a value of $55. To me, it was absolutely, irrefutably priceless.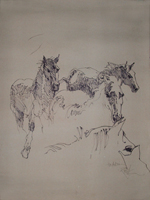 ---
July 31, 2011: More poster art news -- BBC article, and remembering Kazuhiko Sano (1952-2011).
BBC News featured this little story about movie poster artists in their ENTERTAINMENT & ARTS section back on July 22nd. I was happy that they mentioned Richard Amsel by name, along with a small pic of his rerelease poster for Raiders of the Lost Ark. I later learned, however, that the original article had credited the artwork to Drew Struzan, and it was only after Dorian Hannaway contacted them that Richard's name was restored to its rightful place. (Honestly, if you're going to write a story on movie poster artists, a little research would do you well. Not that writer Kev Geoghegan would have had to look very far; the AMSEL name is on the lower right corner of the piece!)
Remembering Kazuhiko Sano (1952-2011)
In sadder news, I recently learned that artist Kazuhiko Sano died May 31st after a two year battle with cancer.
For those unfamiliar with the name, you've likely seen his work at one time or another. Sano created illustrations for organizations including National Geographic, the Walt Disney Co., Paramount Pictures, Chevron, Coca Cola and General Electric, among others. His most well-known works include movie posters for "Return of the Jedi," and a commemorative postage stamp featuring Frank Sinatra.
From StarWars.com:
Though his name may not be as readily known as some other famous Star Wars poster illustrators, Kazuhiko Sano shares a special place in the hearts of many Star Wars fans for his stunning depiction of Luke, Han, Leia, Lando and others for the Return of the Jedi Style "B" poster, released in 1983.

Sano, who taught illustration at the Academy of Art College in San Francisco, died of cancer last week.

Sano, who was born in Tokyo in 1952, was a prolific illustrator, lending his talents to clients such as the National Geographic Society, United States Postal Service, the Walt Disney Company, Coca-Cola, American Red Cross, and scores of others. His website provides a generous sample of many of his professional and personal works.

As we remember Sano's iconic contribution to Star Wars poster imagery, we should also acknowledge the artist's other works set in our favorite faraway galaxy. The following three illustrations showcase additional Star Wars inspired artworks done by Sano, beginning with a trade magazine ad commissioned by George Lucas during the early '80s to congratulate friend Steven Spielberg on his E.T. The Extraterrestrial box office success.
To learn more about the late artist's life and work, check out his website, and this obituary article.
###
---
July 22, 2011: Pushing the boundaries of censorship.
David Byrd sent a few of these to me -- some grand old movie posters for films made in the early 1930's, right before the Motion Picture Production Code was effectively enforced...for the apparent betterment of corruptible youths and salaciously sensitive persons across America.
It's surprising to see just how suggestive these films were for their time; even the titles give reason to pause. While cinema sex and violence seem to have escalated several hundred times over throughout the past eight decades or so, it's still pretty impressive that such films were not only able to be made within the studio system, but feature marquee stars, to boot.
No doubt that that ever-devoted Republican Presbyterian himself, the late Will Hayes (who was paid a then staggering annual sum of $100,000 -- still a pretty decent amount in my book), frowned on such indecent material.
Enjoy, I say!
---
July 21, 2011: Sweet Byrd of youth...
Just a reminder that tomorrow is the final day of my friend David Byrd's art show at Brand Library & Art Center. The gallery closes at 5pm, so if you can make a last-minute visit, you'd better hurry!
I'll be helping David take down the installation on Saturday. I've been excited enough just at having one painting currently on display in a show -- while David has an entire exhibit of his lifelong career. Talk about putting things in perspective!
---
July 1, 2011: TOTAL FILM article: The 30 Greatest Hand Drawn Movie Posters.
TOTAL FILM's George Wales has written an interesting article on what he considers to be the 30 greatest hand drawn movie posters. While many of Wales' choices made me wince -- the omission of works from artists like Bob Peak, in favor of Z-grade, below Grindhouse level dreck (Lesbian Vampire Killers? Are you kidding me?) is an unforgiveable sin in my eyes -- I was admittedly happy to see that artists like John Alvin and Drew Struzan were well represented.

And what poster was deemed #1, praytell? I'll give you a hint: It's something I agree with wholeheartedly. :)
---
June 25, 2011: Shameless promotion of my own work.
Since this site's inception in 2008, I've tried to focus it exclusively on the life and career of Richard Amsel and movie poster art in general. So forgive me for now steering a little bit off topic by discussing my own artwork here -- something that, until now, I've tried to limit to my personal website.
It was about a year ago (how time flies!) that one of my paintings was selected by Gallery Nucleus for their upcoming Harry Potter tribute art exhibition. I've been a longtime fan of the gallery, which has showcased work from some of my favorite artists and illustrators. Naturally I was thrilled at the opportunity to have something of my own put on display there, but I faced a big problem: I had already sold the original painting in question -- a fact I curiously failed to mention when I submitted a pic of the painting for their consideration.
With the submission deadline approaching, I decided to not only repaint the piece, but try to make it better. The original only took a week or so to do, outside of my full time job. The new one took considerably longer, as I wanted to add far more detail and complexity.
| | |
| --- | --- |
| | |
| 2001 | 2011 |

This shall be the first time my work is featured in a gallery in California, alongside other artists such as Drew Struzan (who did the first film's poster), Mary Grand Pre (who illustrated the American book covers of the series), and fantasy artist William Stout. I won't say my work is as good as those other artists', but I can definitely guarantee that it's a lot less expensive!
I'll be attending the opening night reception party on July 9th, so by all means, stop by and say hello! The gallery will be hosting Harry Potter themed contests and prize giveaways, so it's fun for the whole family. If you can't make it, the show is open through August 1st; those Harry Potter fans willing to purchase artwork are particularly welcome. :)
GALLERY NUCLEUS
210 East Main Street
Alhambra, CA 91801
July 9 - August 1, 2011
---
May 28, 2011
: R.I.P.: Jeffrey Catherine Jones (1947-2011)
And now we've lost another art giant.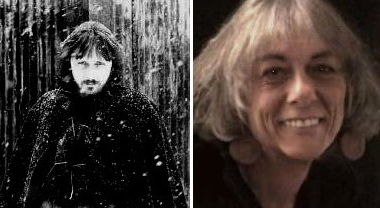 Legendary fantasy artist Jeffrey Catherine Jones passed away on May 19th, from severe emphysema and bronchitis as well as hardening of the arteries around the heart.
Born Jeffrey Durwood Jones in 1944, Jones celebrated a long career whose highlights included a 1970s run doing cover paintings for major fantasy novels like Fritz Leiber's "Fafhrd and the Gray Mouser" and a number of comics including "Idyl" for "National Lampoons" and "I'm Age" for "Heavy Metal." While the world of fantasy illustration and comics proper intersect less than one might imagine, Jones was a figure whose work in both forms left an impression on her peers. Her work was notably praised by recently deceased fantasy legend Frank Frazetta as "the greatest living painter."
Jones also shared space with a slew of legendary comics talent in the '70s under the name The Studio – a group which included Mike Kaluta, Bernie Wrightson and Barry Windsor-Smith. Jones is also a rare example of a transgendered artist in the genre world. Though a string of personal and financial issues saw her fall on hard times in the early 2000s, recent years had seen stable living conditions and steady production of new work from the artist.
For more on Jones' life and work, visit her official website.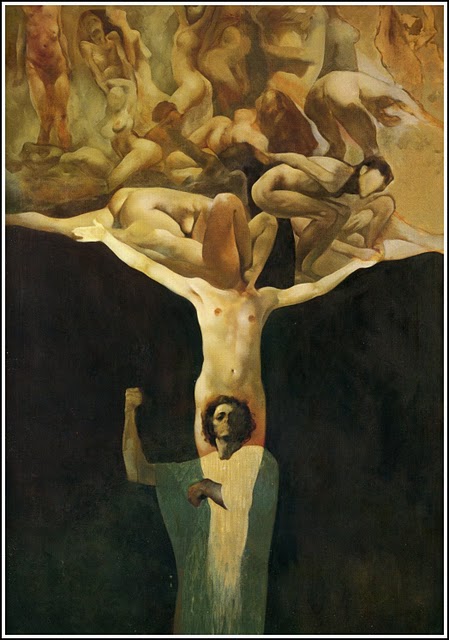 __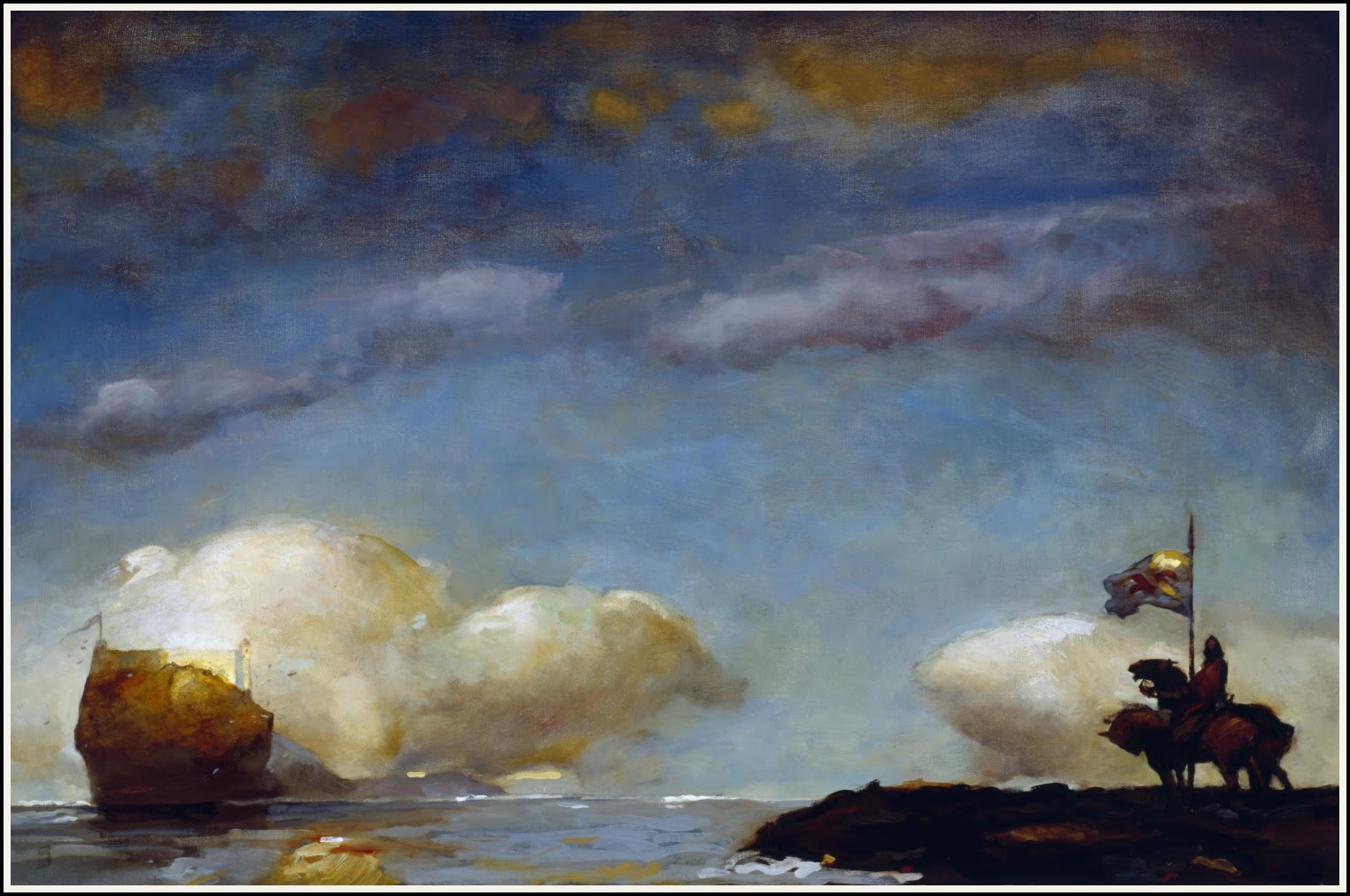 Sources: Comic Book Resources, Muddy Colors, Wikipedia.
---
April 9, 2011
: THE KEY ART AWARDS website relaunches
Those with an interest in movie posters and film advertising should check out THE KEY ART AWARDS' official website and Facebook page. They've long been overdue, and I'm glad that there's finally an official forum for this four-decades-old organization.
The Hollywood Reporter's Key Art Awards is entertainment's most recognized awards competition for advertising and communications. Celebrating it's 40th Anniversary in 2011, the Key Art Awards is renewing its original commitment to celebrate and reward creative excellence and its impact on modern culture. The Key Art Awards remains focused on evolving with the industry in order to acknowledge the most current, breakthrough work. New ideas, technologies and techniques are expanding the ways in which filmmakers, television producers and game developers can reach out to audiences in an increasingly competitive landscape. The Key Art Awards is proud to honor the creative teams that produce the best work in entertainment advertising.
My two big gripes, though, are that: 1.) The website has yet to create a listing or archive of past winners (of whom Richard Amsel was one), and 2.) Their Facebook posts seem more dedicated to pop culture happenings and celebrity gossip (American Idol, anyone?) than to the art of film advertising, or those artists working behind it.
---
March 12, 2011
: A quick hello to LONG GOODBYE...
I came across this alternate illustration Amsel had created for Altman's film version of THE LONG GOODBYE. Dorian Hannaway kindly verified its authorship.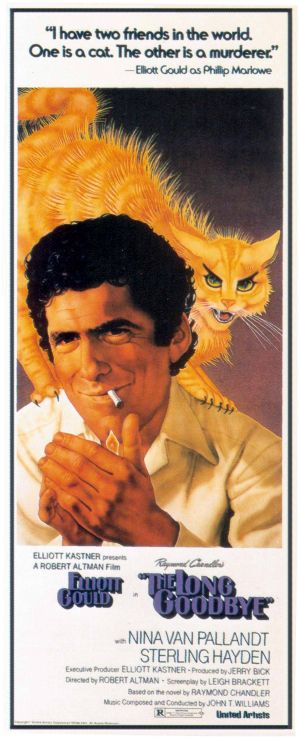 ---
March 8, 2011: Bill Gold: Posterworks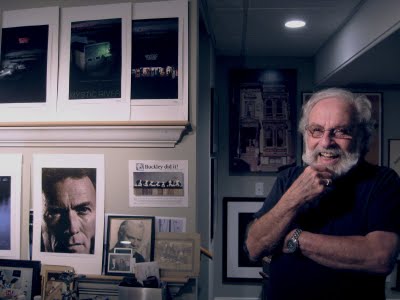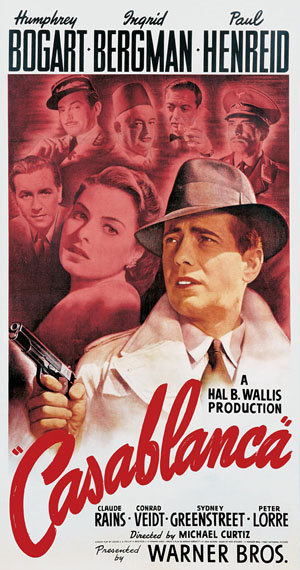 In a career spanning six decades, Bill Gold has worked on some of the most famous movie posters of all time. Some of them he painted himself (CASABLANCA, at right), others he conceived (THE STING, CAMELOT), and some of them he photographed (FOR YOUR EYES ONLY -- perhaps the most famous, certainly the most controversial, poster of the James Bond series). Through them all, Gold displays not only a strong artistic sensibility, but an innate power to capture the spirit and personality of a film within a poster. (Not to mention a cute sense of humor, as his poster for DRACULA HAS RISEN FROM THE GRAVE demonstrates; it helped to make the little Hammer horror film a big commercial hit.)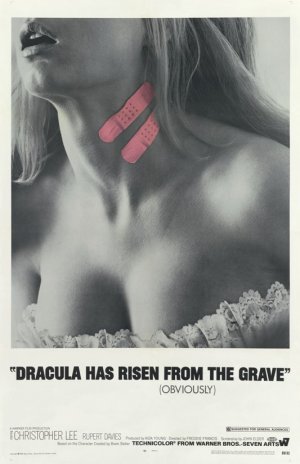 I was fortunate to attend a Warner Bros. panel this afternoon, where Gold, now 90 years young, discussed his career and longstanding relationship with the studio. Most interesting was his personal reflections on working with different directors. Clint Eastwood, with whom Gold collaborated from DIRTY HARRY through MYSTIC RIVER, seemed to have a "less is more", easygoing approach, while Stanley Kubrick, in developing the campaigns for A CLOCKWORK ORANGE and BARRY LYNDON, was a maddening perfectionist -- requiring a WB courier to personally deliver artwork by air from New York to England, back and forth several times.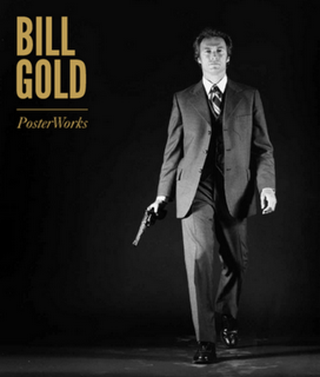 I asked Gold about what it was like to collaborate with other illustrators like Bob Peak and Richard Amsel, whom Gold worked with on CAMELOT and THE STING, respectively. Gold was a fan of both artists, Peak being his most personal favorite, and he stated that while creative collaboration can have its ups and downs, in the end it's all about finding the right person for the right style of job.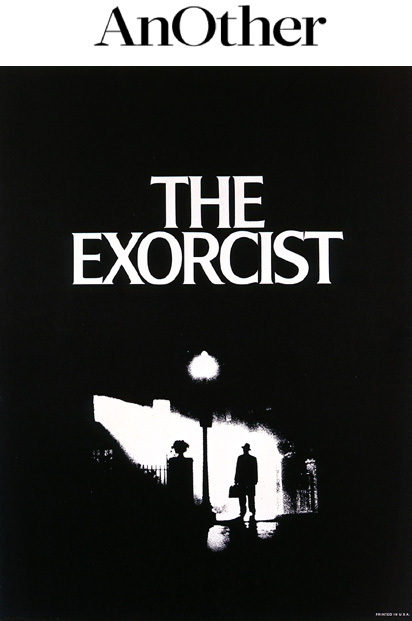 At the end of the presentation, someone asked Gold if he had any advice for aspiring artists looking to get their feet in the door within the industry -- and on movie posters in particular. His reply was both humorous and telling: "Learn to make good coffee."
Gold has a new book out, BILL GOLD: POSTERWORKS -- a massively illustrated, 448 page limited edition book chronicling his career, work, and artistic process. It runs a steep price (about $650), but is lavish and beautifully bound and encased.
Oh, what I'd give to be a rich man... Or even middle class... Now kindly excuse me while I sulk and heat up the nearby coffeemaker.
For more info, check out these links:
The artist's website.
Interesting article on Gold's career.
---
Feb. 23, 2011:
Common cases of mistaken authorship.
One of the great faults of the web is how easily (and widely) misinformation can be spread. Such is the case with Richard Amsel's illustrations, as, time and time again, I see that people mistakenly credit him for other artists' works. It's time to clear the air and shed a little light on those film posters often incorrectly identified as his:
BARRY LYNDON

Even a number of leading movie poster art websites have wrongly credited this one to Amsel; it's style certainly evokes the late artist's work.

The truth, though, is that this poster was the work of Charles Gehm.

CHINATOWN

While Amsel did do an alternate poster for the 1974 film, this one above was made by artist Jim Pearsall.

THE SEVEN PERCENT SOLUTION

The design of this poster is subject to more than a bit of controversy. When you compare Richard Amsel's original illustration, which was subsequently rejected by the studio, to the one used in the final poster, done by artist Drew Struzan, there's no denying an uncanny similarity. Is it a case of two great minds thinking alike? Possibly. (In full disclosure, I've only heard one side of the story, and it's not my intension to throw out any accusations here.) But for those wishing to hear more about this subject, I discussed it in greater detail in an episode of the INDYCAST some time ago. Needless to say, they're both great posters, done by two great artists.

---
Feb. 21, 2011: Bob Peak exhibit at the Academy of Motion Picture Arts & Sciences.
I've often raved on this site about the art of Bob Peak, and for good reason. His work dominated the sixties and seventies, with memorable contributions to films like SUPERMAN, APOCALYPSE NOW, CAMELOT, PENNIES FROM HEAVEN, and the first five STAR TREK films. He was an artist Richard Amsel himself greatly admired, and took inspiration from.

For those who missed out on the 2009 exhibit at Gallery Nucleus, fear not: an even larger, more comprehensive exhibit is currently showing in Los Angeles at the Academy of Motion Picture Arts & Sciences.
Bob Peak: Creating the Modern Movie Poster
January 20 through April 17, 2011
8949 Wilshire Boulevard Beverly Hills, California 90211
Public viewing hours Tuesday – Friday: 10 a.m. to 5 p.m.
Saturday – Sunday: Noon to 6 p.m.
Closed Mondays.



From the AMPAS website:
Artist and designer Bob Peak (1927–1992) has been hailed as the "father of the modern Hollywood movie poster." His unique style of motion picture advertising imagery will be on display in the Academy's Fourth Floor Gallery, where colorful, graphically complex original paintings done for iconic movie poster campaigns are shown alongside the final one-sheet posters for such titles as "My Fair Lady," "Camelot," "Superman," "Star Trek – The Motion Picture" and "Apocalypse Now." Multiple designs are presented for nearly 50 films from among the more than 100 campaigns he designed in the 1960s, '70s and '80s. Bob Peak Among his many awards and accolades, Peak received the Key Art Lifetime Achievement Award from The Hollywood Reporter in 1992 for 30 years of outstanding contributions to the film industry. He was only the second person to receive this honor; the first, just the year before, was another legendary graphic designer, Saul Bass.

Also, I'm especially happy to learn on the artist's website that, after years of delays, a comprehensive oversize coffee table book on the Life and Art of Bob Peak is finally being published, and will be available in the fall of 2011.

---

Feb. 20, 2011: Fan made poster art on Moviephone.
Moviephone has this great link to "The Best Movie Art Ever", a selection of fan made movie posters from very gifted artists/illustrators of a wide variety of styles and techniques. It's certainly worth a look, as in some cases the concept posters are even more imaginative than the official ones. (This one for INCEPTION, below right, is such an example.)
---

Feb. 9, 2011
: Upcoming David Edward Byrd art exhibits.
David Edward Byrd informed me that he has two upcoming art shows for 2011: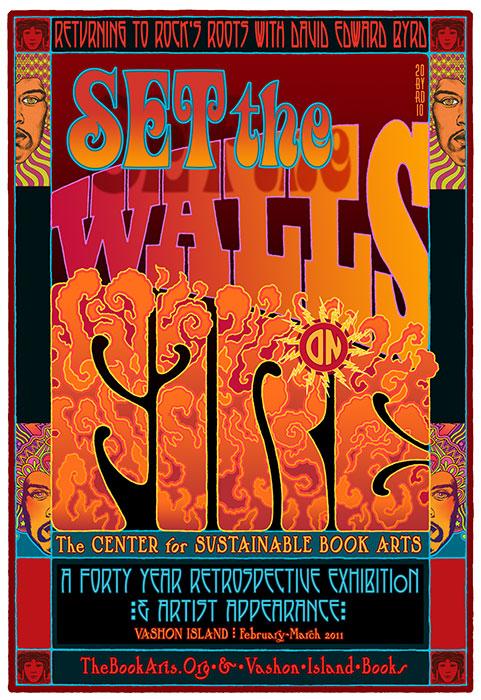 The first, SET THE WALLS ON FIRE: Returning to Rock's Roots with Artist David Edward Byrd, is on Vashon Island off the north coast of Seattle. It's "a charming artist community with many Galleries and B&Bs," David writes.
SET THE WALLS ON FIRE
Saturday, February 26, 2011
Vashon Island Books Gallery
22100 Vashon Hwy SW
Vashon, WA 98070
Phone: 206.408.7017
http://thebookarts.org
The second event, at Brand Library in Glendale, CA, will literally be in my neck of the woods; I could walk to it from my own home! This exhibition will include several public programs, including a concert featuring favorites from some of the musical theater works for which David has created graphics, as well as exciting lectures on the history of poster design. A poster designed by David for the exhibition will also be produced and available to the public.
The Byrd Show: 40 Years of Posters & Graphic Design
On view: June 11 - July 22, 2011
Reception: Saturday, June 11, 6-9 pm
For more about the artist David Edward Byrd visit his website.
---
Feb. 5, 2011: Express Yourself: A Major New Showcase Of Gay Portraiture.
From Neda Ulaby at NPR.org:
Hide/Seek is not exactly hidden, but to find it, you have to thread your way upstairs and through the crowds visiting a hugely popular Norman Rockwell exhibit at the adjacent Smithsonian American Art Museum in Washington, D.C. Hide/Seek: Difference and Desire in American Portraiture at the National Portrait Gallery is a smaller show, but it marks the first time a major museum in the United States has dedicated an entire exhibition to gay and lesbian portraiture.

"To see artwork, all by gay men and women in this country, all exhibited in a place like this — it's amazing," enthused a visitor, Gary Fisher of Washington, D.C. He added tartly, "It's about time."


Salutat (1898) by Thomas Eakins.

The artists are actually not all gay, but the subjects generally are. Co-curator Jonathan Katz is an eminent queer studies scholar and art historian. He agrees that the Smithsonian's involvement is a landmark achievement. "For a gay man of my generation to understand the federal government as a helpmeet was, shall we say, a new feeling," he observed.

Katz came of age as an art historian in 1989, when the Corcoran Gallery of Art canceled a retrospective of Robert Mapplethorpe's photographs. Their confrontational gay and S&M content stirred a furor in Congress. Since then, Katz says, major museums have basically blacklisted exhibitions focusing on gay sexuality. He put together this one with the Portrait Gallery's David C. Ward, and its reviews have been terrific. Ward credits that in part to their different perspectives.

"Jonathan is gay, I'm straight," Ward said. "Jonathan is the outside guy; I'm the inside guy."

Ward says Hide/Seek is one of the biggest and most expensive shows the National Portrait gallery has ever launched, with over a hundred works of art. The show includes an ad for Arrow dress shirts from 1914 that pictures a pair of handsome bachelors enjoying domestic bliss. The illustrator, J.C. Leyendecker, used his boyfriend as one of the models.

Other pieces in the exhibition include a pair of somber grey paintings by Jasper Johns and Robert Rauschenberg. Lovers for six years, the artists completed the paintings during their breakup. And a moving conceptual piece by Felix Gonzalez-Torres, Untitled (Portrait of Ross in L.A.), is a pile of Jolly-Rancher-type candies that weighs 175 pounds. That was the weight of his lover Ross Laycock, who died of AIDS-related complications. Viewers take candies until the piece vanishes, evoking the subject's slow passing — and his sweetness.

As well as portraiture by well known gay artists, such as Andy Warhol, Annie Leibovitz and Romaine Brooks, Hide/Seek also includes work by straight artists that seem to suggest an appreciation of same-sex erotics. For example, A 1979 portrait, titled The Clearing by Andrew Wyeth, of a handsome young beefcake with flowing blonde hair evokes a male Helga, the artist's female lover of many years.

Ward explained: "Wyeth said when you paint somebody's portrait you fall a little bit in love when them."

Hide/Seek will come to a close the day before Valentine's Day, 2011, but many of its images and much of its scholarship is available on its website.
---

Jan. 15, 2011
: They've made a house a home...and a work of art.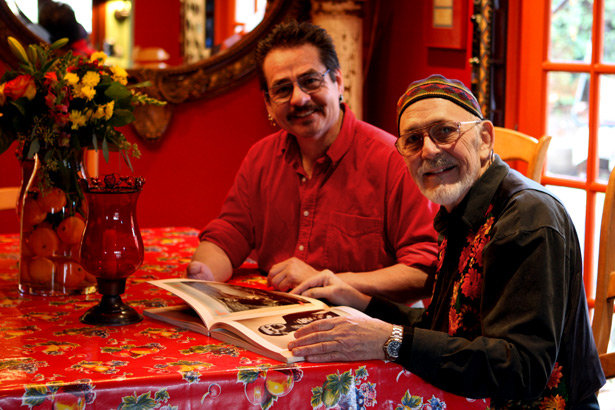 Kudos to my friends David Edward Byrd and Jolino Beserra, whose home was prominently featured in today's LA TIMES. Their beautiful house is a feast for the eyes, and in a very fun, colorful way.
From the online article:
Consider the whimsy that frames the hearth in David Edward Byrd and Jolino Beserra's 1928 Spanish bungalow. Clothed in broken ceramics and found and treasured objects, the fireplace resembles an outsize toy. The swirled mosaic pattern and jumble of shiny fun make one suspect it's crowded with spirits.

Beserra, left, was influenced by Watts Towers creator Simon Rodia. "I volunteered for a summer helping with restoration in 1989 and loved the fluidity of his work," says Beserra, who calls himself a consummate "puzzler." Other influences include Spanish architect Antoni Gaudi and Philadelphia mosaic artist Isaiah Zagar. Beserra's partner, David Edward Bryd, right, created posters for Jimi Hendrix, the Who, the Grateful Dead, Jefferson Airplane, the Woodstock music festival and Broadway plays; he was a senior illustrator for Warner Bros. for 11 years.
It's been a personal pleasure for me to know David and Jolino, and every time I visit, they welcome me with a warmth and friendliness that even their home seems to compliment.
---
Jan. 2, 2011: Amsel originals now at THE ILLUSTRATED GALLERY (UPDATED)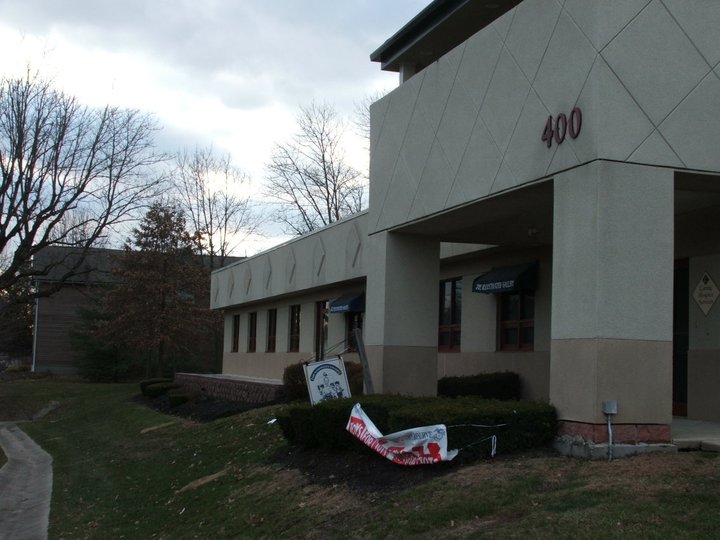 Back in December, Michael Amsel informed me that a number of Richard's original pieces were now available through THE ILLUSTRATED GALLERY. So, while visiting family in Pennsylvania for the holidays, I managed to pay the gallery a visit.
Its location in Fort Washington, PA, struck me as more than a bit inconspicuous, housed in a commercial/industrial area right smack next to a YMCA, of all places. But after meeting gallery owner Jordy Berman, and seeing the collection, I realised that it's truly a labor of love. Just as you shouldn't judge a book by its cover, you shouldn't judge an art gallery by the walls that house it so much as the art it contains.
Indeed, Berman's gallery is one of the largest private collections of American illustration I've ever seen. Here are over 800 pieces, many from the Golden Age of Illustration -- including such legends such as Norman Rockwell, Howard Pyle, J.C. Leyendecker, F.X. Leyendecker, and Maxfield Parrish. With that kind of monumental collection, I can't believe I've never heard of the gallery before! (Proof I've been in California too long.) What years of my life I'd gladly sacrifice to be able to afford one or two of these. Perhaps it's time I play the lottery...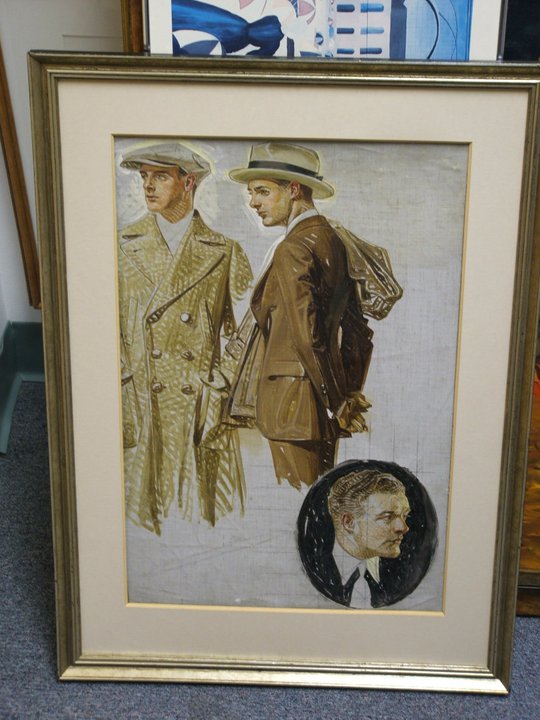 _ _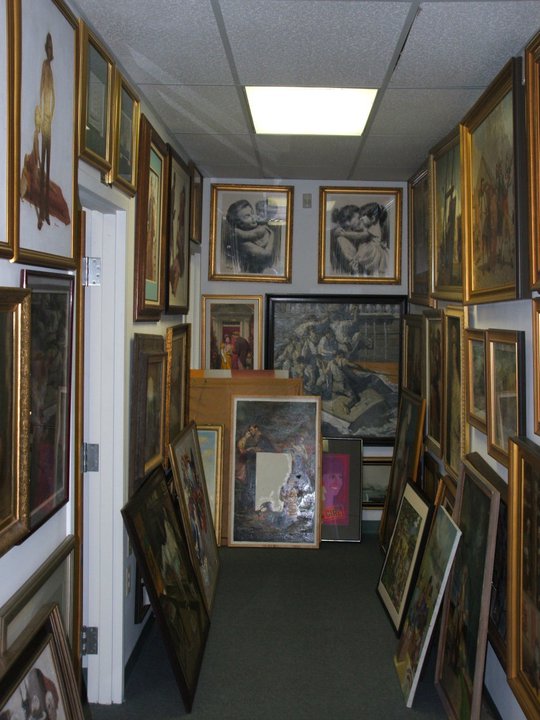 _ _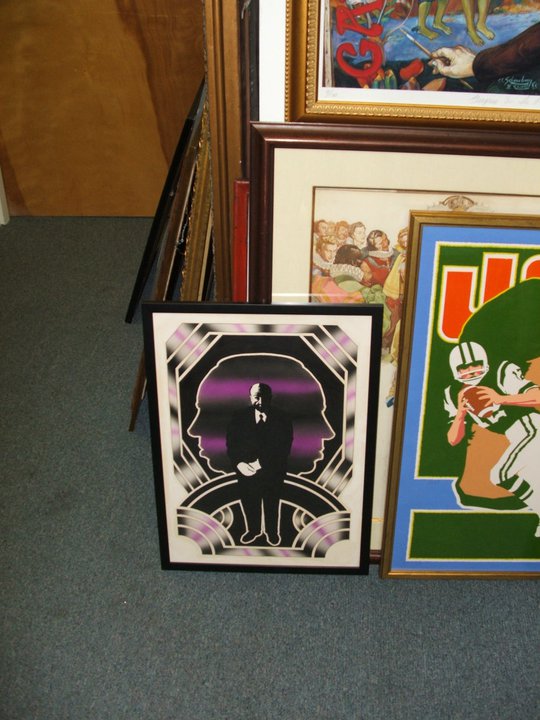 _ _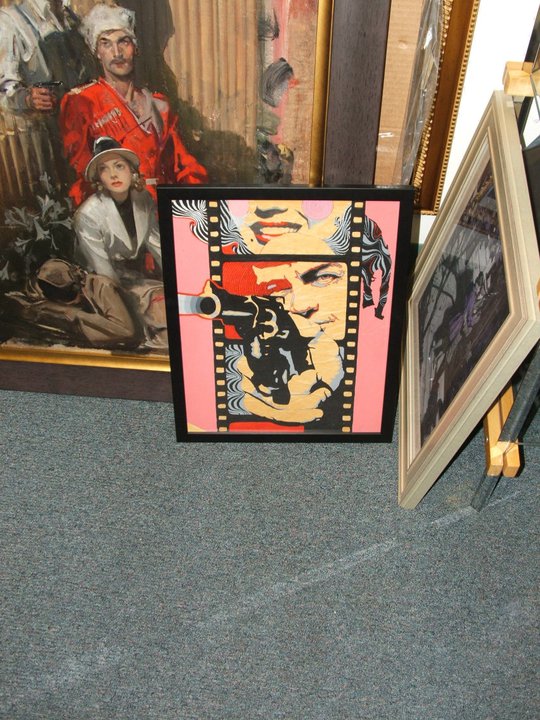 Assorted pics of Berman's gallery.
Bottom left: An original J.C. Leyendecker.
Bottom right: Two of Amsel's orignal pieces.
Berman was very gracious and cordial; he's been collection illustration since the 1970's, and it's become a passion of his for quite some time. Coincidentally, he was a friend of the Amsels, but wasn't too familar with Richard's work until the artist's death. I've updated my gallery pages to include new and corrected information on Amsel's pieces.


The Illustrated Gallery
400 Commerce Drive, Suite B
Fort Washington, PA 19034
215.740.0205
www.illustratedgallery.com
---