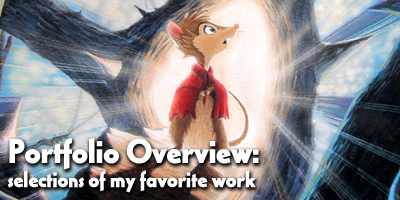 Opening night at the Nucleus Gallery's
Harry Potter tribute art show.
Alhambra, CA, July 10th, 2011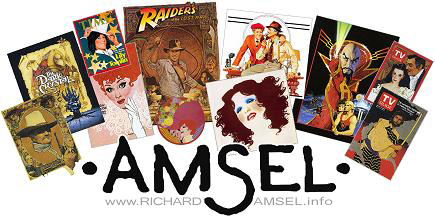 Now featured on TurningArt! It's a rather novel idea where subscribers can rent art prints for a monthly fee, as well as collect credit towards the purchase of both prints and original paintings. My page on their site can be found
here.



My first art book!
January 3, 2016


I never really thought I'd have enough presentable artwork to warrant it, but what the heck -- it's a new year, and time to forge ahead.

I just finished the layout of my first "coffee table" art book, and am awaiting the hardcover proof from the printers in a week or two. It's admittedly short (merely 24 pages), but I'm excited by the way it looks so far.

I've done this mainly as a compact way to present my art portfolio to potential clients, but if the hardcover proof QC turns out OK, I'll be publishing a more affordable print on demand softcover version, for anyone who's interested. More info to come.

UPDATE 1/17/2016:

A number of people have asked me about copies of the book, now available on Shutterfly. The $37.95 price I know is a bit steep, I know, but it reflects only the manufacturing cost for print on demand. I make no profits or residuals from any sales, as it's designed only for showcasing my artwork for those who want a keepsake. On the plus side, Shutterfly often has discount promos for their subscribers.

Happy new year! Time to be Daring!
January 2, 2016


There are so many things going on right now that it's hard for me to process them all. I'm feeling the post-holiday blues, while trying to force myself to have a positive outlook on the new year.

I'll be writing more on the late Ken Robinson soon. (More on Ken can be found on my MAIN PAGE & NEWS.) I've recently talked to his husband and cousin, and they plan on having a small getogether in L.A. around the end of the month. Ken and I had talked about my visiting him in his new home in Sacremento this Spring. Alas, that is not to be.

In the days between Christmas and New Year's, I had some time off, and wrapped up two creative projects. The first was this illustration of DRAGON'S LAIR, inspired by the current Indegogo campaign by Don Bluth and Gary Goldman, to develop a short animated film pitch for a feature film adaptation of the classic cartoon videogame. (Dirk's pose here relied on a patchwork of different source elements from the DRAGON'S LAIR comic book, drawn by Fabio Laguna. It's only fitting that I give credit where credit is due.)

The artwork was painted in gouache on paper, but I opted to use my fancy new Cintiq to color it, and add the fire. I'm slowly trying to get into the modern age of digital "painting," but I'm pretty stubborn. However, the money I spent on the Cintiq is proving to be a wise investment.

Not that I was ever any good at playing the damn game. I must have spent serious moula as a kid at the arcades. A recent visit to L.A.'s 82 only proved that my skills faired no better as an adult.

The second creative project I'll be announcing tomorrow!

Three Thorns captures Moonbeam award!
Novemer 13, 2015


Hearty congrats to my friend Michael Gibney, whose book, The Brotherhood and the Shield: The Three Thorns, captured the 1st place Moonbeam award for pre-teen fiction/fantasy!

Now if only he could buy a new pair of glasses... :)

Intrada's expanded soundtrack of THE SECRET OF NIMH
Novemer 5, 2015


I'm very proud to announce that my artwork is featured within Intrada's newly remastered and expanded edition of Jerry Goldsmith's score for THE SECRET OF NIMH. My art is featured inside the disc as an alternate "B" cover.

I'm absolutely thrilled and honored to have my work included in this release. The front cover repurposes the film's original poster, and rightly so -- for nothing could best the illustration by the late, great Tim Hildebrandt.

Special thanks to the guys at Intrada for a job well done, and for being so amicable. Thanks, too, to everyone who shared their kind words of support and enthusiasm about my artwork.

But don't buy the soundtrack for the packaging...buy it for THE MUSIC, which remains my personal favorite among all of Jerry Goldsmith's work. I can't wait to get my copy.

Speaking of which, here's a link to Intrada's site where you can purchase the soundtrack.

UPDATE: Finally got my copy of the CD and, God, I'll never tire of listening to Jerry Goldsmith's score -- especially now that it sounds better than ever. It's a very majestic, mature work, and perfectly captures the more complex, atmospheric tone of the story. Also love hearing Paul Williams' original demo for "Flying Dreams," which has some different lyrics against a simple piano arrangement.

Credit, too, to Jeff Bond's liner notes, which clearly define something I had never quite realized, but always somehow "sensed": one of the score's lietmotifs -- used only sparingly with scenes of the amulet -- is "in a way...a love theme for Mrs. Brisby and her lost husband..." Bond's comment really hit the nail on the head.