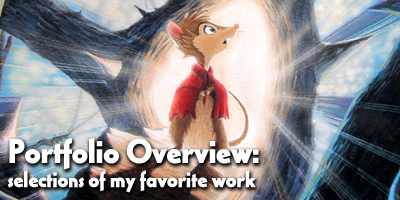 Opening night at the Nucleus Gallery's
Harry Potter tribute art show.
Alhambra, CA, July 10th, 2011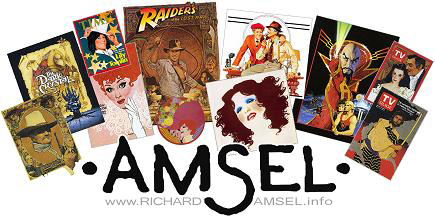 Now featured on TurningArt! It's a rather novel idea where subscribers can rent art prints for a monthly fee, as well as collect credit towards the purchase of both prints and original paintings. My page on their site can be found
here.



Three Thorns captures Moonbeam award!
Novemer 13, 2015


Hearty congrats to my friend Michael Gibney, whose book, The Brotherhood and the Shield: The Three Thorns, captured the 1st place Moonbeam award for pre-teen fiction/fantasy!

Now if only he could buy a new pair of glasses... :)

Intrada's expanded soundtrack of THE SECRET OF NIMH
Novemer 5, 2015


I'm very proud to announce that my artwork is featured within Intrada's newly remastered and expanded edition of Jerry Goldsmith's score for THE SECRET OF NIMH. My art is featured inside the disc as an alternate "B" cover.

I'm absolutely thrilled and honored to have my work included in this release. The front cover repurposes the film's original poster, and rightly so -- for nothing could best the illustration by the late, great Tim Hildebrandt.

Special thanks to the guys at Intrada for a job well done, and for being so amicable. Thanks, too, to everyone who shared their kind words of support and enthusiasm about my artwork.

But don't buy the soundtrack for the packaging...buy it for THE MUSIC, which remains my personal favorite among all of Jerry Goldsmith's work. I can't wait to get my copy.

Speaking of which, here's a link to Intrada's site where you can purchase the soundtrack.

UPDATE: Finally got my copy of the CD and, God, I'll never tire of listening to Jerry Goldsmith's score -- especially now that it sounds better than ever. It's a very majestic, mature work, and perfectly captures the more complex, atmospheric tone of the story. Also love hearing Paul Williams' original demo for "Flying Dreams," which has some different lyrics against a simple piano arrangement.

Credit, too, to Jeff Bond's liner notes, which clearly define something I had never quite realized, but always somehow "sensed": one of the score's lietmotifs -- used only sparingly with scenes of the amulet -- is "in a way...a love theme for Mrs. Brisby and her lost husband..." Bond's comment really hit the nail on the head.

RAIDERS. RINSE. REPEAT. (The Adaptation, Comic-Con, etc...)
July 2, 2015


I'm sure this will come as a big surprise to all of you: yet another damn post about Indiana Jones.

First: I was going to wait until I received my DVDs in the mail before mentioning RAIDERS OF THE LOST ARK: THE ADAPTATION, but as everyone other than me on planet earth seems to have gotten their DVD copies -- sheesh! -- it's time to reveal it here.

Long story short, I've long followed the adventures of "The Raiders Guys," who did a shot-for-shot remake of the 1981 adventure film throughout their childhoods. When it came time for them to revisit the film as adults and complete the airplane sequence, I expressed my support and willingness to help in any way I could. Their film was a true labor of love, and, after RAIDERS and LAST CRUSADE, "THE ADAPTATION" remains my third most favorite Indiana Jones film!

After some discussions brainstorming ideas, I submitted the poster below for their use, which was then extensively modified for the DVD front cover.

It was something I volunteered for, and was excited to do. The end result didn't quite end up as I had personally hoped, but I hope those guys were happy with it. The biggest challenge was the lack of usable photo references. Other than the "trio" and latter airplane shots – which were the only sets of clear still photos taken during the entire production – I had to work with my own screengrabs made from grainy betacam home movie footage. (Think of trying to create a polished sketch from a 20th generation Xerox from a third generation fax, and you get the idea). Also, as the actors aged so much throughout the production, it's not an option to take a head reference from one pose, and slap it over another.

The original design had other elements that were eventually omitted to make more room for the title. I had also tried going more for a look that resembled Struzan's original LAST CRUSADE teaser poster, with the illustration against a white background, but in the end that was digitally altered and cropped. I could have done the piece entirely digitally, but I had my heart set on painting it the old fashioned way. This ends up taking me much more time, and doesn't allow the flexibility that a digital composition has when it comes to making changes.

Some artists do everything digitally, and more power to them. I'm starting to get more experience in that myself. This project was what ultimately inspired me to finally invest serious money in a touchscreen Cintiq screen tablet, so I can work faster in the long run. Still, I'll always prefer pencil, pen, and paint to pixels.

Second: Thanks to some kind friends at Warner Bros., I'll be returning to San Diego Comic-Con this year, and will have a number of prints available in the ARTISTS' AUCTION, located on the second floor of the convention center. (Not to be confused with the ARTISTS' ALLEY in the main hall of the ground floor.)

Chief among them will be a revised version of my RAIDERS "circus style" poster, which I'm limiting to a printing of only 50. The print up for auction is actually the very first of the signed & numbered series -- that's #1/50 -- and the opening bid will start at a fraction of what the remaining prints will cost: a mere $20.

I'll post more about this piece's revisions on the ART TECHNIQUE page soon. I was also recently interviewed by INDYMAG, which will include more information within their upcoming issue.

7/3/2015 UPDATE:

Within hours of my last post about RAIDERS OF THE LOST ARK: THE ADAPTATION, I got my DVDs in the mail and eagerly watched it. I'd seen an earlier cut years ago, but this is a newly remastered version that includes the airplane sequence.

And, oh, what an indescribable joy it is. Watching Chris Strompolos exit from the Well of Souls as a teenager, to emerge as a 40-something Indiana Jones sent a chill down my spine -- but the kind of giddy chill that you get on Christmas morning, right before you turn the corner to see a Christmas tree fully stocked with presents.

The production value and editing are all top notch, but the scene still has an endearing, handmade quality to it. And yes, they really did blow up the fucking plane.

My favorite part of it all -- as with the original "Adaptation" footage -- were the performances. Chris, Eric, Angela, and the entire team are so committed to their roles that watching them made my heart soar. I felt like a kid again, and loved every minute of it.

Oh, what I would have given to have grown up with these guys, too. Though admittedly, I'm such a klutz that had I worked on their film, I probably would have died.

R.I.P.: Stephen Schochet - author, storyteller, patriot, movie lover, and friend.
June 7, 2015


I've been holding off on making posts the last few weeks, as several projects have been in the works, and I wanted to wait until the right time to mention them. But this one can't wait, and it's heartbreaking.

A few minutes ago I found out that my friend Stephen Schochet, 52, lost his battle with cancer on Friday, June 5th. Stephen was the author of HOLLYWOOD STORIES, for which I did the cover and layout, and I was actually in the early stages of prepping artwork for a follow-up book he was finishing.

It seems like only yesterday that Stephen first mentioned his diagnosis: cancer of the mouth. While he suffered multiple surgeries and considerable pain over the last few months, he always addressed them as mere temporary inconveniences. I had no idea it was life-threatening. Perhaps he didn't, either...at least when we last talked. We always ended our discussions with the sense that better days were ahead of us.

And on this I kid you not: When I woke up this morning, I remembered that I'd been overdue in sending Stephen an email. (After his mouth surgery, talking on the phone was too difficult for him.) The status of his health lingered in the back of my mind, however, and so, while I'm not much for saying prayers, I actually spoke aloud, "God bless you Stephen. I hope you're doing ok."

I'm pretty damn furious that this was not to be. Stephen deserved better. Much, much better.

Recent years were tough on him. He lost his mom in 2012, and was absolutely crushed by the loss. I certainly identified with him from my own experience in 2006, and we had several heart to hearts about it.

Stephen and I shared many conversations -- on movies, current events, and (Lord, save me) politics. He was a pretty devout libertarian/Republican, and, with my being a steadfastly pin-headed, left-leaning Liberal, we'd clash almost endlessly on the state of the Union, presidential candidates, and virtually everything within the national political spectrum. (On one thing we agreed, at least: Congress sucks.)

But make no mistake -- never was Stephen santimonious or arrogant. He was always geniune, delivering his political arguments with intelligence, grace, warmth, compassion, and humor. Through it all, he always treated me and my opinions with great respect. Never did our differences interfere with our friendship; indeed, I think they even strengthened it. Perhaps current politicians could learn a great deal from such friendship.

He was also, I must add, far and away the best client I ever had in my illustration career. Nearly every commission I've faced with other people had issues of some kind: money, timing, unreasonable demands, money, bounced checks, broken contracts, money, revision requests, and -- you guessed it! -- money.

But not so with Stephen. He would insist on paying everything up front, even when I'd tell him that such a gesture was completely unnecessary, as I had yet to even start a single sketch. I couldn't believe such a person existed in the world: a trusting client all too eager to pay, even when the service had not yet been earned. I even told him so. His response was classic, in true Schochetian sense: "That's because I'm a Republican."

"Well, Stephen," I said, "if all Republicans were as thoughtful as you, I'll happily switch political parties." This became an ongoing joke between us, as he was ready to have me re-register for the next election.

I don't know what the status of HOLLYWOOD STORIES II is, but for my part, I still owe Stephen Schochet a cover.

I owe him a lot more than that, too.

Little mentions...
March 31, 2015


Someone gave me a heads up about an upcoming screening of THE SECRET OF NIMH, held by YBCA in San Francisco. Their calendar page features some of my old artwork to promote it. Who am I to complain?

This one's a bit old news, but INDYMAG, a fan based online publication for all things Indiana Jones, included my artwork among recommended items for collectors. You can view the issue online here or download the pdf. I'd be doing an interview for them in the near future, with more Indy-related news to announce...

THE BROTHERHOOD AND THE SHIELD: THE THREE THORNS now in bookstores.
March 31, 2015


It's been a long time coming, but after years of hard work, Michael Gibney's book series THE BROTHERHOOD AND THE SHIELD has finally launched! The first book in the young adult fantasy series, THE THREE THORNS, is available through Amazon, Barnes and Noble, Kindle, and other stores throughout the USA and UK.

I've done a number of covers for Mike, as several books are planned in the years to come. For THE THREE THORNS, I actually did different designs; my personal favorite was one I'd done for free, after feeling dissatisfied with my previous efforts. Oddly enough, the publisher went with the first (and in my opinion, lesser) cover artwork, deeming my preferred illustration to be too...well, scary. But the author loved it so much that he used it as the central image of the book series' website:

For more information, go to www.thebrotherhoodandtheshield.com.

At long last...the much-needed makeover of my Art Galleries has begun!
March 29, 2015


I've been swamped with a lot of projects these last few months, particularly since my move to Sierra Madre. It's all been both overwhelming and wonderful, but I have to prioritize things. (This work is in addition to my full time job at Warner Bros.)

I'm constantly tinkering with this site, and if you explore some of the pages, you'll find a lot of them are quite outdated. I'm hoping to change all that soon, but my starting point was the most critical one: THE ART GALLERIES.

The last few days I've transitioned all my personal art & illustration files to WIX, as their service offers great functionality, and makes everything a bit easier to organize. It's also a lot more interactive, and easier to update, than my archaic web developer software.

So...in an effort to have a "soft launch" of the new galleries, the art links on my main ART GALLERY page will direct you to the new WIX pages.

Some of the pages have yet to be updated, but the key ones -- such as my PORTFOLIO OVERVIEW and poster artwork -- are all spankin' new. Some galleries have also been consolidated. I hope you enjoy them, and would appreciate any feedback.

I opted, however, to keep all the older pages active, as many people have linked to them and their contents. (That I've already renewed my old web service account for another year is hardly reason for me to abandon it now.) These older gallery pages will continue to link to the previous site, while the new WIX content can be accessed through this page.

TWELVE MONKEYS promo.
December 7, 2014


It's been ages since I've updated the site, namely because of big changes in my life -- particularly relocating to Sierra Madre, California, after almost 14 years of living in Glendale. More on that will be coming later, but it's so nice to finally have a dedicated art studio of my own, and in an area that I adore. The commute to work is longer, but worth it.

I recently whipped up a little promo poster for my old high school pal Terry Matalas, the co-writer/co-producer of SyFy's upcoming TV series 12 MONKEYS, loosely based on the Terry Gilliam film. The poster's composition was designed to reflect the current world at top vs. the ruined world at the bottom. From what I've seen of the show so far, it looks promising, and I sincerely wish Terry and his team the very best of luck towards its success.

TWENTY-FOUR BY THIRTY-SIX trailer
August 13, 2014


Whoa! Check out this trailer for TWENTY-FOUR BY THIRTY-SIX, a documentary in progress about movie poster art. I'm especially happy that the trailer opens with Richard Amsel, and hope the film will help ensure his creative legacy.

Look fast for the bloated guy with the green baseball cap:

SUNRISE: A SONG OF TWO HUMANS
July 9, 2014


I first saw F.W. Murnau's SUNRISE when I was in college. I knew about the film's historical significance, but had no idea of its emotional impact. It marked one of those rare cases where I fell head over heels in love with a movie while actually watching it for the very first time.

Sunrise won the Academy Award for "Best Picture, Unique and Artistic Production" at the very first Oscar ceremony in 1929 -- a special, one-time recognition that many film scholars consider to be the equivalent of the "Best Picture, Production" honor, awarded to Wings. See the film, and you'll understand why.

I wanted to give Murnau's film the "epic" poster it never had. It was also an experiment in dealing with a new digital form of image manipulation, as I tried to give it a "silkscreen" / woodcut effect, using a palette of only nine colors for a nostalgic feel.

TWENTY-FOUR BY THIRTY-SIX documentary.
May 28, 2014


On Monday I was interviewed for TWENTY-FOUR BY THIRTY-SIX, a documentary on movie poster artwork. When I first heard about the project some months ago, I was very, very intrigued, and to actually be a part of it now is a big thrill.

The film is a labor of love by a team of documentary filmmakers who have been traveling the world interviewing artists and fans. It's unique in that it's not just about traditional movie poster art (and it's decline in recent years), but the movement among fans -- many of them illustrators themselves -- who, through independent means, are taking it upon themselves to resurrect an art long thought dead...and it's become so popular that the movie studios are finally taking notice.

Twenty-Four by Thirty-Six - Trailer #1 from Post No Joes Productions on Vimeo.

Thanks to Kevin Burke for being such an engaging interviewer, and for letting me drool over his amazing digital camera setup. (Yes, Kevin, I suffer camera envy.)

For the Love of Movies...
May 6, 2014

I've been meaning to get around to this for a while: a little promo video about my artwork. Special thanks to journalist/arts critic Rich Kane for making it happen.

We have a winner!
May 5, 2014

Longtime "Indyfan" Mark Martino is the lucky winner of my giveaway 21"x32" canvas print. I'll be having more such giveaways in the future, so be sure to subscribe to the newsletter and follow me on Facebook to automatically enter!

True Adventure: The Key to Eternity.
March 18, 2014

I recently completed a poster for a rather inventive short film, "True Adventure: The Key to Eternity." The filmmakers wanted something in the style of Drew Struzan's Indiana Jones posters.

Someone once called me a Struzan/Amsel wannabe. She meant it as an insult, I took it as a compliment.

Lenticular goodness.
February 3, 2014

Behold, my new business card. I like to think it'd make Patrick Bateman envious.

 

Holiday portrait.
December 30, 2013

A little painting my sister asked me to do, as a gift to her in-laws:

LINE WORK: Artists for Yolanda Relief.
December 8, 2013

I'm honored to have my work included in an online auction to benefit the victims of Typhoon Yolanda.

I have three pieces up for auction, and each one is signed along with a personalized letter of thanks.

The Raiders "Circus Style" poster is a print on canvas, measuring 21"x32".

The Gateway to NIMH is a print on matte paper, measuring 16.0"x 21.5".

The Harry Potter Parrish is a print on matte paper, measuring 16.0"x 20.0".

Join the newsletter!
October 28, 2013

I'm starting a newsletter for those interested in keeping up with my art and writing projects. (No, they won't contain any political rants, I promise.) Once I hit 200 subscribers -- which may take some time, I know -- I'll be giving away a large 21"x32" canvas print of my "Raiders" fan art. And yes, it's free!

Forms for submitting to the newsletter can be found at the top left and bottom of this page.

Stuck again by "Three Thorns"...
October 27, 2013

I've postponed site updates for quite some time (again) due to a busy work schedule and personal life, as well as a promise I made to myself that I'd get a book cover finished first. Well...I finally finished it.

I've done several proposed covers for author Michael Gibney's "Brotherhood and the Shield" series, which is finally slated for distribution next year. While we're not sure if or how this artwork will be used, this illustration was our favorite thus far, and I'm hopeful. (It's all up to the publisher...and as I repeatedly tell Michael, whatever they decide, I won't take personally; that's simply the nature of the business.)

If used, my face will also be creeping out children everywhere. The cover prominently features a villain -- old, bald, and with a sinister smile. I modeled for it not out of personal ego but necessity, as no other suitable models were available. You can see this, and other samples on the BOOK COVERS page of the art gallery.

Little family portrait.
June 8, 2013

I visited family back east late last month, and in preparation I finally got around to finishing a long overdue little illustration of my niece and nephew. (Overdue is a gross understatement: it was originally supposed to be an Xmas gift to my sister...last year.)

Signed limited edition glicee prints exclusively available at Pasadena's Paseo Colorado.
June 2, 2013

I'm happy to share that Rudd Rudluff, a recurring guest on TV's reality series STORAGE WARS, is now featuring exclusive, signed glicee prints of my work at the Antique Mall in Old Town Pasadena's Paseo Colorado.

Rudd showed me the first framed print today, and I was a bit stunned. I dare say it looks much better than the frame I put my original painting in.

For more information, check out the Antique Mall's Facebook page. The store itself is located at 309 E. Green St., Paseo Colorado, Pasadena, CA.

UPDATE 6/7/2013: Rudd just generously bought me an even more elaborate gold frame for my original painting. We both think that if I had used this in the Nucleus Gallery show 2 years ago, it would have sold!

Poster Frame Depot writeup!
March 30, 2013

It's the same old song and dance: I've been so swamped with work that these site updates come only once in a blue moon.

Once thing I've done is add a few more artists' links to the ARTISTS I ADMIRE section, at left. These include extraordinary talents such as Ciara McAvoy and Laurent Durieux, both of whom I've had the pleasure of chatting with a little bit.

In other news, some weeks ago the guys at POSTER FRAME DEPOT reached out to me, saying they wanted to feature one or two pieces of my work on their site. I was delighted by the offer, of course, but I didn't realize they'd write up an entire profile on their blog... I'm quite flattered! I'm also glad they took the time to mention Richard Amsel, though there's no way the quality of my work remotely compares to his...

Admittedly, the two pieces of mine they featured in the article are not among my personal favorites. (That Indiana Jones piece makes me cringe, in fact.) But THE FELLOWSHIP I'm sort of OK with... :)

So let me give a shout of thanks and appreciation to these guys, who offer quality frames -- made in the USA! -- in a variety of styles and colors, and at very good prices! (And no, they're not paying me to write this.)

Another image revision -- THE FELLOWSHIP.
January 20, 2013

Completed ten years ago, The Fellowship was my first attempt at painting in oils, and it certainly took the longest amount of time to finish. It's not one of my favorite pieces, but I'm proud of it just the same. I had to do some touch up "fix it" work on it after an application of varnish had accidentally wiped away some of the thin painted details from the surface. This new, rephotographed image shows these revisions, as well as color and detail adjustments that better reflect the original painting.

Rollover the image to see a before and after:

Return to "NIMH" yet again...
January 17, 2013

Of all the movie related artwork I've done, the one most popular among fans is "Gateway to NIMH," an illustration I did back in 2001 as a tribute piece to Don Bluth's THE SECRET OF NIMH.

While I liked the final artwork enough, I must admit I didn't think all that much of it at the time. I worked on it over a few evenings, after coming home from my grueling day job, and don't remember anything particularly challenging about it; the design was quite simple, and painting it was relatively quick and easy. But over the years I've had more requests for prints of this piece than anything else I've done. That, and the fact that the artwork has turned up -- always to my surprise -- on ripoff T-shirts and even an article in The Hollywood Reporter. In fact, someone just emailed me about a custom Blu-Ray wrap website that features the following:

I gave up on patroling the internet for unauthorized use of my artwork a long time ago, mainly because the illustrations themselves are often of licensed properties that I myself could not profit from. I'm actually flattered when they turn up where they do.

Of all my work, the illustration is now my personal favorite, and I promised myself I would never sell the original (unless, of course, the price was a really handsome one). I therefore decided it was time to have a new, high resolution scan made, and I'm a bit shocked at the comparison to the original image:

This new image captures the exact dimensions and proportion, includes what had previously been cropped out (including my signature!), and colors have been matched as closely as possible to the original artwork.

I'm planning to do this with a few other pieces in the near future. Next up...The Fellowship.

Comic-Conn catalog.
January 7, 2013

I'm finally getting around to posting this -- the ComiConn catalog from last summer's event containing my artwork. The INDY V bandwagon has pretty much tipped over, but I hope at least someone out there enjoyed this illustration.

Happy new year!
January 6, 2013

I've been retinkering with this site throughout the holidays, and am testing out this new layout for the main page as well as the art gallery. I want to sort out a few details before moving forward with all the other pages of this site. This, and a few current art projects, are the big reasons why I've been slow in my updates and posts.

So...do you like the new format? I wanted something same, but different -- including links to all the art gallery pages from the front main page. Also included are easier links to places where you can buy prints and T-shirts of my artwork (see top left corner), a neat QR code (top right), a wider reading pane and banner animation, and a new archive banner at the bottom of the page. (Just look at how different this place was back in 2005!)

There are months and months' worth of posts I've fallen behind on, and when my current projects are done -- hopefully by the end of the month -- I'll be more frequent in my posts.