Here you'll find a variety of samples of my artwork, from illustrations and posters to set designs and production designs over the years. You'll also find information on some writing projects, as well as miscellaneous interviews and any other nonsensical tidbits of curiosity.


2010
---
Nov. 23, 2010
Barnes & Noble blogged...
...about my book cover for HOLLYWOOD STORIES. Author Steve Schochet emailed me this link just a few minutes ago, and it really took me by surprise. Part of me wishes I could redo the cover again, but I'm glad he liked it so. The book itself is a little treasure of tales of Hollywood -- not so much its seedy underside, but a sweet-natured, reverential look at the entertainment industry. It has much wit and humor, but is seldom cynical. Aside from (or in spite of) my own contribution, Steve's book makes a great holiday gift! :)

---
Sept. 25, 2010

R.I.P.: Frank Frazetta (1928-2010)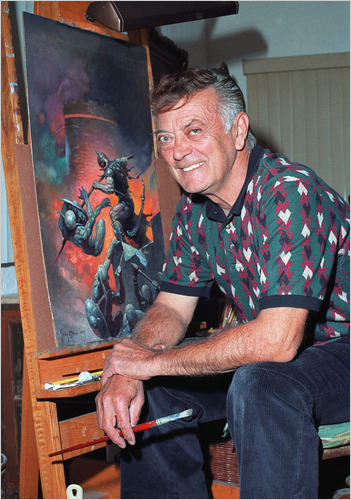 Consider this the grandfather of belated tributes: Frank Frazetta, whose illustrations of semi-clad, impossibly muscled warrior heroes (and even lesser-clad, voluptuous women) pitted against against ferocious monsters in exotic, faraway fantasy worlds, died of a stroke last May.
Franzetta's work is the stuff of legend. His covers for a number of paperback books -- from Tarzan to John Carter of Mars -- often matched, if not exceeded the popularity of the stories from which they were inspired. His cover for Conan the Adventurer (pictured here) is particularly iconic.
From THE NEW YORK TIMES:
Mr. Frazetta was a versatile and prolific comic book artist who, in the 1940s and '50s, drew for comic strips like Al Capp's "Lil' Abner" and comic books like "Famous Funnies," for which he contributed a series of covers depicting the futuristic adventurer Buck Rogers.
A satirical advertisement Mr. Frazetta drew for Mad earned him his first Hollywood job, the movie poster for "What's New Pussycat?" (1965), a sex farce written by Woody Allen that starred Peter Sellers. In 1983 he collaborated with the director Ralph Bakshi to produce the animated film "Fire and Ice."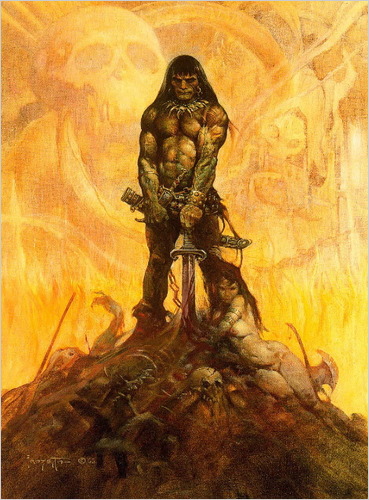 His most prominent work, however, was on the cover of book jackets, where his signature images were of strikingly fierce, hard-bodied heroes and bosomy, callipygian damsels in distress. In 1966, his cover of "Conan the Adventurer," a collection of four fantasy short stories written by Robert E. Howard and L. Sprague de Camp, depicted a brawny long-haired warrior standing in repose on top of a pile of skeletons and other detritus, his sword thrust downward into the mound, an apparently naked young woman lying at his feet, hugging his ankle.
The cover created a new look for fantasy adventure novels and established Mr. Frazetta as an artist who could sell books. He illustrated many more Conan books (including "Conan the Conqueror," "Conan the Usurper" and "Conan the Avenger") and works by Edgar Rice Burroughs (including "John Carter and the Savage Apes of Mars" and "Tarzan and the Antmen").
"Paperback publishers have been known to buy one of his paintings for use as a cover, then commission a writer to turn out a novel to go with it," The New York Times reported in 1977, the same year that a collection of his drawings, "The Fantastic Art of Frank Frazetta," sold more than 300,000 copies.
Frank Frazzetta was born in Brooklyn on Feb. 9, 1928, and as a boy studied painting at a local art school. (Early in his career, he excised one z from his last name because "with one z it just looked better," Mr. Pistella said. "He said the two z's and two t's was too clumsy.")
Mr. Frazetta began drawing for comic books of all stripes — westerns, mysteries, fantasies — when he was still a teenager. He was also a good enough baseball player to try out for the New York Giants.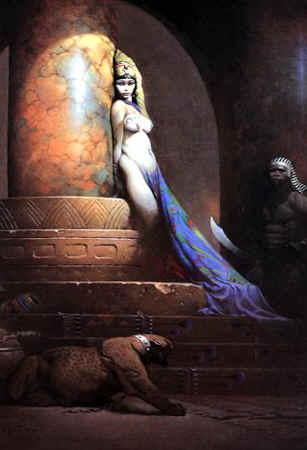 The popularity of Mr. Frazetta's work coincided with the rise of heavy metal in the early 1970s, and his otherworldly imagery showed up on a number of album covers, including Molly Hatchet's "Flirtin' With Disaster" and Nazareth's "Expect No Mercy." Last year, Kirk Hammett, the lead guitarist for Metallica, bought Mr. Frazetta's cover artwork for the paperback reissue of Robert E. Howard's "Conan the Conqueror" for $1 million.
Mr. Frazetta married Eleanor Kelly, known as Ellie, in 1956. She served as his occasional model and as his business partner; in 2000 she started a small museum of her husband's work on their property in East Stroudsburg, Pa. She died last year.
Mr. Frazetta is survived by three sisters, Carol, Adel and Jeanie; two sons, Alfonso Frank Frazetta, known as Frank Jr., and William Frazetta, both of East Stroudsburg; two daughters, Heidi Grabin, of Englewood, Fla., and Holly Frazetta, of Boca Grande, Fla.; and 11 grandchildren.
After Ellie Frazetta's death, her children became embroiled in a custodial dispute over their father's work, and in December, Frank Jr. was arrested on charges of breaking into the family museum and attempting to remove 90 paintings that had been insured for $20 million. In April, the family said the dispute over the paintings had been resolved, and the Monroe County, Pa., district attorney said he would drop the charges.
So many art giants have passed recently -- Bernie Fuchs, Robert McCall, Tim Hildebrandt and John Alvin among them.... Richard Amsel and Bob Peak have been gone for a number of years now.... Drew Struzan has retired....
It's sad, as I wonder not only who's left, but if there's even a demand for such artistic talents anymore. Movie posters have been reduced to bland, insert-actors'-faces-here Photoshop templates. Even book covers, once the common, bread-and-butter market for illustrators, are now rendered through recycled Illustrator fonts, stamped over stock photos culled from royalty-free digital piles.
There are some guys left whose work I love, and are still at it. Guys like James Gurney, William Stout, Greg Hildebrandt, and -- of course -- my very good friend David Byrd. But ask yourself: Where is the next great illustrator? Is there a new generation of artists on the way? And, most importantly, will art agencies and publishers be wise enough to put such talents to good use?


---
Sept. 21, 2010
Earth calling Adam... Come in, Adam...
A recent computer virus forced me to cleanse and restore all my software, including my sitebuilder. This, among other things (long hours at work, my falling pathetically, inexcuseably behind on a long-overdue art commission, getting hooked on endless TV reruns of Law & Order: SVU and Being Human) are primarily what prevented me from making updates.
There's a lot of stuff I want to mention, but first I want to thank my friends for throwing me one of the most wonderful birthday celebrations of my life. It sounds cheesy, but true friendship really is a blessing, and to have such an assortment of wonderful, loving people in my company -- always miraculous, sometimes insane -- really reminds me that life is worth living.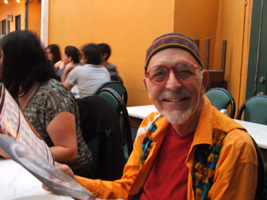 _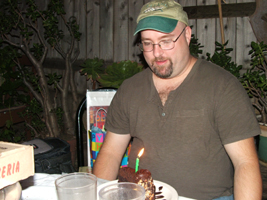 _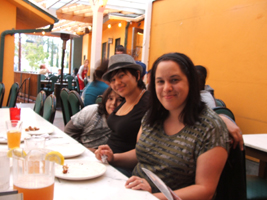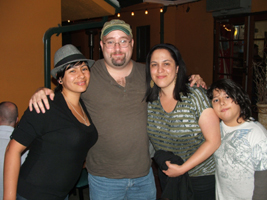 _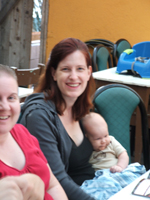 _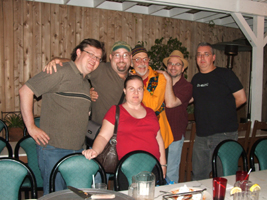 ---
August 17, 2010
Catching up...as age catches up on me.
I spent my 37th birthday helping two of my best friends move into their lovely new Sierra Madre apartment, and while I can't say I enjoyed the physical experience, being in the company of friends made it good enough. I'll likely be throwing a little getogether at the end of the month; I always start getting sad around this time, as my birthday not only marks the near end of the summer, but another year gone by.
On a lighter note, I wanted to give a shout out on behalf of my friend Stephen Schochet, who will be doing a book signing of his HOLLYWOOD STORIES at the Village Bookstore on Friday, August 20th at 7pm.
Friday, August 20th at 7pm
Village Bookstore
1049 Swarthmore Ave. Pacific Palisades, CA 90272
Telephone: 310-454-4063
http://www.palivillagebooks.com
---
June 29, 2010
R.I.P.: Corey Allen, 1934-2010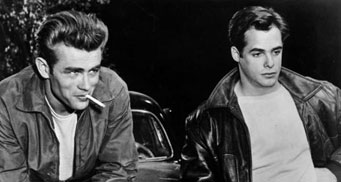 Fare thee well, Mr. Allen. It was a pleasure to have known you, however briefly.


---
June 20, 2010

Meeting Greg Hildebrandt
"The Brothers Hildebrandt" are legends in the illustration world, and especially known among sci-fi and fantasy fans for their Star Wars movie poster and the immensely popular Lord of the Rings calendars. Twin brothers, Greg and Tim often collaborated on projects (exchanging "shifts" in painting duties -- a neat ability when facing tight deadlines), as well as worked on their own. What made their partnership so extraordinary was not just the consistant high calibre (and volume) of their work, but that they were so creatively sympatico, it's impossible -- for me, at least -- to distinguish one artist's work from the other. (Take, for example, Tim's Secret of NIMH poster and compare it to the collaborated works below.)
Sadly, Tim passed away in 2006 due to complications from diabetes, but Greg has continued their artistic legacy. I had the pleasure of meeting him yesterday in Santa Monica, and he was extremely kind, gracious, and receptive to my many annoying questions...
...the first of which I was a little hesitant to ask: As he and his brother collaborated so often throughout their careers, was there ever any serious creative strain or severe difference of opinions in approaching their many works? To my absolute astonishment, Greg answered no -- and even marvelled himself at just how well he and his late brother got along, as close personal relationships can so often fall victim to pressure while in the throws of creative collaboration.
Greg, who blushed when I called him "sir" -- "Call me Greg!", he laughed -- is a class act, and I was delighted and honored to meet him at long last.
---
June 11 , 2010

Gallery Nucleus in 2011?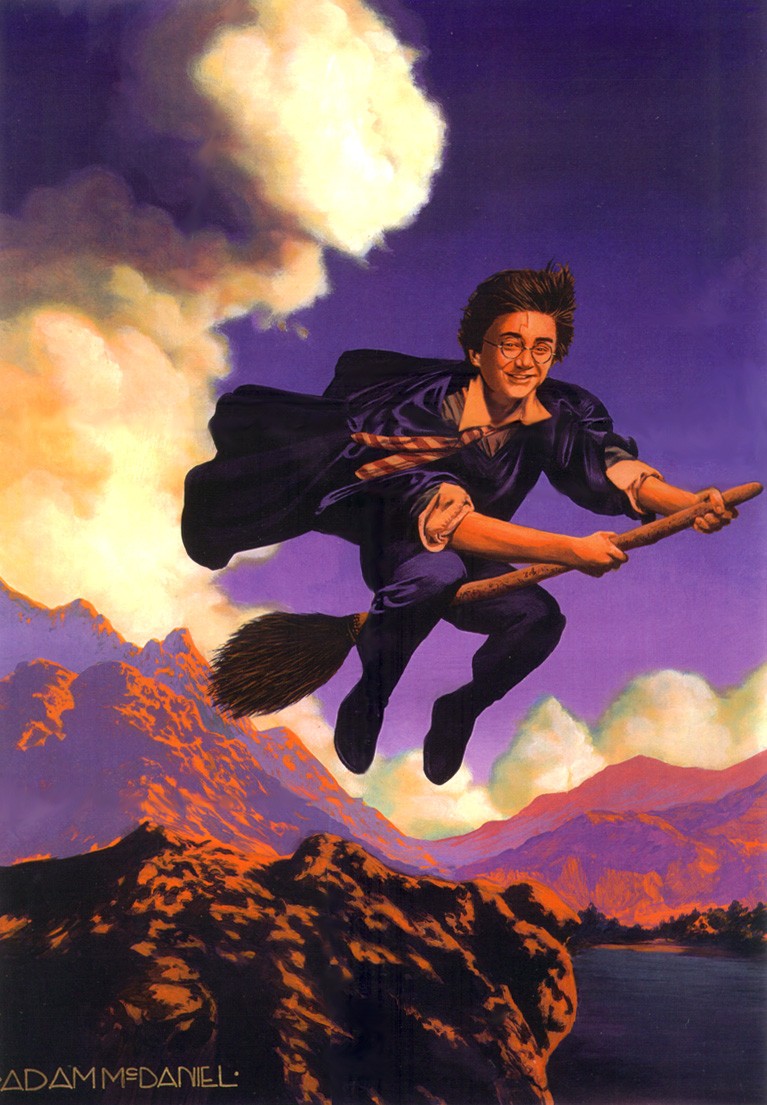 I'm delighted to find that Gallery Nucleus has featured one of my Harry Potter pieces on its blog! The gallery, which I visit quite often, will be having an exhibit of Harry Potter artwork next summer, to coincide with the release of the final film in the series.
The painting was inspired by Maxfield Parrish's Esctacy, using a photo of Dan Radcliffe from Vanity Fair as reference. I thought Parrish's fantastical landscapes seemed suited to the young wizard's flights of fancy.
I'm seriously considering making a new and improved version of this painting, with more detail, richer colors, and this time done in oils. The original painting was made almost 10 years ago -- God, has it been that long? -- and I had not even used oil paints at that time. If my work might possibly hang in a gallery, I'd better make it as damn good as I possibly can!
---
May 8, 2010

On Mother's Day...
From I eulogy I gave four years ago this month:
Eileen McDaniel I called "Mom". It was a title for which she was the prizewinner, and I can't imagine anyone else capable of matching her 12 rounds in that arena. Don't get me wrong -- I know for a fact that there are many, many wonderful mothers in the world, present company included, and I know in their childrens' eyes, each is the champion. But in my eyes, there's no match, and no contest.
The death of my mom marked the darkest point of my life. At that time, the whole world felt like it was crumbling down; my aunt Sue (my mom's younger sister) had died just three weeks before, a relationship I was in had abruptly and unexpectedly ended (via an email, which I received just a few hours before my mom's funeral, no less...), and two heartless, evil pricks -- who I once stupidly considered to be good friends, much less decent human beings -- didn't give a damn.
It's taken me years to get through it all -- though perhaps "get through" isn't an accurate term. I can't imagine ever being completely healed from the experience, but I have at least survived it. Indeed, it wasn't until about two and a half years after my mom's death when I was finally able to get up, look at myself in a mirror, and say "I'm OK." While surely moments of loss and sadness come, overpower me in silent pause, I've endured, and am ready to pick myself up again.
I credit two things for this: First, the support and unwavering comfort my friends, few but true, have given me, and second, the enduring memory and love of my mom, for which I shall forever carry, and of whom I shall forever miss.
Here's to you, Eileen.

---
May 3, 2010

Is it summer yet...?
This year has been flying by, and a proper recap of everything I've been up to will have to wait. It includes another visit back east with family, a return to Vassar College, and a trip down memory lane, visiting the neighborhood in Connecticut where I grew up.
In the meantime, I'd like to thank Stephen Schochet for his kind words during his radio interview with Tron Simpsonon on KCMN in Colorado Springs. (Simpson, Steve said, was "gushing" about the book cover for HOLLYWOOD STORIES, so he mentioned adammcdaniel.com on the air.)
Thanks, too, to LINKS OF THE WEEK for including my coverage of the Richard Amsel TV Guide covers in their Blast From the Past section.

---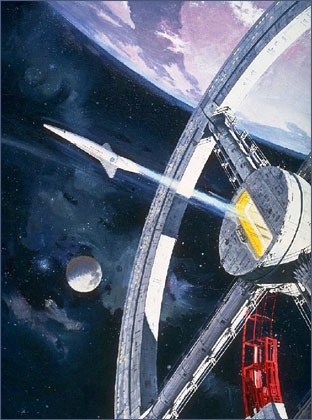 March 4, 2010
R.I.P.: Robert McCall (1919-2010)
"One of the joys of being an artist is the freedom to create one's own world.... Like the real world, these excursions of the imagination are fraught with inaccuracies of perception—it is rare that one glimpses through the veil of time even a hint of tomorrow's reality—nor does it seem important to me whether one's perceptions are right or wrong, the pleasure is in making the predictions and doing the work." — Robert McCall
Famed Space Artist Robert McCall, 90, Dies
SPACE.com / Robert Z. Pearlman
Artist Robert McCall, whose visions of the past, present, and future of space exploration have graced U.S. postage stamps, NASA mission patches, and the walls of the Smithsonian, died on Friday of a heart attack in Scottsdale, Arizona. He was 90.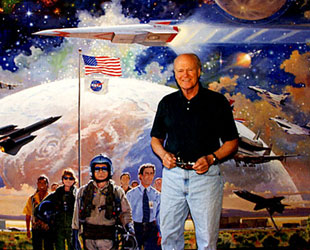 Once described by author Isaac Asimov as the "nearest thing to an artist in residence from outer space," McCall's paintings first attracted the public's attention in the 1960s on the pages of LIFE, illustrating the magazine's series on the future of space travel. He expanded on that theme at the invitation of director Stanley Kubrick, who had McCall paint the advertising posters for his seminal 1968 science fiction film, "2001: A Space Odyssey."
Since then, many more have encountered McCall's space art through canvases both very large and very small.
Perhaps his most famous piece, the six-story "The Space Mural — A Cosmic View" greets visitors to the National Air and Space Museum in Washington, D.C. Painted over the course of eight months in 1976, McCall's depiction of the creation of the universe leading to astronauts walking on the moon is seen by an estimated ten million annually.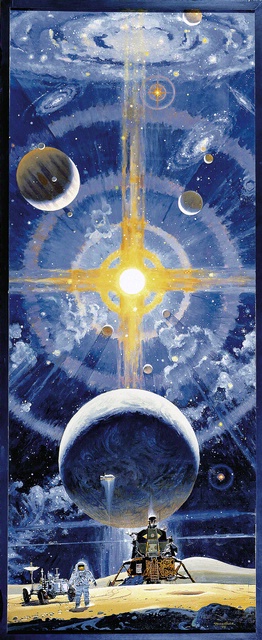 Others of McCall's large murals can be found at NASA's Johnson Space Center in Houston, Texas, at the Dryden Flight Research Center in Lancaster, California, and at the Kansas Cosmosphere and Space Center in Hutchinson. A number of his paintings decorated the walls of the former Horizons pavilion at Walt Disney World Resort's Epcot in Florida, and one remains on display at the entrance to the park's iconic "Spaceship Earth" attraction.
At the other end of the size spectrum but no less popular, McCall created the art for 21 space-themed U.S. postage stamps, ranging in subject from the moon landings to the unmanned probes sent to Mars and Jupiter. His design for a commemorative marking the Apollo-Soyuz Test Project adorned the largest stamp published in the United States.
In 1981, McCall designed eight stamps celebrating STS-1, the first flight of the space shuttle. At mission commander John Young's request, McCall also designed the insignia that Young and Bob Crippen wore aboard Columbia for the two-day mission.
It was through the stamps and patches that he created did McCall ultimately see his artwork merge with their subject matter and enter space. The Apollo 15 astronauts flew his "Decade of Achievement" two-stamp pane to the Moon, and the last men to walk on the lunar surface did so while wearing an Apollo 17 mission patch designed by McCall.
"It is something I continue to covet," shared McCall in a 2006 interview with collectSPACE.com. "It was wonderful to really see this emblem that I designed on the Moon, in real time from Mission Control."
In 1973, at the personal request of flight director Eugene Kranz, McCall designed the original insignia to represent the Mission Control teams. McCall also created patches for the third and fifth shuttle crews, as well as the first to dock with
Russia's Mir space station. His most recent patch was designed for back-up spaceflight participant Barbara Barrett, a family friend, in 2009.
Continue reading at collectSPACE.com about McCall's path to becoming a NASA artist and his view on the future of spaceflight.
McCall's own website can be found here.
---
February 20, 2010
Hollywood Stories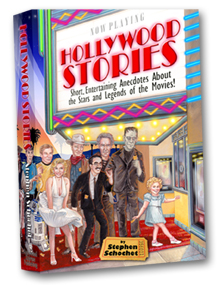 Is it the end of February already? Where does the time go?
Last year I received a book cover commission, and I'm happy to see that it's now being released with quite the marketing push. Stephen Schochet, a successful Hollywood tour guide with several audio books to his credit, is releasing his first book, HOLLYWOOD STORIES: SHORT, ENTERTAINING ANECDOTES ABOUT THE STARS AND LEGENDS OF THE MOVIES!
Just when you thought you've heard everything about Hollywood comes a totally original new book - a special blend of biography, history and lore. Hollywood Stories is packed with wild, wonderful short tales about famous stars, movies, directors and many others who have been part of the world's most fascinating, unpredictable industry! Full of funny moments and twist endings, Hollywood Stories features an amazing, icons and will keep you totally entertained!

Hardcover: 324 pages
Publisher: BCH Fulfillment & Distribution
Language: English
ISBN-10: 0963897276
ISBN-13: 978-0963897275
Hardcover books are now available for pre-order at:
Amazon
Barnes & Noble
eBook editions (including Kindle, Palm, Stanza, and Sony readers) are currently available through Smashwords. There you can also download a special preview of the opening of the book -- which includes a hilarious tale of a knife-weilding Jim Carrey attacking a bunch of tourists!
---

2011
2010
2009
2008
2007
2005-2006
All original content (c) 2012 Adam McDaniel