Here you'll find a variety of samples of my artwork, from illustrations and posters to set designs and production designs over the years. You'll also find information on some writing projects, as well as miscellaneous interviews and any other nonsensical tidbits of curiosity.



2009
---

December 24, 2009
Happy holidays!
I've been so busy these past few months, I've hardly had time to update my site. Rest assured, I'm looking to have a lot of updates in the new year, including some new art commissions and info on new book releases.
Best wishes to you all this holiday season. To help mark the occasion, I found a clip from a MUPPETS Christmas special that I remember seeing when it first aired 30 years ago... Boy, this brings back memories, and makes me a bit misty-eyed.
---
October 12, 2009

So I finally got to meet Werner Herzog...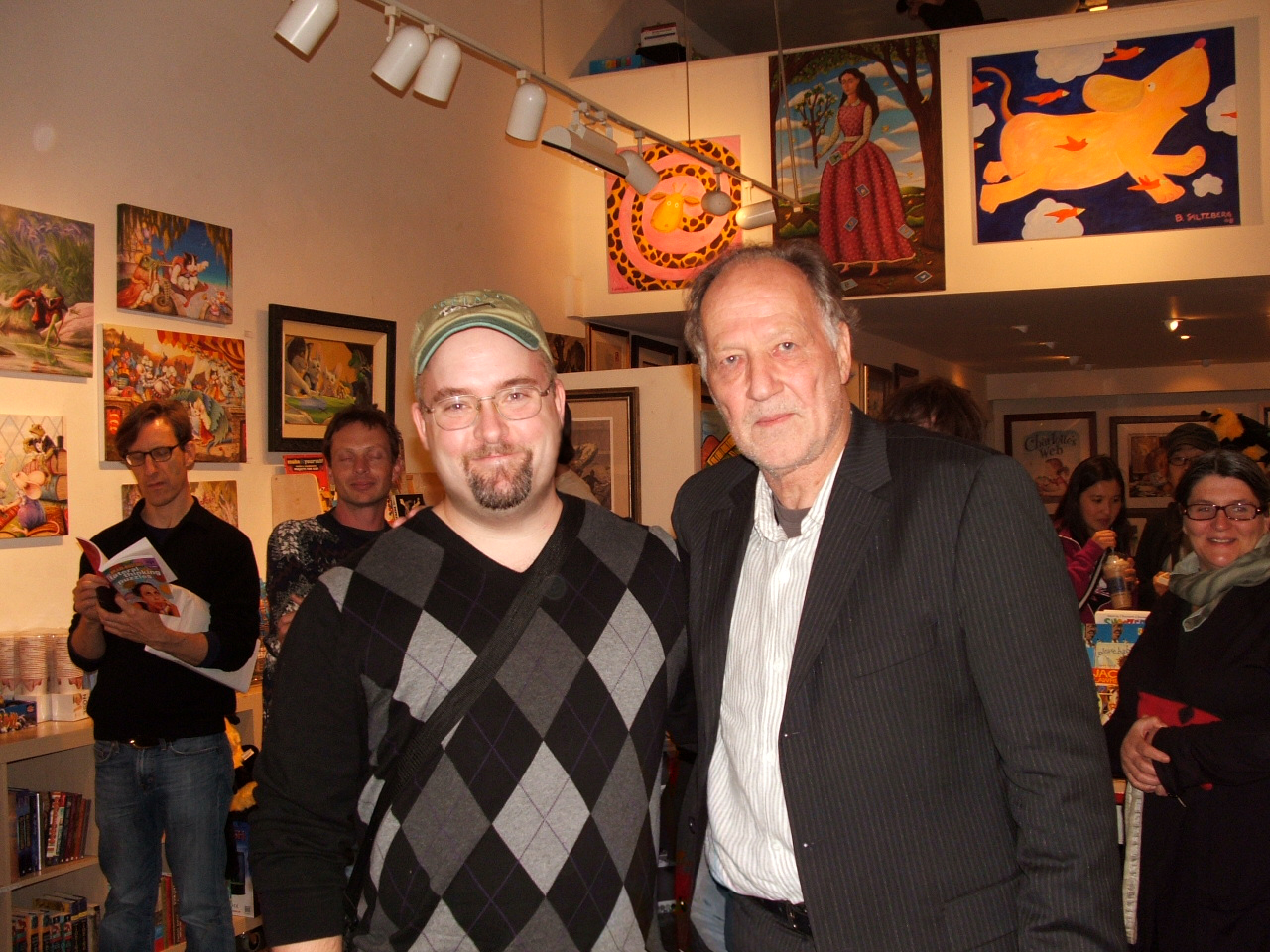 ...and I completely forgot to tell him that he was one of the subjects of my film thesis at Vassar -- "Cinema and the Obsessed". (Or something like that.)
That's all I can write about this experience right now, which was a bit surreal. One of my all-time favorite, life-changing filmmakers, and a leading inspiration for my wanting to work in the film industry.
And no, I didn't have to haul a boat over a mountain to get this picture.
---

S
eptember 19, 2009

So much, too little.
I've been wrestling with bronchitis for nearly a month, and now that I'm finally feeling in the neighborhood of well, I've realized just how much of my life outside of work has either been ignored or put on hold. Being sick, the raging debate over healthcare reform makes my experience that much more painful. Though I have health coverage, it costs me in excess of $70 a week (a rather steep price on my budget), and my insurance company's customer "service" is so awful it's insulting.
It seems that those only too happy to spend untold billions for a war in Iraq in the name of "protecting" the people nevertheless do not wish to risk a dime by protecting people's health back home. It's estimated that in America, someone dies every 12 seconds because they don't have health insurance. Don't these gun-toting, right-wing wackos see anything wrong with that?
That topic aside, this has been a weird time for me, as I find myself constantly busy with day-to-day routines, but falling grossly behind in many of my personal projects.
CHASING ECHOES THROUGH THE DARK is still delayed, largely for reasons beyond my control. Explaining it all would require a book unto itself, but that backstory might come out when the thing is finally released. God knows when that will be.
Sadly, for all intents & purposes, the musical adaptation of HOW TO SUCCEED IN HEAVEN WITHOUT REALLY DYING is...dead. Well, not dead dead, but it's buried under a pile of entanglements involving another musical the producer is working on. Until that musical is finished -- and it's already been years in the making -- mine will be going nowhere fast.
I have had some new art commissions come in, but because I was so ill I had to put them on hold for several weeks. But I can delay no longer; it's time to jump back into the creative fires, which is my hoity-toity way of saying I need to GET OFF MY ASS.
So many of the giants from my childhood have passed recently...John Hughes, Michael Jackson, Farah Fawcett, and now Patrick Swayze... It saddens me, partly because I am increasingly aware that middle age will soon be knocking on my door. While I'm proud of my accomplishments thus far, I always imagined that, by this point in my life, I would have accomplished much more.
---

September 18, 2009

R.I.P.: Bernie Fuchs (1932-2009)
By Adam Bernstein, Washington Post Staff Writer

Bernie Fuchs, 76, an illustrator whose influential work for magazines ranging from Cosmopolitan to Sports Illustrated seamlessly blended qualities of traditional narrative with hints of abstract composition, died of esophageal cancer Sept. 17 at a care facility in Fairfield, Conn. He lived in nearby Westport.
Mr. Fuchs was adept at balancing art and commerce. He met the needs of mass-circulation magazines accustomed to Norman Rockwell-style realism, but he injected a fresh vitality and impressionism that became hugely popular and transformed the illustration field. He even experimented with bold designs based on the abstract expressionism movement popularized by painters Jackson Pollock and Willem de Kooning.
One vivid example, commissioned by McCall's magazine in the late 1950s, was a portrait of two young couples relaxing in a small room after dinner. One man is lying on the ground, his head nestled on a woman's lap and smoking a cigarette as she strokes his hair. While the image has the control and realism of Rockwell, it also has several more dynamic features taken from avant-garde techniques: the vigorous brush strokes; the tilted horizon that heightens a sense of drama; a lampshade in the foreground that appears slightly distorted; and, most strikingly, the placement of the couples in the distance instead of being the center of the picture.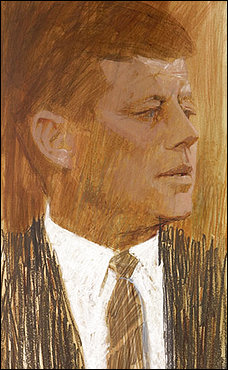 "Bernie combined the best of both worlds," said illustrator Murray Tinkelman, who directs the University of Hartford's master of fine arts program and chairs the New York-based Society of Illustrators' hall of fame committee. "He became the most emulated and imitated illustrator in the field through the 1980s . . . when the vogue turned to more decorative, whimsical, punkier illustrations that were influenced by underground cartoons like those of Robert Crumb."
Mr. Fuchs entered the hall of fame in 1975. He was among the youngest inductees on a roster that includes Rockwell, N.C. Wyeth, Winslow Homer and John James Audubon.
Bernard Leo Fuchs was born Oct. 19, 1932, in the coal mining town of O'Fallon, Ill., and his father soon abandoned the family. As a young man, Mr. Fuchs enjoyed drawing characters from Walt Disney movies and "The Wizard of Oz," but his main interest became jazz trumpet.
He worked in a machine shop after high school, and the loss of three fingers from his right hand ended his musical ambitions. He enrolled in art school out of desperation, figuring it was his only career prospect.
The money he received from the accident paid for his art training at Washington University in St. Louis, where he graduated in 1954. About this time, he married his high school sweetheart, Anna Lee Hesse. She survives, living in Westport, along with their three children, Cynthia Fuchs of Washington, Derek Fuchs of Casselberry, Fla., and Ellise Fuchs of Torino, Italy; and three grandchildren.
After college, Mr. Fuchs went to work for a commercial art studio in Detroit and found immediate success drawing the latest car models for magazines, brochures and billboards. He captured the chrome-dappled allure of the auto industry: happy Americans enjoying themselves at picnics and on golf courses and accompanied by their elegant cars.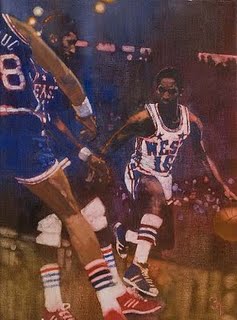 "Others might portray a married couple dressed formally in suits dazzled by a car on the street, or a woman in a fancy ball gown swooning over a car in a showroom, but Bernie's innovation was to put the cars in real life situations with people in all kinds of informal poses, having fun and even in some cases standing in front of the car (heresy!)," illustration authority David Apatoff wrote in an e-mail.
Several top corporations in America took note of Mr. Fuchs's skill. He relocated to suburban Connecticut in the late 1950s and became one of the busiest commercial artists of the next 20 years, working for businesses such as Coca-Cola and Seagram's, as well as magazines including TV Guide and Look.
For the publications, he created a range of illustrations, with scenes from romance fiction and images that conveyed the grit of athletes and the determination of presidents and civil rights leaders. Mr. Fuchs often photographed his subjects and returned to his studio to turn the images into illustrations. He said his most challenging deadline story came in 1969, when Sports Illustrated assigned him to cover the Rose Bowl in Pasadena, Calif., and the Orange Bowl in Miami. He saw the Rose Bowl live, lurking on the sidelines with his camera, and watched the game in Miami on television. He finished six paintings in 36 consecutive hours of work.
In the course of a prolific career, he met many historic figures of his era, including President John F. Kennedy, baseball player Jackie Robinson, entertainers Frank Sinatra and Bob Hope, and cellist Pablo Casals, who, ailing at 93, nevertheless played a Bach cantata for Mr. Fuchs at the musician's villa in Puerto Rico.
Starting in the mid-1970s, Mr. Fuchs had contracts to illustrate postage stamps and children's books. His paintings, whose subjects ranged from images of the Old West to the Longchamps horse races in France, were exhibited in galleries worldwide. Jill Bossert, editor of Society of Illustrators books, once described Mr. Fuchs's skill: "His colors shine with the brilliance of stained glass as if lit from within. His equine pictures rival Degas."
---
August 31, 2009
DON'T OPEN YOUR EYES!
Cute spoof of the finale of RAIDERS, courtesy of ROBOT CHICKEN.
---
August 25, 2009
Rare "NIMH" screening in L.A.
For those living in Los Angeles, the NEW BEVERLY CINEMA will be showing a double-feature of Don Bluth's AN AMERICAN TAIL and THE SECRET OF NIMH on September 6th and 7th. This is one of the rare opportunities to see these films again on the big screen.
Though I enjoyed AN AMERICAN TAIL, it's "NIMH" that always held a special place in my heart. I never could put my finger on it -- the film isn't your traditional crowd pleaser -- but I think I was attracted to how unique Bluth's film seemed, especially when compared to other animated films of its time. It's darker yet more sentimental, and the animation is truly breathtaking. The music and voice talent also help immeasurably.
Back when I had some spare income, I splurged and bought a number of original animation cells from the film, including some of the main characters featured in prominent scenes. These purchases were not intended as financial investments so much as the acquisition of personal treasures -- the wonderful ability to own a piece of the magic and craftsmanship of something you love.
Speaking of "NIMH", I recently found this courtesy of CartoonBrew.com: A YouTube clip of Ralph Bakshi and Don Bluth back in 1982, discussing the (then) future of animation on Nightcap, a literary roundtable hosted by journalists Studs Terkel and Calvin Trillin. It's also interesting (and bittersweet) that the use of developing computer graphics' technologies, as featured in Disney's TRON, has since trampled over traditional, hand-drawn animation.
---
August 17, 2009
Watch, listen, and react.
Brian "Dingo" Grosz was a classmate of mine at Vassar -- we even made a film together my senior year. Watching his recent YouTube post about the debate over health care reform makes me really, really proud to know him.
Well done, Brian.
---
August 15, 2009
Another year older, another year wizur.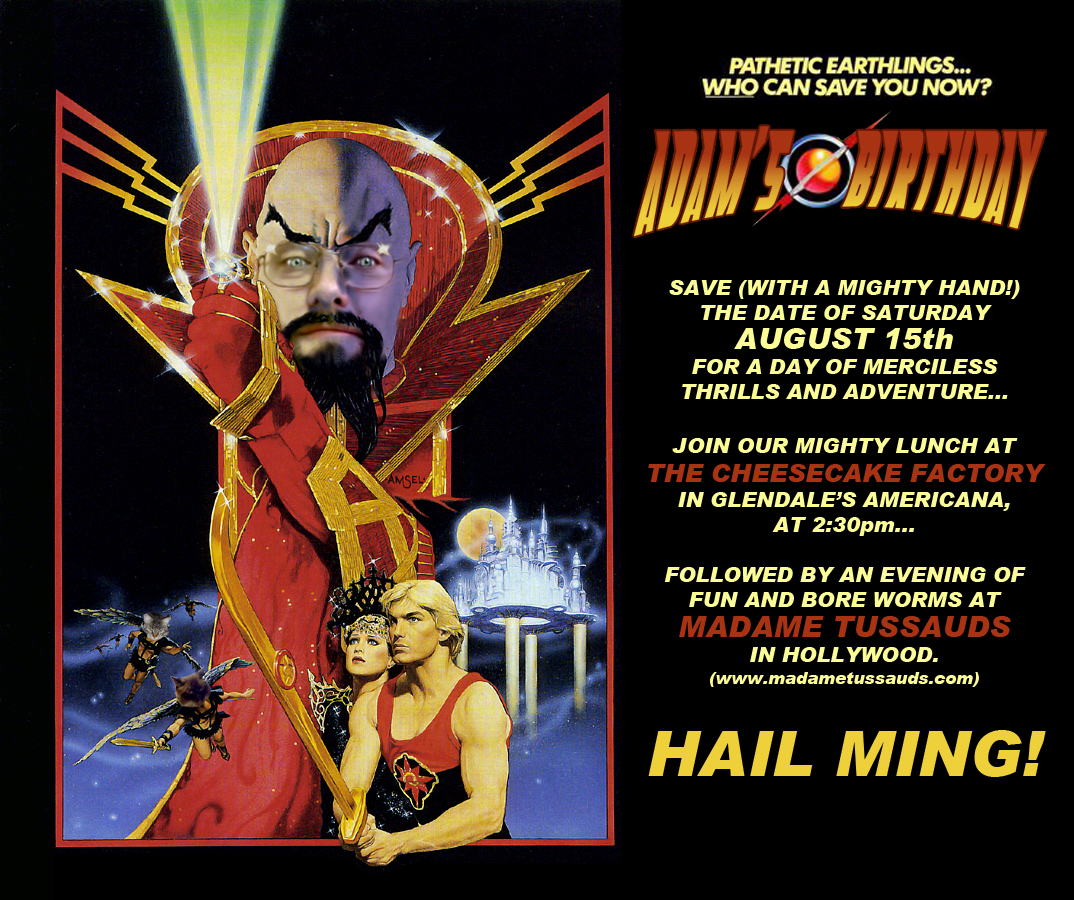 You can see other posters I've mutilated here.
---
July 30, 2009
UPDATE: The Hollywood Reporter credits me. :)
THE HOLLYWOOD REPORTER's online "NIMH" article, detailed in my July 28th entry, has, happily, now credited me for the artwork! Though I'd rather have my name in an article involving a multi-million dollar script sale or development deal, this still excites me a bit.
Click on the image below for a screengrab of the full article.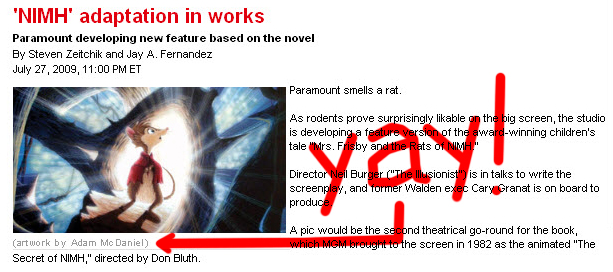 ---
July 28, 2009
REPORTER article on NIMH remake features my work...but not my name!
Two surprizes came to me today. First, the news that Paramount was developing a live-action/CGI version of Mrs. Frisby and the Rats of NIMH -- which was the basis, of course, for Don Bluth's animated THE SECRET OF NIMH. Second, that the online edition of THE HOLLYWOOD REPORTER, in covering the story, included an image not from the 1982 film, but of my original artwork!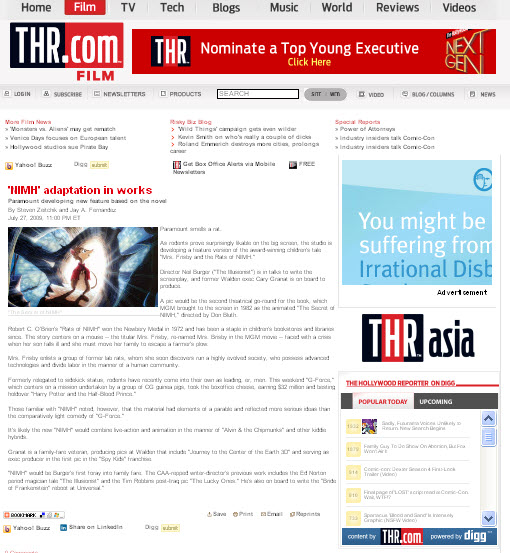 Though I'm excited to see my work out there, I'm a bit dismayed that this was done without my knowledge or consent. I just emailed the editors at THR, stating that I don't mind their using my artwork, provided that I am credited for it.
A friend told me that this was likely just a case of the magazine mistaking the illustration for a still of the film. If that's the case, I consider it a compliment.
---
July 13, 2009
INDYCAST revisited!
My follow-up interview with Ed Dolista for the INDYCAST is now online! In it, I discuss more about the Richard Amsel art exhibit, as well as the late artist's life, work, and career.
Other issues addressed include the current decline of movie poster art, David Edward Byrd's lecture, the search for a long-lost "RAIDERS" comp, Amsel's love of (and ambitions toward) animation, and an unspoken rivarly with fellow poster artist Drew Struzan.


CLICK HERE to listen to my new interview on the INDYCAST! (The previous interview from last April can be found here.)
---
July 5, 2009
My contribution to the next Presidential race:

---
July 4, 2009
---
July 3, 2009
Working at Warner Brothers...
A few weeks after my gig at Disney last year, I began working with Warner Bros. Digital Distribution. The division handles everything from the online sales of digital movies, to movies on demand, mobile, cable, Apple/iTunes, and hotel venues. Their recent launch of the Warner Bros. Archive Collection has also garnered considerable media coverage.
It's one of the hardest working teams I've ever been a part of, and I've had the privilege of working as their art coordinator of sorts -- handling all movie posters and artwork. So if you should see a poster on iTunes that looks a bit shoddy, well... It's my fault.
Each film requires a variety of art assets, including not just the standard poster image, but a textless version without titles or billing. Sometimes these assets are available, or can be made easily from layered Photoshop files. Often, however, they have to be created by digitally "painting out" the text. This can be a big challenge when the background is particularly complex, or if the best-quality image is in a foreign language. These are some recent examples:
Due to the enormous volume of work and "can't miss" deadlines on a near daily basis, you can only spend so much time on a given title -- usually just a few minutes. It's a constant struggle between being meticulous with the work and timely in the process. Even when layered PSDs might be available in another department, I'm usually in such a rush that I just go ahead and rework the posters myself. The results may not be as thorough as I would have liked, but it has provided me with invaluable experience in working creatively while under pressure.
---
June 21, 2009
Dig those SUPER EARS!
Try JibJab Sendables®
eCards
today!
---
June 7, 2009
UPDATE: The Art of BOB PEAK opening reception!
I just got back from the exhibit's opening and posted some photos here.
It truly was extraordinary, and featured originals of some the artist's most famous illustrations -- including work for STAR TREK: THE MOTION PICTURE, EXCALIBUR, EQUUS, PENNIES FROM HEAVEN, THE SPY WHO LOVED ME, THE YEAR OF LIVING DANGEROUSLY, and APOCALYPSE NOW.
Seeing these originals really is an eye-opening experience. Most of Peak's paintings are huge, and demonstrate a unique sense of both fluidity and control. His illustrations often strike me as having a dreamlike quality -- or even nightmarish, as in the case of APOCALYPSE NOW and EXCALIBUR -- that is both haunting and beautiful.
I was particularly happy to see my friends Dorian Hannaway and David Edward Byrd again, all of us reunited for the first time since the Amsel exhibit last April. It was also a pleasure to finally meet Matthew Joseph Peak, a distinguished artist whose work, as with his late father's, I've long admired.
The exhibit runs for just a little over two weeks, so if you're in the Los Angeles area be sure to give it a look!



One of the most imaginative and prolific illustrators of the 20th century, Bob Peak revolutionized advertising in the film industry and is considered the "father of the modern movie poster." His work for such films as CAMELOT, MY FAIR LADY, SUPERMAN, EXCALIBUR, STAR TREK I-V, and APOCALYPSE NOW possessed a signature style -- and a painting technique that was very, very much his own.

In addition to work in the film industry, Peak illustrated 45 covers of Time Magazine - including the well-known portrait of Mother Teresa, now featured in the National Portrait Gallery Smithsonian Institution along with his paintings of Anwar Sadat and Marlon Brando.

Gallery Nucleus will feature a collection of Peak's original artwork, in addition to a rare selection of iconic movie posters and advertising work. This will indeed be a rare and exciting opportunity to view in person, a massive retrospective into the range and versatility of a 20th Century Master.

The Art of Bob Peak
June 6, 2009 - June 23, 2009
Gallery Nucleus
210 East Main St.
Alhambra, CA 91801
ph 626.458.7477

OPENING RECEPTION:
Saturday, June 6th, 7 - 11pm

Gallery website: http://www.bobpeak.com/events/BP_WorldPremiereLA_2009.html
Artist's website: http://bobpeak.com
---
May 17, 2009
Recommended reads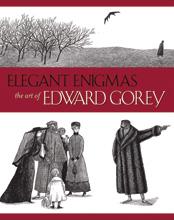 The past few months I've been trying to "psych" myself with a little more creative energy, and fortunately I've found some good sources of inspiration.
First is ELEGANT ENIGMAS, a wonderful book on the work of the late Edward Gorey, whose macabre, sinister, yet delightful and understated drawings have always tickled my rather odd sense of humor. I was fortunate to have seen a recent exhibition of his work; I've posted a few pictures here.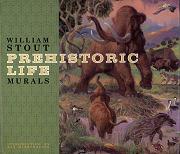 Second is William Stout's PREHISTORIC LIFE MURALS, a chronicle of the famous dinosaur and fantasy illustrator's mural work for various museums. I saw several of them in San Diego last year, and, by coincidence, was lucky enough to have run into the artist during my visit.
Having taken photos of some of the murals myself that (despite the use of an expensive digital camera) turned out rather miserably, I was especially impressed with the color and detail of the reproductions inside the book. Stout's commentary is also very inspiring.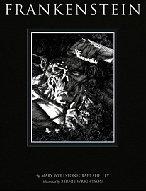 Finally, I wanted to mention a book that has been out for quite some time, but deserves to be rediscovered by those who've yet to get their hands on it. Bernie Wrightson's FRANKENSTEIN is, for my money, unquestionably the definitive edition of Mary Shelley's classic gothic horror novel. Wrightson's stark pen and ink images are staggering to behold, both in the complexity of their detail and the power of their dramatic composition. Shelley's story is now legend, but Wrightson's interpretation gives it a new life (pardon the pun) that also feels wholly faithful to the writing itself. Those who insist that pictures have little or no importance when compared to the words within a book would be hard pressed to dismiss Wrightson's achievement.
I recently met Wrightson during a lecture he gave about his life and career, much of it devoted to his work on Frankenstein. It was truly a labor of love for the artist, a personal project he worked on for years -- and without any pay!
This new hardcover edition by Dark Horse reproduces Wrightson's images in a larger format (measuring 9" x 12"), and it's a must for both fans of the novel and fine illustration.
---
April 29, 2009
So much to say, so little to write.
I've been back in Los Angeles for over a week now, have been swamped with work, and am still adjusting. As the headline reads, so much has happened in my life -- all of it good! -- that it's now hard for me to know how and where to begin writing here.
I guess I'll start with the biggest news, at least on a personal front: my sister Heather gave birth to her second child on January 22nd, and this Easter I was able to see my little nephew, Theodore Harrington V, for the very first time. I was also able to see my niece, Johanna Rose, and the rest of my family for the first time in over a year. Needless to say, Adam is one very, very happy uncle!

Also on the baby front, one of my oldest and dearest friends recently had a beautiful little girl. While visiting them, and after having already spent a bit of time with my sister's own children, I thought I heard a small voice inside me, trying to nudge my life down the path of possible fatherhood...
No, not now... Nor soon... But maybe... A possible, who-knows-what, "for your consideration" maybe... It's the stuff of wonderful domestic daydreams, both fanciful and mundane, that put a big grin on my face. In the meantime, though, I have two cats, two plants, and a small group of friends to keep as company. And that's good enough to tide me over for a long while.
I think my involvement, small as it was, with the RICHARD AMSEL ART RETROSPECTIVE will remain an experience I'll treasure for the rest of my life. If any of you are in the Philadelphia area through May 14th, do yourself a favor and give the exhibit a visit.
I could go on and on about Amsel's work, or David Edward Byrd's beautiful tribute and speech, or Dorian Hannaway's commitment and dedication to preserving her late friend's legacy...but to avoid repeating myself over and over again, allow me to simply refer you to www.RichardAmsel.info.
While in Pennsylvania, I also managed to pay a long overdue visit to the Brandywine River Museum, home to an exquisite collection of N.C. Wyeth and Andrew Wyeth paintings (including N.C.'s legendary works for Treasure Island, Kidnapped and The Last of the Mohicans). Sadly, I was unaware of the younger Wyeth's passing just last January...which made seeing his work in person for the first time a bittersweet experience.
Also on hand was a collection of work from the late Edward Gorey, one of my favorite modern illustrators. I was only able to snap a few pictures before a security guard politely gave me a cease and desist, but here are three highlights:
More pictures can be found here.

---
April 10, 2009
On the whole, I'd rather be in Philadelphia...
...and I'm heading there tomorrow morning, to see my family for the first time in ages, and for the opening of the Richard Amsel exhibit. David Edward Byrd just sent me this flyer regarding his upcoming lecture, which will prominently feature both his own work as well as Amsel's: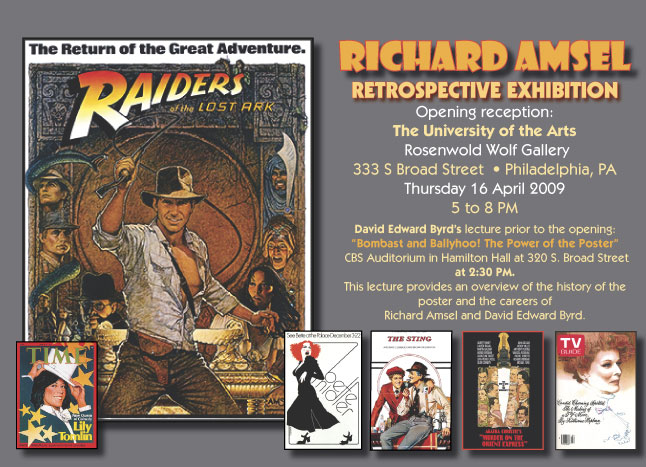 Also, last week I was interviewed by Ed Dolista for the INDYCAST to discuss Amsel's life and career. The web podcast, a discussion of all things Indiana Jones, is expected to air tomorrow night (April 11). It was a lot of fun to do -- Ed and I spoke on the phone for nearly an hour, and unfortunately I was on the verge of a sneezing fit for a large part of that time.

Did Ed edit my sneeze out as promised? You'll just have to listen to the show to find out...
These past few months I've been so swamped with work, and so involved with the Amsel website, that everything else has fallen by the wayside. I'll need to get everything back on track upon my return.
UPDATE!

I'm literally halfway out the door to leave for the airport when I checked my computer one last time, and found the podcast now online.

CLICK HERE to listen to my interview on the INDYCAST!


---
March 7, 2009
Ten years gone...
We lost Stanley Kubrick ten years ago today. To all those who dismissed his work as cold and detached, may I present the final scene of PATHS OF GLORY to prove you wrong.
---
February 18, 2009
What a week!
I spent Valentine's/President's Day weekend in San Francisco, where it poured hard, cold rain -- but I loved every minute of it. I'll post some interesting pics shortly.
Here are some quick images I took at the Drew Struzan opening at Gallery Nucleus in Alhambra. It's amazing to see the artist's original movie poster illustrations firsthand (only in person can one notice the glitter paint Struzan used for painting Julia Roberts for his beautiful HOOK poster). But it's also amazing to see Struzan's more personal works, where he branches out into other painting techniques that stand apart from his more widely known, signature "look".
---
February 6, 2009
Richard Amsel and Drew Struzan exhibits!
Years in the planning stages, the Richard Amsel exhibit -- the first dedicated exclusively to the artist/illustrator -- is happening at last. Oddly enough, it was exactly a year ago that I wrote my online article on Amsel, and now I have the pleasure of not only knowing several of Amsel's friends and family, but owning one of his original pieces.
The official website on the exhibit, www.richardamsel.com, is still underway, but in the meantime you can always find out more through my tribute site.
The Richard Amsel Retrospective
Presented by The University of the Arts
April 15 - May 14, 2009
Rosenwald-Wolf Gallery
The University of the Arts
333 South Broad Street
Philadelphia, Pennsylvania, USA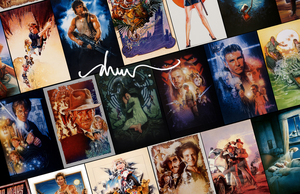 ...and speaking of illustrators, select famous works from Drew Struzan's career, as well as contemporary personal works, and high quality reproductions, will be featured in an exhibition at Gallery Nucleus in Alhambra, CA. The artist himself will be in attendance during the opening reception on Friday, February 13, 2009.
This is a rare opportunity to view these culturally iconic works firsthand. If you like looking at Struzan's posters, just wait until you see the originals with your own eyes.
Drew Struzan: An Artist's Vision
Presented by Gallery Nucleus
February 13 - March 2, 2009
210 East Main St.
Alhambra, CA 91801
USA
---
January 20, 2009
---
January 11, 2009
Creative happenings.

With all the craziness of the holidays (I hosted four parties: Thanksgiving, Christmas Eve, Christmas Day, and New Year's), a new job, and some kinda/sorta/possible/hopeful movement on a few long-gestating creative projects, I've let a few interesting things fall by the wayside, and wanted to give them their due at last.


First, my friend Jolino Beserra helped with an extensive, beautiful redesign of the Alhambra Public Library by creating colorful mosaics for the children's wing. He and his partner, illustrator David Edward Byrd, invited me to the opening ceremonies last fall; above are some pics of the event.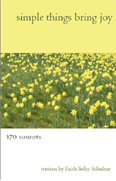 I also wanted to mention a new book of sonnets by Faith Schultze, titled Simple Things Bring Joy. Though I've never been an avid fan of poetry, this collection has a special place in my heart...right next to its author. Faith Schultze was one of my early loves, and the book's cover and title recall a lazy afternoon we shared together laying amid a field of daffodils on the Vassar College campus. I've been told, too, that four of the sonnets were directly inspired by me.
By now you're all probably on the verge of gagging, expecting me to describe a sentimental story of young love...but the reality of our relationship all those years ago was a far more bittersweet experience. Using the word "tumultuous" to describe it would be a gross understatement.
Yet through the years, wisdom, distance, and age helped Faith and me put our bad memories behind us. She was, in fact, one of the first people from Vassar to reach out to me when my mother died (unlike some others -- the old adage that tragedy helps you discover who your real friends are is painfully accurate), and a sonnet she wrote to help console me, For a Boy Who Lost His Mother, is included in the collection. It's one of the most thoughtful gifts I think I've ever received, and still provides comfort in light of my grief.
---
January 2, 2009
J.C. Leyendecker.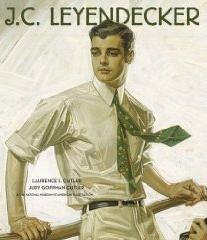 My new year got off to a good start yesterday when a friend and I visited a small comic book store in Montrose, CA. (We figured any such place that could be open on January 1st was deserving of our business.) On a shelf I found a new, beautifully designed book on illustrator J.C. Leyendecker, and wanted to rave about it here.
If you're not familiar with the name, you've almost certainly seen his work. Leyendecker's covers for THE SATURDAY EVENING POST, as well as countless fashion magazines, made him the most successful American commercial artist of his day. He was also a huge influence and mentor to Norman Rockwelll, and while the latter artist remained a longstanding American icon and public figure, Leyendecker was an intensely private man, though every bit as talented.
This is the first major publication in over thirty years dedicated exclusively to Leyendecker's work, and it's filled with a vast collection of pieces rarely seen nowadays. That in itself makes the book noteworthy, but authors Laurence S. Cutler and Judy Goffman Cutler have also unearthed an extraordinary amount of information on Leyendecker's personal life, heretofore unknown or rarely discussed by the public at large.
The $50.00 pricetag may seem a bit steep to the casual buyer, but considering the book's quality and size, it's easily justified -- and makes an ideal gift for any artist or art-lover in your life.
---

2011
2010
2009
2008
2007
2005-2006
All original content (c) 2012 Adam McDaniel