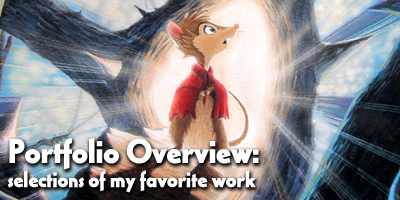 Opening night at the Nucleus Gallery's
Harry Potter tribute art show.
Alhambra, CA, July 10th, 2011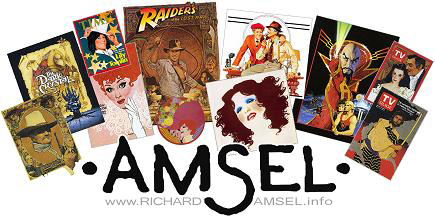 Now featured on TurningArt! It's a rather novel idea where subscribers can rent art prints for a monthly fee, as well as collect credit towards the purchase of both prints and original paintings. My page on their site can be found
here.

LINE WORK: Artists for Yolanda Relief.
December 8, 2013

I'm honored to have my work included in an online auction to benefit the victims of Typhoon Yolanda.

I have three pieces up for auction, and each one is signed along with a personalized letter of thanks.

The Raiders "Circus Style" poster is a print on canvas, measuring 21"x32".

The Gateway to NIMH is a print on matte paper, measuring 16.0"x 21.5".

The Harry Potter Parrish is a print on matte paper, measuring 16.0"x 20.0".

Disney gets Raided...
December 6, 2013

Some interesting news today about Disney acquiring the full distribution and character rights to Indiana Jones. Only regret I have is that if INDY V becomes a reality, the opening studio logo won't be the Paramount mountain...

TV GUIDE.com's Amsel tribute.
December 3, 2013

TV Guide pays tribute to Richard Amsel's covers in its December 2nd online issue, and I want to thank editorial assistant Elizabeth Wagmeister for providing me with a PDF. She had reached out to me some weeks ago in researching the article, and I was only too happy to oblige.

The INDIANA JONES Adventures in Archaeology Exhibit, Discovery Science Center
November 16, 2013

Since posting about the Kubrick Archive, here is a video I shot last year of the Indiana Jones exhibit at Santa Ana's Discovery Science Center. When I first went there (on Halloween morning, no less), I pretty much had the entire place to myself. I've also posted photos from the show to this public Facebook album.

The STANLEY KUBRICK Archives
November 16, 2013

Years ago, when I first heard that a personal archive of filmmaker Stanley Kubrick was opening to the public at the University of the Arts London, I was ready to book a flight across the Atlantic to see it.

Happily, I also heard a touring exhibit would eventually be making its way to Los Angeles, so I held my breath, and, as if in the true Kubrick fashion, waited...and waited...and waited.

LACMA's exhibit opened on Nov. 1, 2012, and ran until June 30, 2013. I was at the opening and closing ceremonies, as well as another visit in between for good measure. I also had some interesting insight into the exhibit -- one of the personal perks of working at Warner Bros., and having good friends at the WB Archives -- which, unfortunately, I can not detail here.

I took scores of pictures with every visit, and posted them to Facebook within a public album. Now that the show is long over, I thought I'd finally share them. This album includes both the October 30th, 2012 opening discussion with Kubrick's brother in law and co-producer, Jan Harlan, and the special event closing party ceremonies of June 22, 2013.

I'll be posting more about Kubrick (including a now infamous screening of "2001" at the Egyptian Theater I witnessed years ago) shortly. In the meantime, behold this More4 TV promo for the "Stanley Kubrick Season" -- one of the best commercials I've ever seen:

 

HOW TO SUCCEED IN HEAVEN WITHOUT REALLY DYING...now on Kindle!
November 9, 2013

Billions of years ago, the earth heated, the earth cooled, and I released a little novel titled HOW TO SUCCEED IN HEAVEN WITHOUT REALLY DYING. Over the years, the original script from which the book was based has been tossed around more places than I can remember...but the book is still alive, for those who don't yet wish to kill it.

Art + Humor + Brilliance = This video
November 9, 2013

Spielberg! Speech! Cinerama!
October 29, 2013

A week ago I caught a screening of RAIDERS OF THE LOST ARK at Hollywood's Cinerama Dome, where Steven Spielberg was giving a Q&A. I managed to get very good seats (about 2 rows back) and filmed most of it. That is, until my camera's memory card ran out. Oh well.

 

Sorry it's a bit shaky.

Join the newsletter!
October 28, 2013

I'm starting a newsletter for those interested in keeping up with my art and writing projects. (No, they won't contain any political rants, I promise.) Once I hit 200 subscribers -- which may take some time, I know -- I'll be giving away a large 21"x32" canvas print of my "Raiders" fan art. And yes, it's free!

Forms for submitting to the newsletter can be found at the top left and bottom of this page.

Stuck again by "Three Thorns"...
October 27, 2013

I've postponed site updates for quite some time (again) due to a busy work schedule and personal life, as well as a promise I made to myself that I'd get a book cover finished first. Well...I finally finished it.

I've done several proposed covers for author Michael Gibney's "Brotherhood and the Shield" series, which is finally slated for distribution next year. While we're not sure if or how this artwork will be used, this illustration was our favorite thus far, and I'm hopeful. (It's all up to the publisher...and as I repeatedly tell Michael, whatever they decide, I won't take personally; that's simply the nature of the business.)

If used, my face will also be creeping out children everywhere. The cover prominently features a villain -- old, bald, and with a sinister smile. I modeled for it not out of personal ego but necessity, as no other suitable models were available. You can see this, and other samples on the BOOK COVERS page of the art gallery.

On the Trevon Martin / George Zimmerman verdict.
July 13, 2013

I woke up from a nap to hear the news. I'm shocked, but also have mixed feelings. This is a case of far greater uncertainty and shades of gray than those of either O.J. Simpson or Emmet Till. Did Zimmerman exercise poor judgement by getting out of his car? Absolutely. Was he trigger happy? Possibly -- though he did take quite a beating prior to firing his gun.

The death of Trevon Martin was a tragedy, and we'll never really know what exactly happened. There's a lot of justified anger, here, but at the same time, many of us rushed to judgment -- that this was a racial issue, that Zimmerman was racist, and the outcome could have been different if the races were reversed -- and those judgments may have been both premature and inaccurate.

Whatever your views, however great your outrage, you have every right to voice and express them -- but please, look to the better angles of your nature when you do so, and let your expressions be non-violent and constructive.

Signed limited edition glicee prints exclusively available at Pasadena's Paseo Colorado.
June 2, 2013

I'm happy to share that Rudd Rudluff, a recurring guest on TV's reality series STORAGE WARS, is now featuring exclusive, signed glicee prints of my work at the Antique Mall in Old Town Pasadena's Paseo Colorado.

Rudd showed me the first framed print today, and I was a bit stunned. I dare say it looks much better than the frame I put my original painting in.

For more information, check out the Antique Mall's Facebook page. The store itself is located at 309 E. Green St., Paseo Colorado, Pasadena, CA.

UPDATE 6/7/2013: Rudd just generously bought me an even more elaborate gold frame for my original painting. We both think that if I had used this in the Nucleus Gallery show 2 years ago, it would have sold!

Thank you, Mark Raats!
May 4, 2013

I want to give very special thanks to Lucasfilm artist Mark Raats, who not only took the time to sign the RAIDERS IMAX mini-posters I sent him, but also included, much to my surprise, a special custom-made full sized 27x40 poster, featuring the unmodified version of his original artwork. (I wrote a bit about it in my Sept. 7th, 2012 post.)

My photos (above) don't really do Raats' poster justice. I've therefore included these images below to better illustrate the artist's original color scheme (left), versus the orange hue adjustments featured on the final version (right). I particularly favor Raats' use of more subtle, dusty earth tones; they better reflect the look and feel of the film itself.

I also marvel at Raat's use of line in developing shading, texture, and color -- particularly with faces.

I'm delighted to add his work to my collection, and that Mark personalized it, along with a touching, heartfelt letter, means the world to me.

Poster Frame Depot writeup!
March 30, 2013

It's the same old song and dance: I've been so swamped with work that these site updates come only once in a blue moon.

Once thing I've done is add a few more artists' links to the ARTISTS I ADMIRE section, at left. These include extraordinary talents such as Ciara McAvoy and Laurent Durieux, both of whom I've had the pleasure of chatting with a little bit.

In other news, some weeks ago the guys at POSTER FRAME DEPOT reached out to me, saying they wanted to feature one or two pieces of my work on their site. I was delighted by the offer, of course, but I didn't realize they'd write up an entire profile on their blog... I'm quite flattered! I'm also glad they took the time to mention Richard Amsel, though there's no way the quality of my work remotely compares to his...

Admittedly, the two pieces of mine they featured in the article are not among my personal favorites. (That Indiana Jones piece makes me cringe, in fact.) But THE FELLOWSHIP I'm sort of OK with... :)

So let me give a shout of thanks and appreciation to these guys, who offer quality frames -- made in the USA! -- in a variety of styles and colors, and at very good prices! (And no, they're not paying me to write this.)

Another image revision -- THE FELLOWSHIP.
January 20, 2013

Completed ten years ago, The Fellowship was my first attempt at painting in oils, and it certainly took the longest amount of time to finish. It's not one of my favorite pieces, but I'm proud of it just the same. I had to do some touch up "fix it" work on it after an application of varnish had accidentally wiped away some of the thin painted details from the surface. This new, rephotographed image shows these revisions, as well as color and detail adjustments that better reflect the original painting.

Rollover the image to see a before and after:

Return to "NIMH" yet again...
January 17, 2013

Of all the movie related artwork I've done, the one most popular among fans is "Gateway to NIMH," an illustration I did back in 2001 as a tribute piece to Don Bluth's THE SECRET OF NIMH.

While I liked the final artwork enough, I must admit I didn't think all that much of it at the time. I worked on it over a few evenings, after coming home from my grueling day job, and don't remember anything particularly challenging about it; the design was quite simple, and painting it was relatively quick and easy. But over the years I've had more requests for prints of this piece than anything else I've done. That, and the fact that the artwork has turned up -- always to my surprise -- on ripoff T-shirts and even an article in The Hollywood Reporter. In fact, someone just emailed me about a custom Blu-Ray wrap website that features the following:

I gave up on patroling the internet for unauthorized use of my artwork a long time ago, mainly because the illustrations themselves are often of licensed properties that I myself could not profit from. I'm actually flattered when they turn up where they do.

Of all my work, the illustration is now my personal favorite, and I promised myself I would never sell the original (unless, of course, the price was a really handsome one). I therefore decided it was time to have a new, high resolution scan made, and I'm a bit shocked at the comparison to the original image:

This new image captures the exact dimensions and proportion, includes what had previously been cropped out (including my signature!), and colors have been matched as closely as possible to the original artwork.

I'm planning to do this with a few other pieces in the near future. Next up...The Fellowship.

Illustrating Modern Life: The Golden Age of American Illustration from the Kelly Collection.
January 12, 2013

I just came back from the opening night reception of a fantastic art exhibit at the Frederick R. Weisman Museum of Art at Pepperdine University, in Malibu, CA. For those of you in the area, this is an extremely rare opportunity to see original works from J.C. and F.X. Leyedecker, Norman Rockwell, Maxfield Parrish, N.C. Wyeth, and Howard Pyle. The exhibit runs from January 12 through March 31.

From the museum's press release:

Illustrating Modern Life: The Golden Age of American Illustration from the Kelly Collection features over 60 works from one of the most fascinating periods in American art. The Golden Age of American Illustration arose between 1880 and 1930, when revolutions in printing technology and mass mailing resulted in a meteoric rise of new magazines. Publishers and advertisers turned to illustrators to create eye-catching, hand-rendered paintings that would appeal to a growing public of modern consumers.

The original oil paintings, watercolors, and ink drawings in this exhibition, rarely seen on the West Coast, include some of the finest examples produced by the best artists of the genre.

The art created by renowned talents such as Howard Pyle, N. C. Wyeth, J. C. Leyendecker, Maxfield Parrish, and Norman Rockwell has entered the pantheon of 20th century American culture and still captivates audiences today.

Pyle, regarded as the father of American illustration, invented the quintessential pirate character that still inspires movies over a century later. His student N. C. Wyeth (father of painter Andrew Wyeth) gained national fame for his paintings done for the Scribner's Illustrated Classics series of novels. The iconic imagery he created for books such as Treasure Island and Kidnapped helped establish the era's vogue for adventure stories.

Leyendecker invented new urbane and stylish figures that captured the knowing sophistication of the modern era. He transformed both illustration and retailing by creating his Arrow Collar Man, a fictitious "celebrity" whose extraordinary popularity established the country's first national advertising campaign.

Rockwell, who began his career by emulating Leyendecker, captured the heart of the nation for decades with his keen sensitivity to the nuances of human behavior, which he used to create poignant depictions of life in small-town America.

"I am thrilled to bring a collection of such outstanding art to Southern California," said Michael Zakian, director of the Frederick R. Weisman Museum of Art and curator of the exhibition. "Like many Americans I remember seeing these artists in magazines such as The Saturday Evening Post and in old books. To see the originals firsthand is a real treat. Most people will be surprised to discover that many of the works were rendered in a rich, painterly manner. Even though much of that effect was lost in the printing process, these illustrators saw themselves as fine artists. They took pride in their craft and wanted their work to meet the standards of the best painters from the past. It is particularly fascinating to see a group of paintings by Dean Cornwell. People in L.A. are familiar with his work through the monumental murals of California history that he did in the historic downtown Los Angeles Public Library in 1932."

The Kelly Collection of American Illustration is regarded as one of the nation's largest and finest private holdings of this material. It was formed over the last 30 years by Richard Kelly, an individual respected in the field for his attention to quality and his commitment to documenting this period of art. He has earned the highest respect from colleagues in the field and was selected by Art & Antiques magazine as one of the top 100 collectors in America.

Illustrating Modern Life: The Golden Age of American Illustration from the Kelly Collection is accompanied by a hard-cover, 128-page exhibition catalog featuring an essay on the art by Zakian, as well as an interview with Kelly by David Apatoff, author of Robert Fawcett: The Illustrator's Illustrator; Albert Dorne, Master Illustrator; the forthcoming The Life and Art of Bernie Fuchs; and the popular blog Illustration Art. ...

Works are on view at the Weisman Museum in the Gregg G. Juarez Gallery, West Gallery, and Ron Wilson-Designer Gallery.

Located on Pepperdine's main campus at 24255 Pacific Coast Highway in Malibu, CA, the museum is open Tuesday through Sunday, 11 a.m. to 5 p.m., and is closed on Mondays and major holidays. There is no admission charge.

For more information, call (310) 506-4851, or visit:
http://arts.pepperdine.edu/museum

Tribute to David Grove, Feb. 27, 1940 - Oct. 25, 2012.
January 11, 2013

I'm terribly saddened to learn of the passing of illustrator David Grove last October, which I only heard about a few days ago.

Grove was a giant in the illustration world, whose work was well known throughout the 1970's and 1980's. His striking movie posters, book covers, and advertisements evoked comparisons to Bernie Fuchs, frequently employing a rubbing technique in his painting process, whereby dark colors would be rubbed away to reveal lighter colors underneath -- a painstaking, challenging process whose end result looks deceptively simple.

I actually had been working on a book cover these last few weeks inspired by Grove's special style, and printouts of his work are currently peppered all over my drafting table. I had intended to write to him when the work was done to show my appreciation...but alas, now it is too late. While I never met him personally, I feel quite heartbroken.

Movie posters were only a small part of Grove's body of work, but they left a huge impression on me throughout my childhood. Grove's illustration for SOMETHING WICKED THIS WAY COMES, in particular, is darkly, eerily beautiful, and captures the atmosphere of Ray Bradbury's book even better than the film itself did:

It's bittersweet that Grove's passing should so closely follow several major milestones in his career: he was recently inducted into the Society of Illustrators Hall of Fame, had a one man retrospective at the Museum of American Illustration in New York, and had just published the book "David Grove - An Illustrated Life". The latter book I had bought last summer, and it's far more than just a collection of pictures; Grove provides us with a memoir about his life and travels that read every bit as colorful as his art -- by turns funny and poignant, to downright startling. He also provides rare insight into his painting process, something artists and illustrators will savor.

To read more:

San Francisco Chronicle obit
"Life Needs Art" blog tribute
Muddy Colors blog tribute

Comic-Conn catalog.
January 7, 2013

I'm finally getting around to posting this -- the ComiConn catalog from last summer's event containing my artwork. The INDY V bandwagon has pretty much tipped over, but I hope at least someone out there enjoyed this illustration.

Happy new year!
January 6, 2013

I've been retinkering with this site throughout the holidays, and am testing out this new layout for the main page as well as the art gallery. I want to sort out a few details before moving forward with all the other pages of this site. This, and a few current art projects, are the big reasons why I've been slow in my updates and posts.

So...do you like the new format? I wanted something same, but different -- including links to all the art gallery pages from the front main page. Also included are easier links to places where you can buy prints and T-shirts of my artwork (see top left corner), a neat QR code (top right), a wider reading pane and banner animation, and a new archive banner at the bottom of the page. (Just look at how different this place was back in 2005!)

There are months and months' worth of posts I've fallen behind on, and when my current projects are done -- hopefully by the end of the month -- I'll be more frequent in my posts.