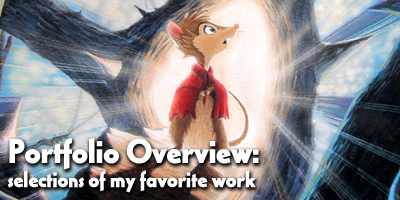 Opening night at the Nucleus Gallery's
Harry Potter tribute art show.
Alhambra, CA, July 10th, 2011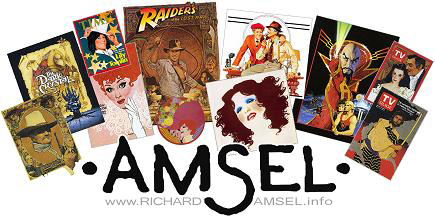 Now featured on TurningArt! It's a rather novel idea where subscribers can rent art prints for a monthly fee, as well as collect credit towards the purchase of both prints and original paintings. My page on their site can be found
here.

TWELVE MONKEYS promo.
December 7, 2014


It's been ages since I've updated the site, namely because of big changes in my life -- particularly relocating to Sierra Madre, California, after almost 14 years of living in Glendale. More on that will be coming later, but it's so nice to finally have a dedicated art studio of my own, and in an area that I adore. The commute to work is longer, but worth it.

I recently whipped up a little promo poster for my old high school pal Terry Matalas, the co-writer/co-producer of SyFy's upcoming TV series 12 MONKEYS, loosely based on the Terry Gilliam film. The poster's composition was designed to reflect the current world at top vs. the ruined world at the bottom. From what I've seen of the show so far, it looks promising, and I sincerely wish Terry and his team the very best of luck towards its success.

TWENTY-FOUR BY THIRTY-SIX trailer
Aug. 13, 2014


Whoa! Check out this trailer for TWENTY-FOUR BY THIRTY-SIX, a documentary in progress about movie poster art. I'm especially happy that the trailer opens with Richard Amsel, and hope the film will help ensure his creative legacy.

Look fast for the bloated guy with the green baseball cap:

SUNRISE: A SONG OF TWO HUMANS
July 9, 2014


I first saw F.W. Murnau's SUNRISE when I was in college. I knew about the film's historical significance, but had no idea of its emotional impact. It marked one of those rare cases where I fell head over heels in love with a movie while actually watching it for the very first time.

Sunrise won the Academy Award for "Best Picture, Unique and Artistic Production" at the very first Oscar ceremony in 1929 -- a special, one-time recognition that many film scholars consider to be the equivalent of the "Best Picture, Production" honor, awarded to Wings. See the film, and you'll understand why.

I wanted to give Murnau's film the "epic" poster it never had. It was also an experiment in dealing with a new digital form of image manipulation, as I tried to give it a "silkscreen" / woodcut effect, using a palette of only nine colors for a nostalgic feel.

TWENTY-FOUR BY THIRTY-SIX documentary.
May 28, 2014


On Monday I was interviewed for TWENTY-FOUR BY THIRTY-SIX, a documentary on movie poster artwork. When I first heard about the project some months ago, I was very, very intrigued, and to actually be a part of it now is a big thrill.

The film is a labor of love by a team of documentary filmmakers who have been traveling the world interviewing artists and fans. It's unique in that it's not just about traditional movie poster art (and it's decline in recent years), but the movement among fans -- many of them illustrators themselves -- who, through independent means, are taking it upon themselves to resurrect an art long thought dead...and it's become so popular that the movie studios are finally taking notice.

Twenty-Four by Thirty-Six - Trailer #1 from Post No Joes Productions on Vimeo.

Thanks to Kevin Burke for being such an engaging interviewer, and for letting me drool over his amazing digital camera setup. (Yes, Kevin, I suffer camera envy.)

Amsel website relaunch!
May 23, 2014

At long last, I've been making progress in redesigning the look of my Richard Amsel website. I had debated doing something very interactive, but due to time constraints -- and my fondness for ease and simplicity -- I opted for something a little more straightforward and classic.

The galleries and tribute article will be reworked, but I wanted to at least complete the news pages as a starting point. For this, I thought it best to segregate news related directly to Amsel's work and career from other tangental news related to movies, art, and other artists. Hope you enjoy.

With the "soft" relaunch, I'm finally posting an excerpt from the New York local access show, The Emerald City, featuring interviews with Amsel and David Edward Byrd. It aired on October 30, 1978.

By all personal accounts I've heard, Amsel was very shy in front of cameras, and this is, to the best of my knowledge, the only video footage of the artist discussing his career. David Byrd, on the other hand, is obviously anything but reserved here...and I'm happy to say he's just as spirited now as he was then. (The rest of us should be so lucky...)

 

For the Love of Movies...
May 6, 2014

I've been meaning to get around to this for a while: a little promo video about my artwork. Special thanks to journalist/arts critic Rich Kane for making it happen.

We have a winner!
May 5, 2014

Longtime "Indyfan" Mark Martino is the lucky winner of my giveaway 21"x32" canvas print. I'll be having more such giveaways in the future, so be sure to subscribe to the newsletter and follow me on Facebook to automatically enter!

True Adventure: The Key to Eternity.
March 18, 2014

I recently completed a poster for a rather inventive short film, "True Adventure: The Key to Eternity." The filmmakers wanted something in the style of Drew Struzan's Indiana Jones posters.

Someone once called me a Struzan/Amsel wannabe. She meant it as an insult, I took it as a compliment.

Goodbye, my dear little prince.
March 6, 2014

It was almost exactly 14 years ago that a scared, wild-eyed shelter cat came into my life. I named him Kubrick, and when people told me that I had rescued him, I'd reply, "He was the one who rescued me."

Those words were true in many ways, and made true again many times over. While I suffered through a share of bad relationships, fair-weather friends, the traumatic death of my mother, he was always there for me, and I honestly think I could not have made it all those years without him.

Now a day I have dreaded for years has come to pass, and I can barely type on my keyboard through all the tears. Little Kubrick is gone.

Goodbye, my poor little darling. I'll love you forever. I don't know where you are now, but wherever it is, I shall one day be there, too.

Until we meet again.

KUBRICK HUNTER McDANIEL
1998-2014

MUSIC TO MY EYES: Byrd Poster exhibit
February 10, 2014

My friend, artist David Edward Byrd, currently has an exhibit of his poster artwork at the Robert and Frances Fullerton Museum of Art at California State University in San Bernadino. The show, Music to my Eyes, David Edward Byrd: Posters and Music Related Designs, 1968-Now, runs through March 15, 2014.

David will also be giving a special lecture on the history of the poster this Thursday, Feb. 13th, at 5pm.

Lenticular goodness.
February 3, 2014

Behold, my new business card. I like to think it'd make Patrick Bateman envious.