ARCHIVE 2010
Dec. 6, 2010: Crazy Sundays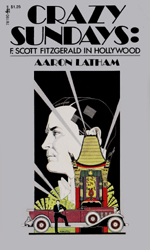 I've spent the better part of a year tracking this one down: Amsel's cover design for the Pocket Books' paperback edition of CRAZY SUNDAYS: F. SCOTT FITZGERALD IN HOLLYWOOD. I finally found it on eBay, and just received it in the mail. It was a bit worn for wear, but I tried digitally cleaning it up a little bit here.
This book by author Aaron Latham was published numerous times in the early 1970s, including Pocket Books in 1972 and 1975, as well Viking in 1971. Trying to find which one donned Amsel's cover was challenging, as no images were available.
I came across this alternate image a few months back, and assumed the art was of Amsel's authorship; it bore a similar painting style to Amsel's work of the period, but I was presumptuous. Two things bugged me about it, too: there was no artist's signature on the cover, and, frankly, its rather bland design did not strike me as particularly impressive. (If anyone has more information on this artwork, please let me know.)
I'm happy to see that this newly (re)discovered image not only bears Amsel's signature, but it's much more effective and striking.

Dec. 4, 2010: Mozart lives!
I came across this album cover art on Amazon almost by chance, but vaguely remember seeing it on prominent display in music stores back when I was a child. Amsel did the cover art for Time Life Music's THE MOZART COLLECTION, released in 1984 -- no doubt fueled by the enormous success of the film AMADEUS at the time. To my knowledge, this is Amsel's last known album cover.

Sept. 25, 2010: R.I.P.: FRANK FRAZETTA (1928-2010)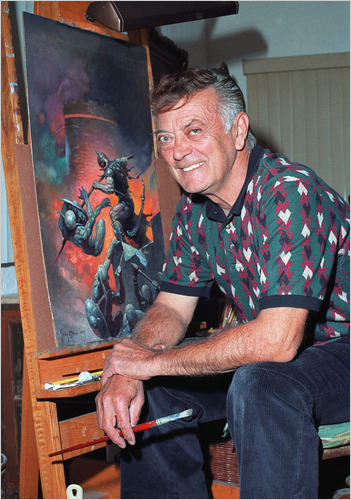 Consider this the grandfather of belated tributes: Frank Frazetta, whose illustrations of semi-clad, impossibly muscled warrior heroes (and even lesser-clad, voluptuous women) pitted against against ferocious monsters in exotic, faraway fantasy worlds, died of a stroke last May.
Franzetta's work is the stuff of legend. His covers for a number of paperback books -- from Tarzan to John Carter of Mars -- often matched, if not exceeded the popularity of the stories from which they were inspired. His cover for Conan the Adventurer (pictured here) is particularly iconic.
From THE NEW YORK TIMES:
Mr. Frazetta was a versatile and prolific comic book artist who, in the 1940s and '50s, drew for comic strips like Al Capp's "Lil' Abner" and comic books like "Famous Funnies," for which he contributed a series of covers depicting the futuristic adventurer Buck Rogers.
A satirical advertisement Mr. Frazetta drew for Mad earned him his first Hollywood job, the movie poster for "What's New Pussycat?" (1965), a sex farce written by Woody Allen that starred Peter Sellers. In 1983 he collaborated with the director Ralph Bakshi to produce the animated film "Fire and Ice."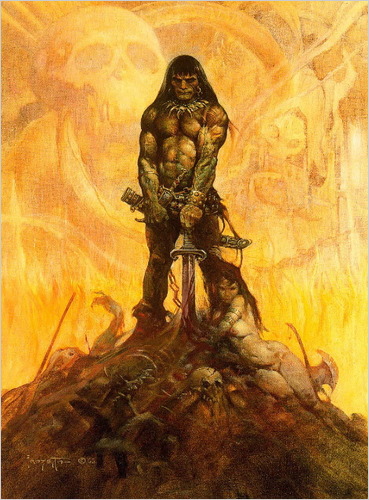 His most prominent work, however, was on the cover of book jackets, where his signature images were of strikingly fierce, hard-bodied heroes and bosomy, callipygian damsels in distress. In 1966, his cover of "Conan the Adventurer," a collection of four fantasy short stories written by Robert E. Howard and L. Sprague de Camp, depicted a brawny long-haired warrior standing in repose on top of a pile of skeletons and other detritus, his sword thrust downward into the mound, an apparently naked young woman lying at his feet, hugging his ankle.
The cover created a new look for fantasy adventure novels and established Mr. Frazetta as an artist who could sell books. He illustrated many more Conan books (including "Conan the Conqueror," "Conan the Usurper" and "Conan the Avenger") and works by Edgar Rice Burroughs (including "John Carter and the Savage Apes of Mars" and "Tarzan and the Antmen").
"Paperback publishers have been known to buy one of his paintings for use as a cover, then commission a writer to turn out a novel to go with it," The New York Times reported in 1977, the same year that a collection of his drawings, "The Fantastic Art of Frank Frazetta," sold more than 300,000 copies.
Frank Frazzetta was born in Brooklyn on Feb. 9, 1928, and as a boy studied painting at a local art school. (Early in his career, he excised one z from his last name because "with one z it just looked better," Mr. Pistella said. "He said the two z's and two t's was too clumsy.")
Mr. Frazetta began drawing for comic books of all stripes — westerns, mysteries, fantasies — when he was still a teenager. He was also a good enough baseball player to try out for the New York Giants.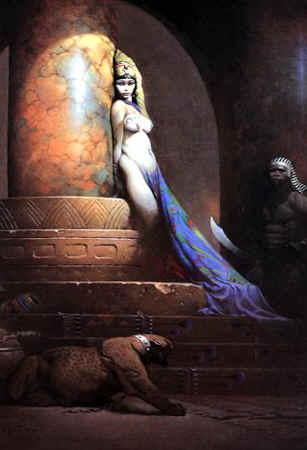 The popularity of Mr. Frazetta's work coincided with the rise of heavy metal in the early 1970s, and his otherworldly imagery showed up on a number of album covers, including Molly Hatchet's "Flirtin' With Disaster" and Nazareth's "Expect No Mercy." Last year, Kirk Hammett, the lead guitarist for Metallica, bought Mr. Frazetta's cover artwork for the paperback reissue of Robert E. Howard's "Conan the Conqueror" for $1 million.
Mr. Frazetta married Eleanor Kelly, known as Ellie, in 1956. She served as his occasional model and as his business partner; in 2000 she started a small museum of her husband's work on their property in East Stroudsburg, Pa. She died last year.
Mr. Frazetta is survived by three sisters, Carol, Adel and Jeanie; two sons, Alfonso Frank Frazetta, known as Frank Jr., and William Frazetta, both of East Stroudsburg; two daughters, Heidi Grabin, of Englewood, Fla., and Holly Frazetta, of Boca Grande, Fla.; and 11 grandchildren.
After Ellie Frazetta's death, her children became embroiled in a custodial dispute over their father's work, and in December, Frank Jr. was arrested on charges of breaking into the family museum and attempting to remove 90 paintings that had been insured for $20 million. In April, the family said the dispute over the paintings had been resolved, and the Monroe County, Pa., district attorney said he would drop the charges.
So many art giants have passed recently -- Bernie Fuchs, Robert McCall, Tim Hildebrandt and John Alvin among them.... Richard Amsel and Bob Peak have been gone for a number of years now.... Drew Struzan has retired....
It's sad, as I wonder not only who's left, but if there's even a demand for such artistic talents anymore. Movie posters have been reduced to bland, insert-actors'-faces-here Photoshop templates. Even book covers, once the common, bread-and-butter market for illustrators, are now rendered through recycled Illustrator fonts, stamped over stock photos culled from royalty-free digital piles.
There are some guys left whose work I love, and are still at it. Guys like James Gurney, William Stout, Greg Hildebrandt, and -- of course -- my very good friend David Byrd. But ask yourself: Where is the next great illustrator? Is there a new generation of artists on the way? And, most importantly, will art agencies and publishers be wise enough to put such talents to good use?

Sept. 23, 2010: This is Helen O'Connell, full-figured!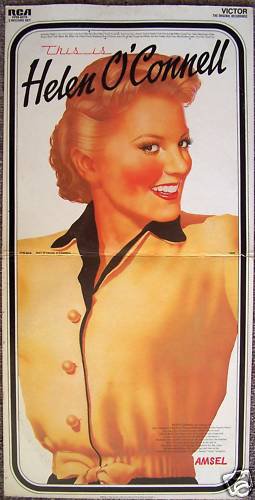 Special thanks to Tony Hill for providing an image of Amsel's complete double album cover for RCA Victor Records' This is Helen O'Connell. While the front only showed an illustration of the singer's face, we can now see that there was much more to the artwork -- including Amsel's signature at the bottom!
Thanks again, Tony!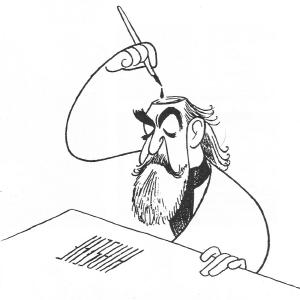 July 1, 2010: So, just who did the most TV GUIDE covers?
I had heard from several sources that Richard Amsel did more TV GUIDE covers than any other artist -- and repeated that presumed fact often on this site. But I recently read that the legendary Al Hirschfeld had actually matched Amsel's number of 37 published covers, while creating an additional four that remain unpublished. (Amsel also had at least three -- possibly four -- that were unpublished, including this one.)
Nevertheless, it's remarkable to note that while Hirschfeld's covers spanned several decades, Amsel's output was framed within just 13 years, from 1972 to 1985. And there's no doubting that many more covers sporting that marvellous "AMSEL" stamp would have graced the magazine had we not lost the artist all too soon.
I'm not so interested in the "Who did more?" question as I am in ensuring the accuracy of this site, so if any of you TV Guide fans know the definitive answer, it would be welcomed wholeheartedly.

This seemingly innocuous tidbit is yet another reminder to me that my tribute page is in dire need of an update -- including more information on Richard's life and work (particularly his aspirations to work in animation), as well as some corrections and clarifications to what I had written back in early 2008. I hope to get to this by the end of the summer.
I may have built this website, but it never would have existed without the contributions of Richard's many friends and family members. Nor could it thrive or be improved upon without the feedback and input of his fans and admirers the world over.


June 13, 2010: Meeting Greg Hildebrandt
"The Brothers Hildebrandt" are legends in the illustration world, and especially known among sci-fi and fantasy fans for their Star Wars movie poster and the immensely popular Lord of the Rings calendars. Twin brothers, Greg and Tim often collaborated on projects (exchanging "shifts" in painting duties -- a neat ability when facing tight deadlines), as well as worked on their own. What made their partnership so extraordinary was not just the consistant high calibre (and volume) of their work, but that they were so creatively sympatico, it's impossible -- for me, at least -- to distinguish one artist's work from the other. (Take, for example, Tim's Secret of NIMH poster and compare it to the collaborated works below.)
Sadly, Tim passed away in 2006 due to complications from diabetes, but Greg has continued their artistic legacy. I had the pleasure of meeting him yesterday in Santa Monica, and he was extremely kind, gracious, and receptive to my many annoying questions...
...the first of which I was a little hesitant to ask: As he and his brother collaborated so often throughout their careers, was there ever any serious creative strain or severe difference of opinions in approaching their many works? To my absolute astonishment, Greg answered no -- and even marvelled himself at just how well he and his late brother got along, as close personal relationships can so often fall victim to pressure while in the throws of creative collaboration.
Greg, who blushed when I called him "sir" -- "Call me Greg!", he laughed -- is a class act, and I was delighted and honored to meet him at long last.


June 13, 2010: Comments by fellow artist Richard Adkins.
I recently received this lovely email, and thought it was worth sharing:
Hi, My name is Richard Adkins and I am a huge Richard Amsel fan. I too, am an illustrator, only a year younger than Richard would be now. At the time I entered the field professionally, illustration was being supplanted by photography, yet there was just a little interest remaining in illustration, particularly in the 70s and 80s in airbrush illustration.

I worked for NBC from 1973 to 1980 and the network graphics department provided newspapers and magazines with art for upcoming programs. Newspapers particularly would take advantage of the free NBC art for their local T.V. guides. At NBC there were numerous artists, and each of us had the ability to work in the style of more noted illustrators - but for a whole lot less money. One of my "artists" that I imitated was Richard Amsel, (the other was caricaturist Jack Davis). The most noted of the Amselesque art I did were the "More to Come" cards for Johnny Carson's Tonight show. Carson hand picked the art, and he liked my illustrations ala Amsel of famous NBC radio stars. The set was among the most popular and "Art Direction" magazine wrote an article on them featuring photos of the cards (although illogically in black-and-white). I thought you might enjoy them.

Thanks for the great Amsel work - he was far and away the best illustrator of that period.

Sincerely,
Richard Adkins
Thanks to you, too, Richard! No doubt Amsel himself would have been honored by your comments -- and your incredible work! Bravo!
Richard provided scans of some of his illustrations done for The Tonight Show with Johnny Carson. You can definitely see the homage to Amsel's work. Absolutely amazing.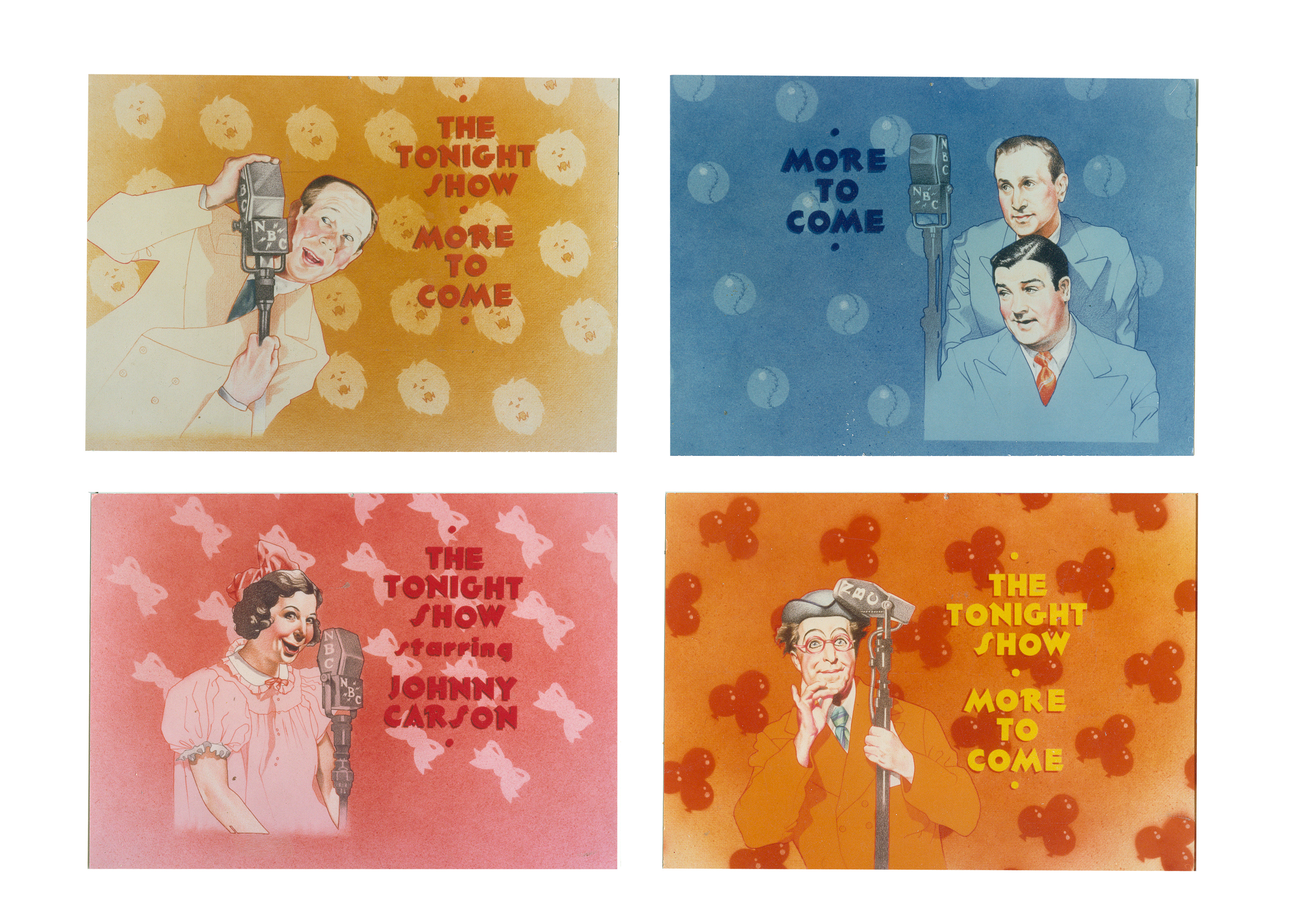 Adkins himself has had quite a remarkable career in Hollywood. To learn more about his art and work, go to hollywoodandart.com and historyforhire.com.
He was also able to provide info on the recent "ACT ONE" illustration listed on ebay -- it wass for a paperback book, not a movie poster -- as well as another illustration during his early career:
BTW, the woman in the Amsel illustration on ebay is Gertrude Lawrence and the man on the right is George S. Kaufmann. Amsel did a number of paperbacks in the 70s including "Crazy Sundays" about F. Scott Fitzgerald., so that perhaps that illustration is for a paperback version of a biography of Moss Hart. Amsel is highly unlikely to use an image of a famous person without actually having that person as the subject (as other illustrators have done).
Left: Amsel's book cover for ACT ONE by Moss Hart (likely for Ballantine's 1970 paperback edition).
I'm still hoping to confirm this, but the timing certainly fits in with Amsel's style during his early career.

Right: Amsel's book cover for Crazy Sundays: F. Scott Fitzgerald in Hollywood by Aaron Latham.
I don't know if it was for the Pocket Books 1972 or 1975 editions, or Viking's 1971 edition.


May 3, 2010: Links of the week!
Special thanks to the website LINKS OF THE WEEK for including my coverage of the Richard Amsel TV Guide covers in their Blast From the Past section.


April 17, 2010: More early work pops up on eBay.
I recently found this eBay auction for one of Richard's early works. Here's the writeup from the item description:
This is an original prototype of a movie poster by Richard Amsel. The 1963 movie was to be "Act One" and was cancelled before production. It was to star Warren Beatty. In her book Warren Beatty: A Private Man, Suzanne Finstad writes: "By November, when he and Natalie Wood were back in Hollywood, Beatty still had no plans to star in a movie, though every studio was courting him. Act One, his passion project, was cancelled, and Beatty had discovered a central truth about himself, one that would contribute to his legendary reputation for procrastination...". It measures 21" X 13". It is in overall great condition.
I spoke briefly to Don Baca, the owner of the piece, who had acquired it from (of all places) a garage sale in New Mexico! I also consulted with Dorian Hannaway, who both verified Richard's authorship, and remembered that Richard's mother originally owned the painting many years ago.
The film "Act One" was actually released in 1963, without Beatty's involvement (George Hamilton took over the role). Though I have doubts that this illustration reflects that specific film -- neither Beatty's nor Hamilton's likenesses are to be found, and Amsel would have only been about 15 at that time -- I am nevertheless intrigued by the work, and would be curious to know more.
FOOTNOTE: Don provided these images (image 1, image 2)of writing on the back of the artwork, to further identify the piece.
UPDATE 6/13/2010: Artist Richard Adkins stated that this was done not for a film but a reissue of the source book, ACT ONE by Moss Hart. Looking through Amazon, I suspect it was for Ballantine's 1970 paperback edition, though I'm trying to confirm. The timing certainly fits in with Amsel's style during his early career.

March 24, 2010: Alternate movie posters...
My good friend (and fellow Vassar alum) Nathan Gray directed me to this great article about alternate poster designs inspired by classic movies. Among them is the work of Travis Coburn, who created "retro" style posters of the leading nominees for this year's BAFTAS (including, lower left, THE HURT LOCKER).
I also found this site, which explains the creation of a wonderful poster (bottom center) inspired by 2001: A Space Odyssey, done by art student Sakke Soini . Needless to say, Mr. Soini has quite a career ahead of him.
Finally, check out the work of graphic designer Brandon Schaefer, whose minimalist-style movie poster designs, while appearing deceptively simple at first, are actually quite complex, striking, and very, very memorable. (Such an example is his poster for EMPIRE STRIKES BACK, bottom right.)
Seeing such extraordinary talent is both inspiring and, frankly, makes me feel all the more insecure about my own work in comparison.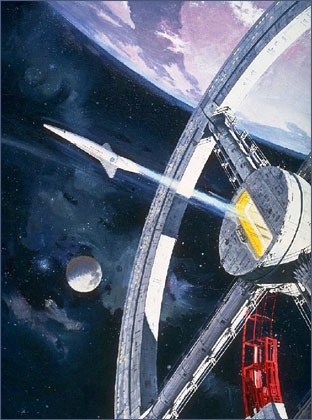 March 6, 2010: R.I.P. ROBERT McCALL (1919-2010)
"One of the joys of being an artist is the freedom to create one's own world.... Like the real world, these excursions of the imagination are fraught with inaccuracies of perception—it is rare that one glimpses through the veil of time even a hint of tomorrow's reality—nor does it seem important to me whether one's perceptions are right or wrong, the pleasure is in making the predictions and doing the work." — Robert McCall
Famed Space Artist Robert McCall, 90, Dies
SPACE.com / Robert Z. Pearlman
Artist Robert McCall, whose visions of the past, present, and future of space exploration have graced U.S. postage stamps, NASA mission patches, and the walls of the Smithsonian, died on Friday of a heart attack in Scottsdale, Arizona. He was 90.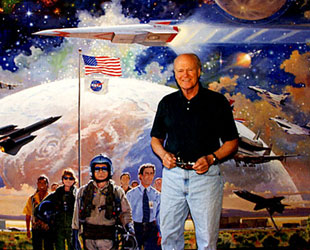 Once described by author Isaac Asimov as the "nearest thing to an artist in residence from outer space," McCall's paintings first attracted the public's attention in the 1960s on the pages of LIFE, illustrating the magazine's series on the future of space travel. He expanded on that theme at the invitation of director Stanley Kubrick, who had McCall paint the advertising posters for his seminal 1968 science fiction film, "2001: A Space Odyssey."
Since then, many more have encountered McCall's space art through canvases both very large and very small.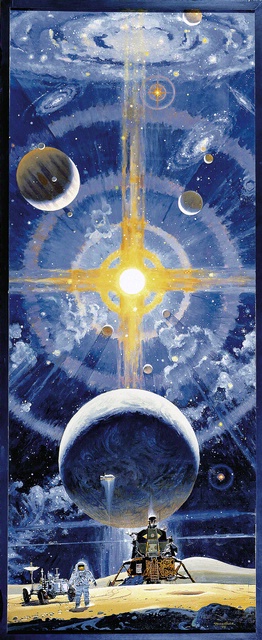 Perhaps his most famous piece, the six-story "The Space Mural — A Cosmic View" greets visitors to the National Air and Space Museum in Washington, D.C. Painted over the course of eight months in 1976, McCall's depiction of the creation of the universe leading to astronauts walking on the moon is seen by an estimated ten million annually.
Others of McCall's large murals can be found at NASA's Johnson Space Center in Houston, Texas, at the Dryden Flight Research Center in Lancaster, California, and at the Kansas Cosmosphere and Space Center in Hutchinson. A number of his paintings decorated the walls of the former Horizons pavilion at Walt Disney World Resort's Epcot in Florida, and one remains on display at the entrance to the park's iconic "Spaceship Earth" attraction.
At the other end of the size spectrum but no less popular, McCall created the art for 21 space-themed U.S. postage stamps, ranging in subject from the moon landings to the unmanned probes sent to Mars and Jupiter. His design for a commemorative marking the Apollo-Soyuz Test Project adorned the largest stamp published in the United States.
In 1981, McCall designed eight stamps celebrating STS-1, the first flight of the space shuttle. At mission commander John Young's request, McCall also designed the insignia that Young and Bob Crippen wore aboard Columbia for the two-day mission.
It was through the stamps and patches that he created did McCall ultimately see his artwork merge with their subject matter and enter space. The Apollo 15 astronauts flew his "Decade of Achievement" two-stamp pane to the Moon, and the last men to walk on the lunar surface did so while wearing an Apollo 17 mission patch designed by McCall.
"It is something I continue to covet," shared McCall in a 2006 interview with collectSPACE.com. "It was wonderful to really see this emblem that I designed on the Moon, in real time from Mission Control."
In 1973, at the personal request of flight director Eugene Kranz, McCall designed the original insignia to represent the Mission Control teams. McCall also created patches for the third and fifth shuttle crews, as well as the first to dock with
Russia's Mir space station. His most recent patch was designed for back-up spaceflight participant Barbara Barrett, a family friend, in 2009.
Continue reading at collectSPACE.com about McCall's path to becoming a NASA artist and his view on the future of spaceflight.
McCall's own website can be found here.

Jan. 29, 2010: Old yearbook paintings!
As the song goes, "Everything old is new again...", and so for the new year it seems fitting that a lot of Amsel's early work has finally come my way. Perhaps the earliest work I've seen thus far comes from Marc Walther, a high school classmate of Richard's. Upon discovering this website, Marc emailed me some scanned illustrations Richard had made for their 1965 yearbook. Marc writes:
Wow, it has been a few years. You see, you are a young guy and I am 62. Richard's parents had a nice toy store on Lancaster Ave., in Ardmore. I used to go in there all the time with him. He had such amazing talent that I always knew he was going places. It is just a shame that he passed. Actually, I only learned about his passing this past year, through friends at high school. In any event, the yearbook was in 1965. He was the Art Editor.
These early images not only showcase Amsel's developing creative talents, but provide a touching, personal look into the artist as a young man.
Jan. 28, 2010: Early Amsel book cover added to the gallery.
Last night I wandered around a favorite used bookstore in downtown Glendale when I found this old, battered paperback book perched upon a rack. The cover caught my eye immediately, and lo and behold, it was one of Richard's works. To make the $2.50 purchase even more rewarding was that it was not only signed by the author, but also by the two people he had dedicated the book to -- who, in turn, gave the book to one of their mutual friends.
Dorian Hannaway informed me that the original Amsel cover illustration now resides within the University of the Arts, but this was the first time she had actually seen a copy of the book itself.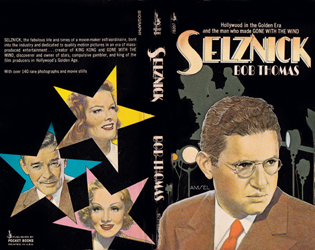 Jan. 9, 2010: Early Amsel magazine illustrations added to the gallery.
For me, one of the most rewarding things about this site is that, no matter how familiar I may be with Richard's work -- or at least presume to be -- new discoveries always turn up!
American Art Archives is selling three magazine pages on eBay featuring Richard Amsel's work, all from 1971. I've added them to the MISC. WORKS page, and hope you enjoy them. (I'm especially partial to his gorgeous illustration for "The Earring".)