ART PRINTS | BOOKS & CATALOGS | POSTER RESOURCES | ABOUT EBAY
Art and movie fans have the opportunity to purchase special archival prints of Richard Amsel's famous poster illustrations for:
RAIDERS OF THE LOST ARK (1982 rerelease)

MAD MAX BEYOND THUNDERDOME

FLASH GORDON
Available to the public for the first time, these beautiful, limited edition (1000 each), high quality color digital prints are made from high resolution digital image files color matched to the original illustration art and printed using archival paper and inks. Each print measures 13" x 19", and costs $60.00 + shipping & handling. (University of the Arts students receive a discounted price of $35.00.) These are not reproductions of the final movie posters, but of Amsel's original art without the text and titles.
Click here for an order form.

BOOKS & CATALOGS
Publications that prominently feature Amsel's work.
RICHARD AMSEL: A RETROSPECTIVE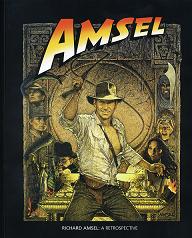 To coincide with the Richard Amsel retrospective exhibit in the Spring of 2008, The University of the Arts produced a special catalog, which to date is the definitive resource on Amsel's work. This beautiful, 48-page book features color illustrations of highlights from the exhibit, some of which have never before been published. (Not even on this site!)
Also included are personal tributes to Amsel from such noted celebrities as Bette Midler and Lily Tomlin, biographical information on the artist, and a comprehensive list of all his official movie posters and TV Guide covers.
Quantities are extremely limited. Contact The University of the Arts for more information.
The University of the Arts, 2008. Softcover, 48 pages, approx. 8.25 x 10.25". Color and B&W images.
Price: Originally $15. Current price may differ depending on availability.
---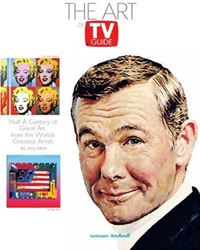 Jerry Alten's book examines the history of the entertainment magazine's numerous covers, and the many celebrated illustrators who contributed to them. It comes with full page color illustrations, to compliment Alten's descriptions.
Bangzoom Publishers, 2007. Hardcover, 142 pages, approx. 11 x 8.4". Color and B&W images.
Price: $24.95 USD.
---
CHRISTIE'S - THE ART OF RICHARD AMSEL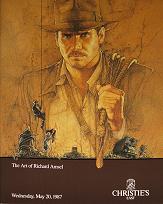 After Amsel's death in late 1985, much of the artwork from his personal collection was auctioned away. Christie's produced this auction catalog, released in 1987, featuring the 47 lots.
Christie's, 1987. Softcover, 48 pages, approx. 8.25 x 10.25". Color and B&W images.

Price: Approx. $100-$150 USD.
---
CHRISTIE'S LOS ANGELES - THE MASTERS OF CINEMA ART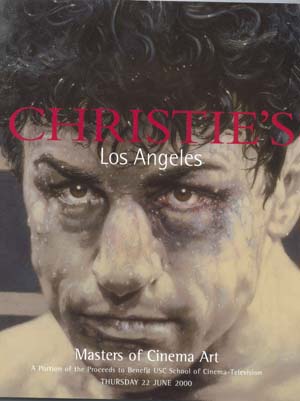 In June of 2000, Christie's held another auction of movie poster artwork, including works from such artists as John Alvin and Drew Struzan. A number of Amsel's pieces were prominently featured. I attended this (it was held right outside of the USC campus), and it reignited my interest in Amsel's career. It was also where, oddly enough, I first learned of Amsel's death, and that he passed at such a young age.
This softcover auction catalog contains biographical info on each of the poster artists featured, along with full color illustrations. Copies can easily be found on eBay, and through other auction catalog sellers.
Christie's, 2000. Softcover, 163 pages, approx. 8.25 x 10.25". Color and B&W images.
Price: Approx. $40-$75 USD.
For more on this auction, go to the Christie's auction summary page.
When shopping around for movie posters, it's important to know what to look for, and the price you'd expect to pay for it. Say you're looking to get your hands on Amsel's poster for RAIDERS OF THE LOST ARK. There are hundreds of cheap, second and third run copies to be found on ebay or other art and poster sites. If it comes at a cheap price, expect to get cheap quality -- particularly poor color reproduction. But if you're looking for the real thing -- a vintage poster made in the original print run -- don't be surprised to pay several hundred dollars, at least.
Before making any purchase, be sure to do your homework. Many older film posters will actually have a print run branding (usually in the lower right hand corner), and be folded instead of rolled. If a seller claims their item is an original, ask if there's any verification or unique characteristics, or high-rez images they can provide. Compare their item and price to similar ones at other stores, and always ask if they have a return policy.
Here are some places online that I can recommend as a starting point:

Buying vintage movie posters
CinemaMasterpieces.com: Based out of Arizona, has a wide collection of old and foreign posters.
FilmPosters.com: A New York based company specializing in authentic movie posters

Information on collecting
Movie Collector's World: The monthy publication that is the trade "bible" for movie poster collectors and dealers.

Film Poster Restoration
Poster Conservation: Based in Stamford, CT.
Posterfix.com: Based in Brooklyn, NY.
Poster Mountain: One of the most respected poster conservation & restoration companies in the Los Angeles area.

My attitude toward eBay auctions is, simply, "buyer beware". It's a great, easy resource for finding things, but -- and I know I'm sounding like a broken record, here -- be sure to do your homework. Should a seller even have a high rating, it's more often a reflection of the number of items he's sold, similiar to how McDonald's promotes themselves by "so-and-so billion served" instead of the quality of their food. Your best bet is to find a seller who has a link to an online store, or someone who can provide you with high resolution images. If they're legit, and they give a damn, trust me, they'll make time to answer your questions. Just do the smart thing and be sure to ask them before on bidding anything.
The link below offers a search of "richard amsel" on the site. Approach with caution, and good luck!