INDYFANS AND THE QUEST FOR FORTUNE AND GLORY, which features a small segment on yours truly, is out on DVD!


The documentary features an impressive list of interviews, including Raiders' costume designer Deborah Nadoolman-Landis, Tony Baxter, Tim Kirk, along with legendary stuntmen Vic Armstrong and Wendy Leech...and, of course, a bunch of self-professed "Indyfans" (ahem). Visit www.indyfansfilm.com for more info.

Two different versions of the INDYFANS poster are available for purchase. Each can be signed and personalized upon request.

Please indicate if (and to whom) you wish to have your poster personalized.

For no additional fee, the artist can add a small B&W cartoon version of an "Indyfan" on the bottom of the poster based on a photo you provide. Please specify this when you order.

Orders may be placed either through the PAYPAL link below, or by check or money order. (DO NOT SEND CASH!) Payments should be mailed to: INDYFANS POSTER, c/o Adam McDaniel, 601 Glenwood Rd., Unit C, Glendale, CA 91202 USA.

INDYFANS POSTER
$40.00 each, plus $10 shipping*
Poster size: 27" x 40"

*Additional postage may apply for international shipments.

The film is written and directed by Brandon Kleyla (left), an extremely enterprising and talented young man. Though he wasn't even alive when RAIDERS OF THE LOST ARK came out, he's been working in the industry for a number of years now, most notably as an actor in such films as FREE ENTERPRISE and GODS AND MONSTERS. (In the latter he played a young James Whale, the

Frankenstein

director who, I just remembered, I wrote a thesis about back in college. Cute little trivia fact.)

When I first met Brandon about the INDYFANS project, he told me that while he was in high school he had printed

some Indiana Jones artwork I'd done

and stuck it on the cover of one of his notebooks! One could say it's a small world we live in, but I still feel very lucky and grateful to have been a part of Brandon's project. (Hey Brandon:

Thanks, man.

)


He wanted a poster in the style of "Where's Waldo?", with a large number of Indyfans exiting the Lido movie theater. Though my artwork is nowhere near the complexity of Martin Handford's elephantine cartoons, it was a much tougher job than I realized!


The poster is actually made up of over 36 individual pen and ink drawings, all digitally composited and colored. There are 71 characters, with 33 of them based on real people. (Including yours truly.)


For every hour sketching at the drafting table, I must have spent ten behind my computer coloring them. The layout and composition also frequently changed, with revision after revision. Thankfully, computers provide a flexibility otherwise impossible to achieve by hand.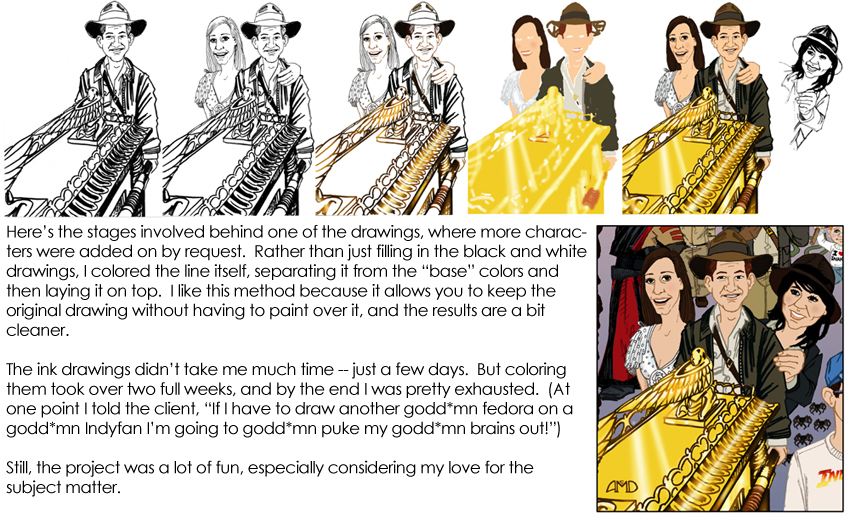 Some more trivia about the poster:

There are 71 people on the poster.
Over 36 drawings were incorporated into the final image.
33 of the characters were based on real Indyfans.
There are six means of transport shown: a plane, a blimp, a tank, a mine cart, two motorcycles, and an elephant. (I'm not including the horse, as no one's riding him.)
Of animals and creatures, there are: 1 horse, 1 monkey, 1 elephant, 6 rats, 11 spiders, and 13 snakes.
Of people, there are: 3 dressed as Marion, 2 as Shorty, 2 as Henry, 2 as Arab Swordsmen, 2 as Belloq, 1 as Elsa, 1 as Willie, 1 as Sallah, 1 as Jock, 1 as Mola Ram, 1 as Toht, 1 as a German Soldier, 1 as a Grail Knight, 1 as Mutt, and 34 as Indy.
There are 60 "Indy style" fedoras. (Bet you'll have trouble finding the 60th!)

Here's a look at some of the variations the poster went through during the layout and coloring process. For some stupid reason I was determined to have blues in the sky. Fortunately Brandon talked me out of it, preferring to use the warm, earth tones associated with the Indy films. (Makes obvious sense to me now. At least I've never claimed to be always right... And I doubt many could claim I'm always easy to work with.)

The worn parchment background was actually one of the clients' idea, too; I have to give credit where credit's due. I think it really made the poster stand out, and wish

I'd

been the one who thought of it!

But just when I thought I was out, they pull me back in! After the film's premiere at the Lido theater, the Newport Beach Film Festival scheduled an encore screening on its BIG Edwards' screen, immediately preceeding the midnight showing of INDY IV. To mark the event at its new venue, director Brandon Kleyla asked me to do a new variation of the original design, with a different background and additional characters. Two days later I finished the revisions: