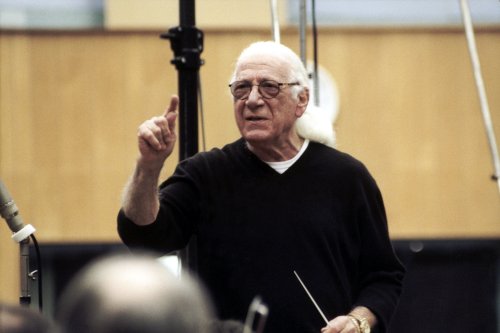 AM: I'm curious to learn how Jerry Goldsmith became attached to the project. After all those months working through such independent means, it must have been an eye-opening experience to have brought a composer like him on board.
DBS: We wanted Jerry Goldsmith from the start. We chose many of his cues from other film scores that he had done in the past to create a temp underscore for NIMH as we we're making the film. We approached Jerry's agent in January of 1982 and did a deal with him to write the underscore for the film. At first he refused to look at the film with our temp music, but after his music editor saw the film and heard the temp score we pasted together, he encouraged Jerry to look at the film with the music we assembled. He was very impressed with what he saw...and heard, and became very passionate about this film.
AM: What was it like to collaborate with him? I believe 1982 was a busy period for him; he did SIX film scores that year alone!
DBS: He had 15 weeks to write the score and collaborate on the the two songs, the lullabye and "Flying Wings" (sic; the song is actually called "Flying Dreams") with writer/singer Paul Williams. He would call us and play his musical sketches. He would lay the phone down on his grand piano and play the themes for us. It was thrilling to us. We were working with Jerry Goldsmith!!! He loved the project and what we were doing.
AM: How did you feel when you heard the music performed for the first time?
DBS: I (Goldman) cried the first time I heard the London Philharmonic Orchestra play his music for NIMH. It was easy to recognize each music cue, because of those sessions on the phone and at Jerry's house.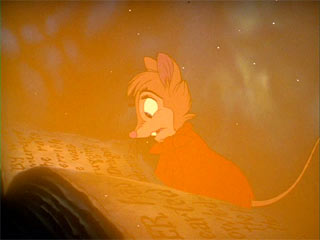 AM: I understand Goldsmith once said that NIMH was among his personal favorite film scores, and he really enjoyed the experience.
DBS: At our crew screening at the completion of the film, Jerry and his wife, Carol, came out of the screening with tears in their eyes. Jerry commented that "had I seen the whole film in color before starting, I would have painted you a different score." I still get goose bumps when I listen to the 8 minute music cue, "The Tractor". I too, think that this is one of Jerry's best. When we went to London to record the score, he was still writing the score in the early mornings and late at night, before and after the daily recording sessions. He told me that he truly loved the movie.
AM: Is it true that he was instrumental in introducing Spielberg to NIMH, which paved the way for AMERICAN TAIL?
DBS: Jerry did introduce the film to Steven Spielberg, and we subsequently met with him and eventually -- 2 years later -- did An American Tail with Steven. Jerry was to do the score for that film too, but had to bow out because of a heavy schedule in 1986. James Horner was invited in to do the score.
AM: I always felt it was a shame you guys didn't collaborate with him again.
DBS: Jerry stayed in touch after that, calling us regularly at our Dublin animation facility back in '87 thru '89. However, we never worked with him again. We met at the Hollywood Bowl in 1997 when 20th Century Fox had a concert playing the music of 20th Century Fox, where Jerry had written many scores. We wish we had worked with him more, much more. He was a lovely, lovely man. ... I (Gary Goldman) have his hand-drafted lead sheet to the Main Title cue signed, "I love you Mrs. Brisby. Jerry Goldsmith". It is framed and hanging, and lit in a special alcove in my home.